Advertisement about depositing a master plan for Maale Shomron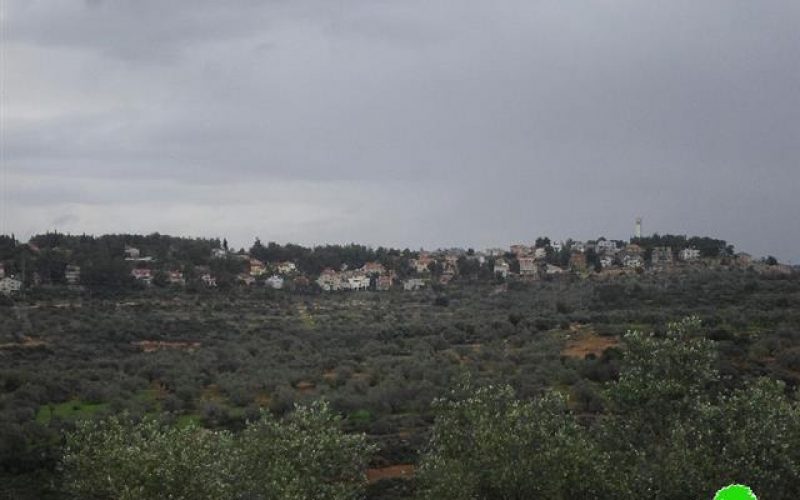 Violation: Deposit of a detailed master plan in regard to the Israeli colony of Maale Shomron
Location: Azzun, Deir Istiya, Kafr Laqif
Date: December 23, 2015
Perpetrators: The so-called Supreme Council of Planning/ Settlement Sub-Committee
Victims: number of farmers from the area
Details:
On December 23, 2015, al- Quds Newspaper featured an announcement by the so-called Supreme Council of Planning/ Settlement Sub-Committee of the Israeli Civil Administration about the deposit of a detailed developmental master plan no. (5/116) regarding Maale Shomron colony founded on Azzun lands, east of Qalqiliya governorate.
According to the plan, the Israeli occupation has given itself the authority to confiscate land and change the use of land belonging to Palestinians to serve colonial interests and expand the colony, as follows:
Using agricultural land for residential purposes (building a colonial neighborhood).
Demarcating a road network and public facilities specifying their use.
Preserving some forestation area.
Pictures 1-2: Maale Shomron colony
It is planned to turn vast areas of confiscated agricultural lands to the southwest part of the colony and within the security borders of it for colonial activities, with reference to the fact that the lands are Palestinian property expropriated between 1993-2003 to be security borders of the colony and within its metal wires. Property is inaccessible to farmers unless they have a permission from the Israeli authorities that is granted during the olive harvesting season. Noteworthy, the occupation changes the use of lands on its own under the condition of being unused for a period more than 10 years. This shows how Israel seizes lands for the favor of colonial expansion.
It should be marked that the confiscated lands are located within the natural blocks number 2 from Azzun lands, number 6 from Kfar Laqif and number 16, 17 and 18 from Deir Istiya.
It should be also marked that Israel Civil Administration on September 2015 advertized tenders to build residential units in the colony of Maale Shomron that is only 8km from the armistice line "Green Line".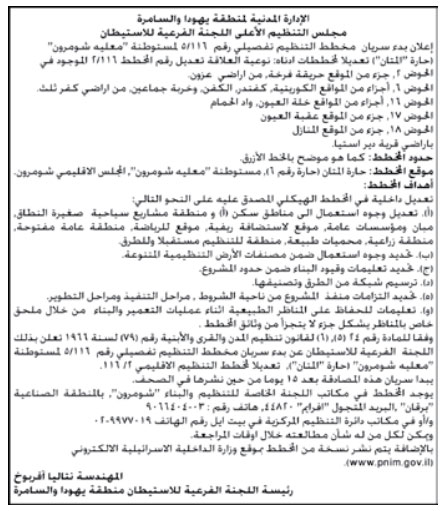 Maale Shomron: A threat to the Palestinian land and environment
The colony of Maale Shomron was established in 1980 on lands classified as "State Property". In years, the colony expanded to confiscate tens of agricultural dunums from the villages of Azzun, Kfar Thulth and Kfar Laqif from Qalqiliya and the town of Deir Istiya from Salfit governorate.
In 2001, the Israeli occupation set up many military posts and a security fence in the periphery of the colony. As a result, tens of agricultural dunums got destroyed where some lands became isolated behind the fence. Noteworthy, those lands became subject for colonial activities such like establishing public parks, gardens and governmental buildings.
Prepared by
The Land Research Center
LRC