The occupation demolishes agricultural structures and water well in Hebron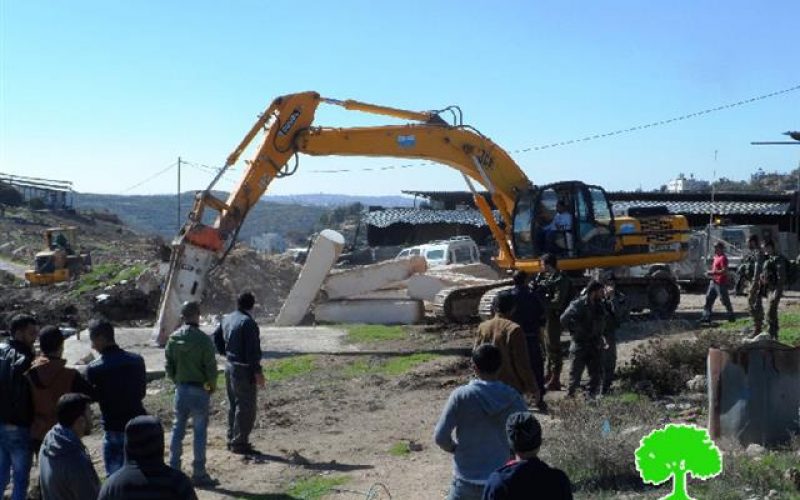 Violation: demolition of structures
Location: Wad Al-Baqar area-Hebron
Date: November 12, 2015
Perpetrators: Israel Civil Administration and army forces
Victims: citizens from Hebron
Details:
The Israeli occupation authorities on November 12, 2015 demolished two agricultural structures and water well in the area of Wad Al-Baqar, east Hebron city.
A massive force from Israel Civil Administration and army forces accompanied by a digger and a dozer raided the area and embarked on demolishing a cows farm owned by Citizen Mahmoud Rajabi. The structure is made of metal slaps and is established on an area of 1 dunum. The farm was built five years ago and accommodates 45 cows.
The Israeli occupation authorities confiscated the milk tank and moved it through a military truck. Also, the force demolished a farm owned by Citizen Yasir Burqan in the same area. The farm is founded on an area of 500m2 and is made of metal slaps; it accommodates 20 cows. In the same context, the force demolished water well (600m3) and the dozer dumped soil into it,.
Land Research Center sees the policy of home demolition as an ethnic cleansing practice and a violation of the following:
Article 17 of the (1948) Universal Declaration of Human Rights stating: "Everyone has the right to own property alone as well as in association with others. No one shall be arbitrarily deprived of his property."
Article 53 of the Geneva Fourth Convention (1948) declaring: "Any destruction by the Occupying Power of real or personal property belonging individually or collectively to private persons, or to the State, or to other public authorities, or to social or cooperative organizations, is prohibited, except where such destruction is rendered absolutely necessary by military operations."
What Israel does of demolitions in east Jerusalem and West Bank is a clear-cut violation of human rights and all of the international laws and covenants. Israel only aims at displacing Palestinians for sake of serving the colonial expansion plans.
Prepared by
The Land Research Center
LRC