A threat to demolish a Palestinian neighborhood for an Israeli outpost security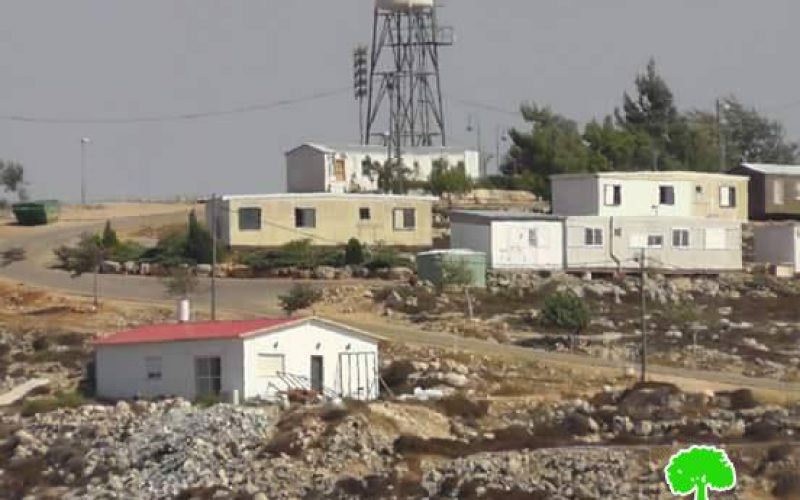 Violation: threading 12 residences of demolishing
Location: Jalud village- Nablus
Date: November 03, 2015
Perpetrators: Planning and Construction Committee- Israel Civil Administration
Victims: 12Palestinian families
Preamble:
Most of Jalud's lands from the northern, eastern and southern sides became surrounded by six colonies and outposts namely (Shevut, Rahel, Shilo, Adi Ad, Kodish, Kida, and Ahya). The aforementioned colonies confiscated 1200 dunums for the favor of colonial activities and declared 90% (10000 dunums) of the village's lands as closed military zones to protect and secure colonists in that area.
The Israeli occupation is now seeking to uproot the indigenous people from a Palestinian neighborhood on the claim of maintaining the security of the Israeli outpost of Ahya. The main purpose is actually to expand that outpost and take over more area of lands.
The colonists of this outpost are reported to carry out attacks against Palestinians in the neighboring villages and towns. Also, colonists banned the family of Abbad and others from accessing and exploiting their lands that are located in the nearby of the outpost periphery. Farmers are denied the right to graze their livestock in the area and take care of the lands.
The occupation chases the Palestinian right to safe residence
The Planning and Construction Committee- Israel Civil Administration raided on December 03, 2015 the residential neighborhood of Abbad family and served 5 stop-work and construction orders on houses built between 1995 and 2005. The Israeli occupation claimed that the houses were built without a proper permit in area classified "C" according to Oslo Accords.
It should be marked that the affected were given a deadline until December 23, 2015 to complete all licensing procedures. This comes in time with the hearing session of Planning and Construction Committee- Israel Civil Administration in the Israeli court of Beit El to consider the legal status of the notified structures.
About the implications of what is going on in Jalud, Kamal Abbad (65) told Land Research Center the following:
"I built my house in 1975 on one of Jalud's eastern hills. At time, I applied for the Planning and Construction Committee- Israel Civil Administration to obtain a license on my building, which I later got. Since then and until 2010, my family and I were living a peaceful life, taking into account that my brothers built their houses next to mine 20 years ago. But since the establishment of Ahya outpost that is relative to Shevut Rahel colony, we have been witnessing many violations and attacks by the fanatic colonist; they once tried to burn down one of our house but failed thanks God.
He also added:
"The area we live in now is a target of takeover for the occupation and its colonists who try to send us out of it by force. But our relation with the land is everlasting and this is why we hold dear to it despite all the harassments and attacks that get inflected on us. This pushed the Civil Administration to raid our community and deliver those notices, taking into account that this incident is one of a kind. The force officer told us that our presence is a threat on the security of the nearby colonists and that our neighborhood must be removed". The following table shows the damage inflected on the affected people due to the notices:
Affected
Family
Minors
No. of threatened residences
Aream2
No. of military order
Remarks
Kamal Abbad
6
1
1
60
182073
One floor
Mohammad Kamal Abbad
5
3
1
110
One floor
Hussein Kamal Abbad
1
0
1
85
One floor
Kamil Farhan Abbad
6
0
1
110
180329
One floor
Mohammad Kamil Abbad
3
1
1
100
One floor
Sami Farhan Abbad
5
3
1
90
180330
One floor
Mahmoud Sami Abbad
6
4
1
90
One floor
Fawzi Sami Abbad
4
2
1
60
One floor
Salam Sami Abbad
3
1
1
70
One floor
Farah Farhan Abbad
2
0
2
200
182074
Two floors. Half of the residence is founded on area classified "B"
Naseem Abbad
7
3
Mahmoud Farhan Abbad
3
0
1
60
N/A
One floor
Total
50
18
12
1035
ource: Field observation- Department of Monitoring Israeli Violations- Land Research Center-2015
It should be marked that Abbad family has been residing the area for over 40 years. Ironically, the occupation is planning to remove the whole area for the favor of an outpost that was built 5 years ago. This means the displacement of 50 people including 18 minors.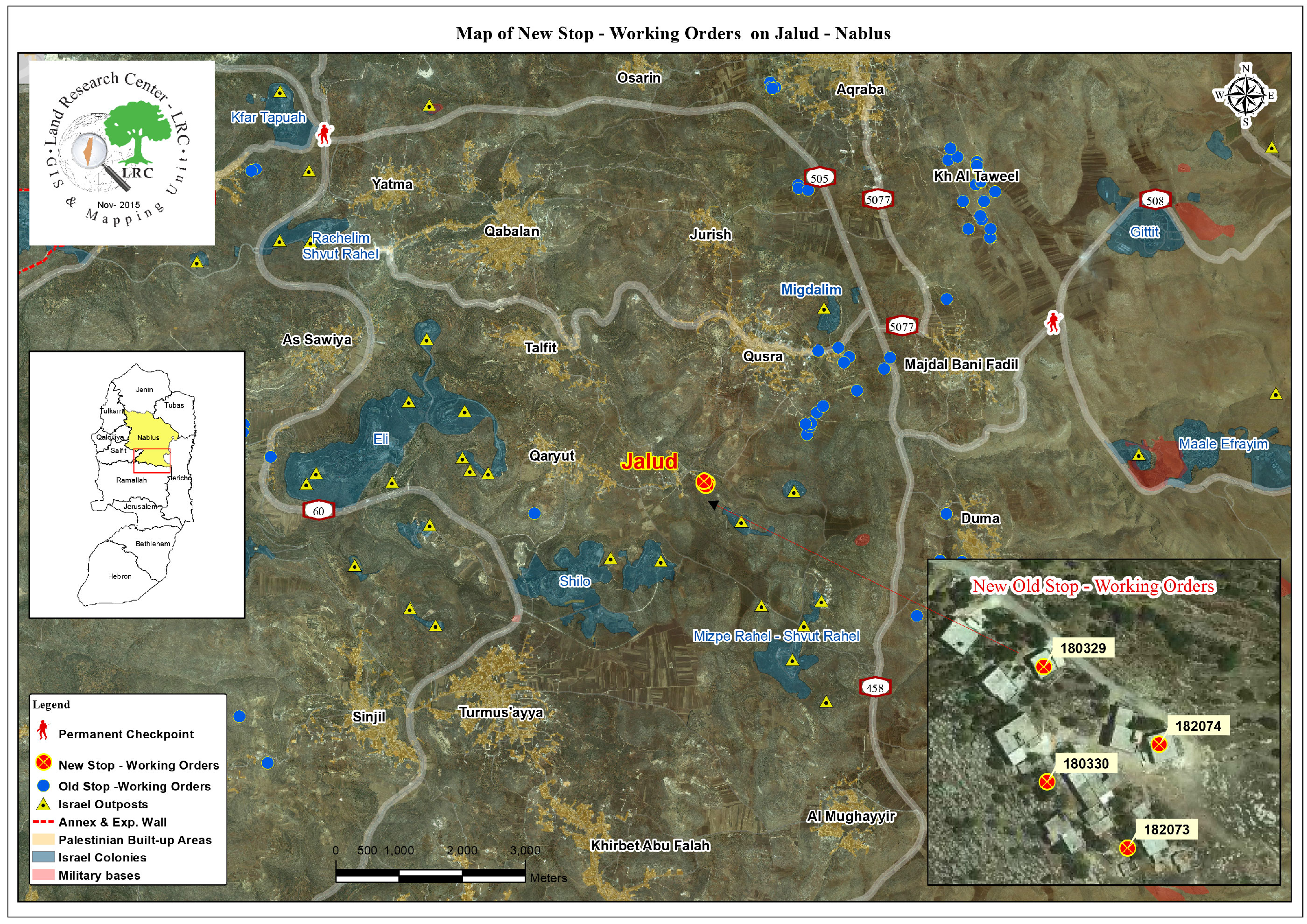 Abbad family is an example out of thousands of families that are threatened on the claim of "unlicensed construction". The case is not literally about unlicensed constructions rather than Israel's desire to take over more area of land for the favor of colonial expansion in area classified "C" according to Oslo Accords, which is under Israel control.
What the occupation does in Jalud is a violation of international laws and Geneva Fourth Convention that stated the prohibition of displacing indigenous people from their lands, demolishing their properties and the illegality of locating people in their place.
We at Land Research Center call upon al international legal bodies to interfere to stop this new displacement
Prepared by
The Land Research Center
LRC