A new master plan for Yakir colony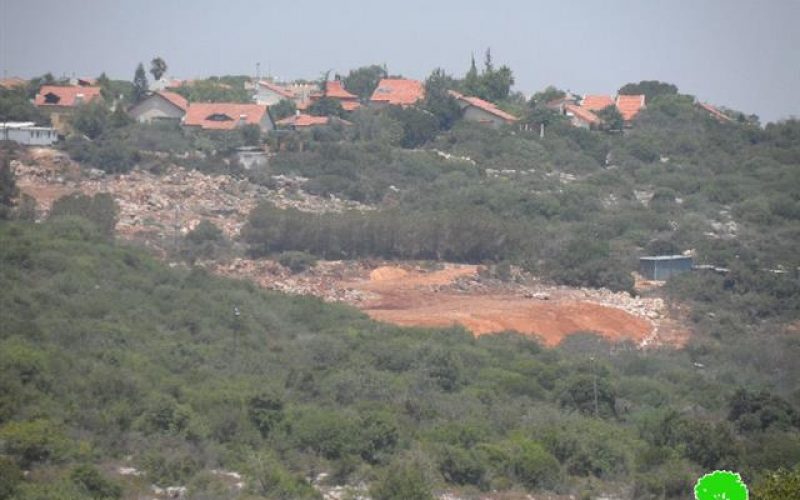 Violation: implementing a new master plan for a colony
Location: Wad Qana- Salfit governorate
Date: November 02, 2015
Perpetrators: Israel Civil Administration
Victims: farmers from Deir Istiya village
Details:
The so-called Colonization Sub-Committee relative to Israel Civil Administration featured on November an advertisement in the second edition of Al-Quds newspaper that states the initiation of implementing a new master plan for Yakir colony, west Deir Istiya village in Salfit.
According to the new plan, the master plan will target some agricultural lands in the periphery of Yakir colony. The lands are located within the natural blocks no. 9, 10 and 12. Noteworthy, the targeted lands total 8.5 dunums in area, which was confiscated in 2000 thorugh a military order on the claim of "proximity to a colony".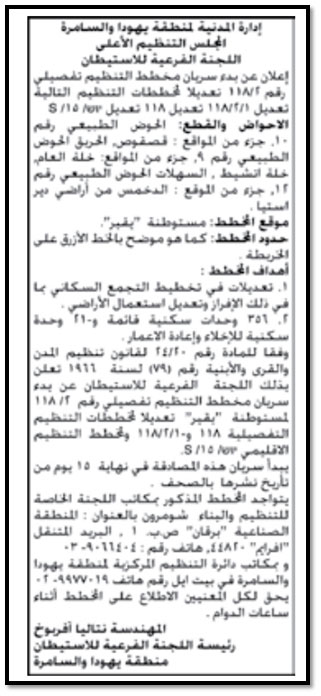 The advertisement in Al-Quds newspaper-page 31
The new plan aims at expanding the borders of the colony to build 356 residential units in addition to rehabilitating 210 old units. Not only that, new public facilities and parks will be opened.
It should be marked that the village council of Deir Istiya, through the legal department, filed and objection in Israeli courts to the plan based on ownership documents of the lands, on which the expansion works are undergoing.
Double standards:
At time the Israeli occupation combats the Palestinian presence in the area of Wad Qana through destroying lands, cutting down trees and confiscating agricultural equipments, it encourages colonial activities such like stealing lands in the area. Note that Wad Qana is surrounded by 9 colonies that are controlling vast area of the village's lands.
It is known that all of the natural resources in Wad Qana are subject for colonization and colonial plans. Archeological sites such like Shihada hamlet became targets for colonists. As for water springs, such resources are monopolized by colonists only. Owners of lands in the area of Wad Qana, who are 12 families, have to sleep under their trees to protect them from colonial attacks.
Prepared by
The Land Research Center
LRC