Nahliel colonists torch a car and write hatred –inciting slogans on a Ramallah house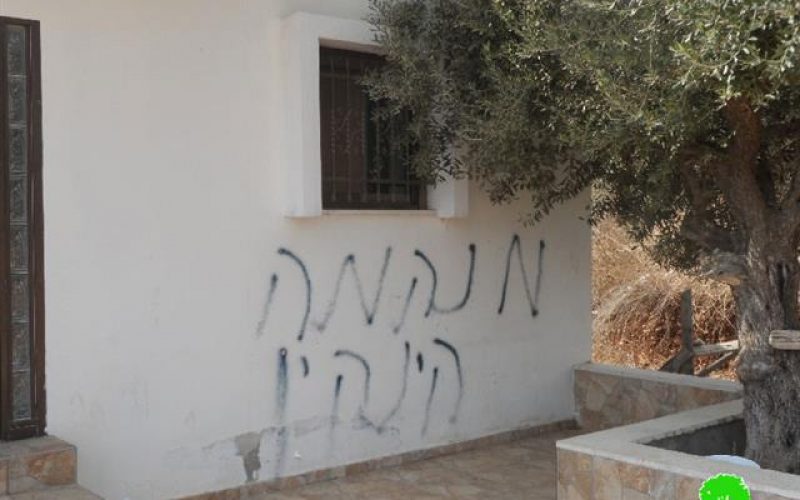 Violation: torching a car and writing hatred slogans
Location: Beitillu village- Ramallah
Date: October 02, 2015
Perpetrators: Citizen Mohammad Al-Bazzar
Victims: Nahliel colonists
Details:
A group of fanatic colonists on Friday October 02, 2015 sneaked into the Ramallah village of Beitillu, which is only 800m away from Nahliel colony under the protection of the occupation army.
The group reached out a house located at the very edge of the area, which is owned by Mohammad Al-Bazzar (34) and wrote hatred-inciting slogans that translate "death to Arabs". They also torched Al-Bazzar's1997 Daewoo Lanos.
Photos 1-2: the burned down car
It should be marked that residents of the area rushed to extinguish the fire. It is when colonists fled the scene and the army soldiers detained and investigated the members of the targeted family. Noteworthy, this attack comes in time with the incident of killing two colonists nearby Beit Furik village, east of Nablus city.
Torching Palestinian vehicles by colonists' gangs became a phenomenon that spread over the Palestinian suburbs. Noteworthy, the Israeli jurisdiction and police never take action to reduce this phenomenon
Beitillu – an overview:
Beitillu is located 19 km to the north west of Ramallah and is considered the largest village in the region, area wise. It is edged by several Palestinian villages besides the armistice line to the west; the village also incubates a number of water springs.
The village total area is 13419 dunums, including 5825 dunums used for irrigated farming and 2500 dunums of olive fields. It is inhabited by around 4500 people; the youth rates are very high in the village. The village, with more than 2000 dunums of open fields suitable for cultivation, is reputable for its olive, prunes, fig, and citrus production.
Prepared by
The Land Research Center
LRC