Israel declares 33 dunums from Deir Istiya and Jeinsafout villages as State Lands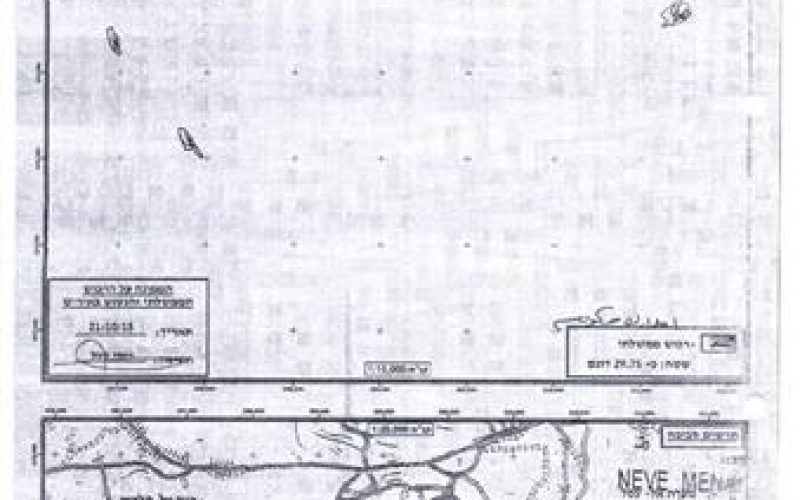 Violation: declaring state lands
Location: Deir Istiya and Jeinsafout villages
Date: October 21, 2016
Perpetrators: Israeli Occupation Forces and Civil Administration
Victims: farmers from the two villages
Details:
The policy of lands takeover through various means and methods is Israel's most distinguished style to seize as much Palestinian land as possible since the year of 1948. The seized lands get later on used for the favor of colonial expansion and other military ends in order to impose control all over the targeted areas.
It should be marked that the Israeli occupation has been lately confiscating vast area of Palestinian lands; especially those located nearby Israeli colonies and the apartheid wall. The confiscated lands then get declared as State Lands based on the Ottoman Law of land ownership.
Several villages and towns of the north of the West Bank became target for takeover plans. That can be seen in the villages of Qaryut, Jalud and Talfit from Nablus governorate, the villages of Ya'bad, Al-Turm and Dhaher Al-Abd from Jenin governorate and the villages of Al-Zawiya, Sanniriya from Salfit governorate.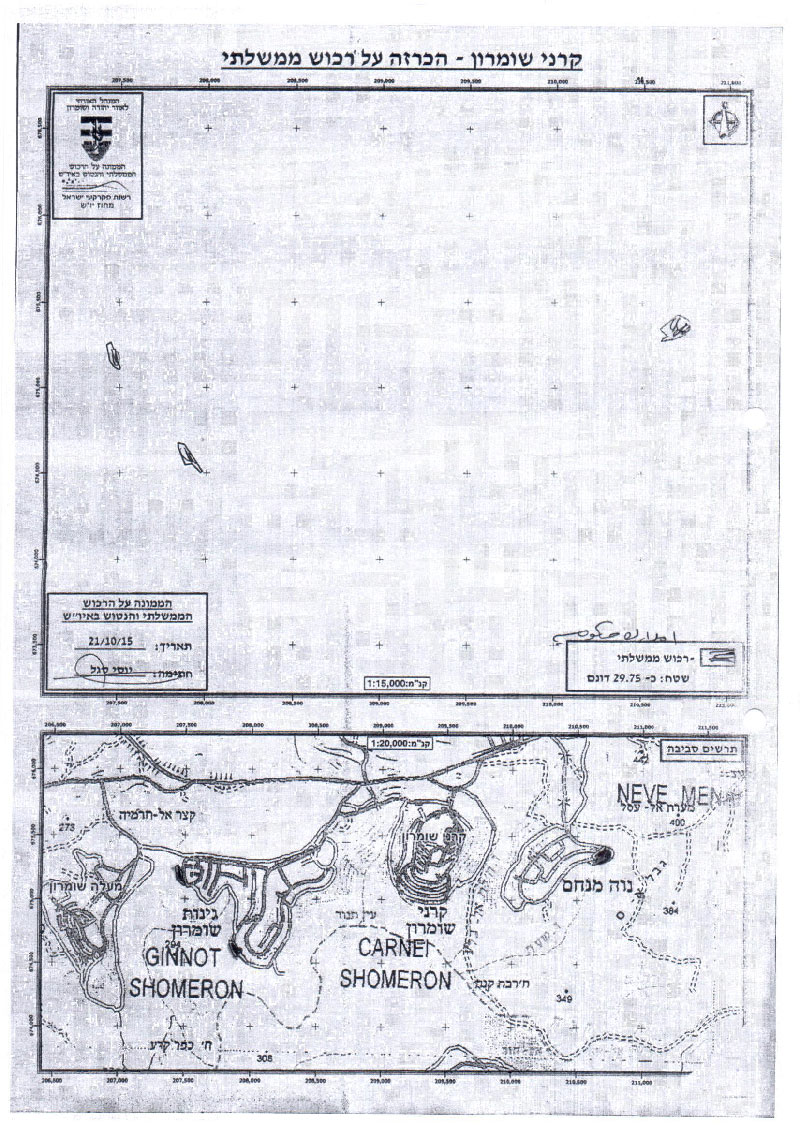 Photos 1-5: the military orders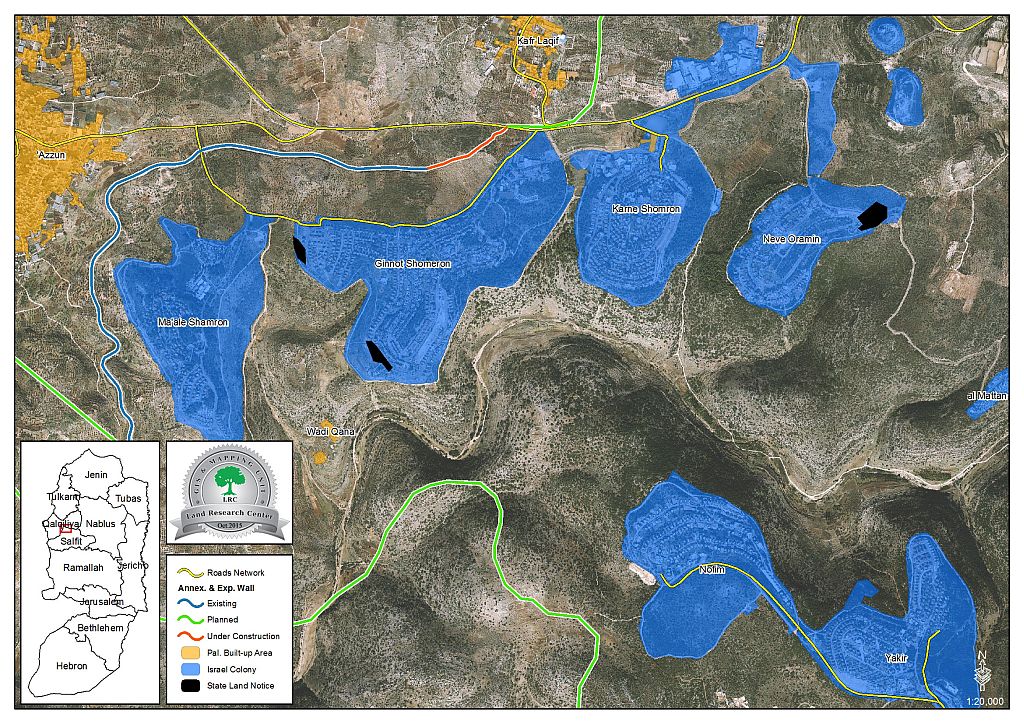 An aerial photo illustrating the targeted locations
Photos 6-7: an aerial photo illustrating new residential units on confiscated lands (Peace Now)
It should be marked that Israel Civil Administration issued on October 21, 2015 a military order declaring 29 dunums and 750m of lands from the villages of Deir Istiya and Jeinsafout as State Lands. Noteworthy, the targeted lands are located nearby Karni Shomron colony. According the measurements of GIS department at Land Research Center, the actual confiscated area is 33 dunums and not 29 as the order mentioned.
The aforementioned lands are reported to be privately owned by Palestinians and are cultivated with aging olive trees despite that fact that the occupation denied access to those lands and banned cultivation in there except during specific times of the year. The location witnessed too many colonists' violations and attacks on farmers due to its proximity to Karni Shomron colony.
Over the past ten years, the area witnessed tens of colonists' attacks such like torching and uprooting trees, ravaging lands and poisoning and stealing other trees. The following table shows information about the targeted lands:
| | | |
| --- | --- | --- |
| Village | Number of natural block | Location |
| Deir Istiya | 18 and 19 | Part of Al-Manazil and Sahil T'eimih locations |
| Jeinsafout | 5 and 7 | Parts of Jabal Al-Sarj and Ras Bashar locations |
About Jeinsafout:
16.938 km to southeast Qalqilya, Jeinsafout is located with a population of 2,119 people and a total area of 8,659dunums, 218 of which are built-up area. al-Funduq and Hejih towns are there from the north and Emmanuel colony from the south. As from the west, there are Kfar laqif town and the two colonies of Karmi Shomron and Navi Manhim. Part of Emmanuel colony and the towns of Fra'ta and Amatin are there from the east.
Jeinsafout went through a series of colonial assaults that affected its unique geo-political situation. Lands confiscation under the pretext of military purposes that ended up as new outpost and bypass roads, was the method by which the colonial plan was implemented.
The village is surrounded by a number of colonies such like Ammuneil, Karni Shomron,, Nevi Oranium and outposts suck like Nevi Menahim and Ramot Jil'ad. The chairman of the village council to the LRC observer said that the aforementioned colonies and outposts have been controlling more than 40% of the village total land area and that has been a hindrance of developmental plans for Jeinsafout.
Some International conventions and Humanitarian laws pertaining to confiscating Palestinian lands are:
Article 17 of the Universal Declaration of Human Rights states:
Everyone has the right to own property alone as well as in association with others.
No one shall be arbitrarily deprived of his property.
Article 1 of the International Covenant on Civil and Political Rights States:
"All peoples may, for their own ends, freely dispose of their natural wealth and resources without prejudice to any obligations arising out of international economic co-operation, based upon the principle of mutual benefit, and international law. In no case may a people be deprived of its own means of subsistence."
Prepared by
The Land Research Center
LRC