The Israeli occupation demolishes six commercial structures at Al-Eizariya town-Occupied Jerusalem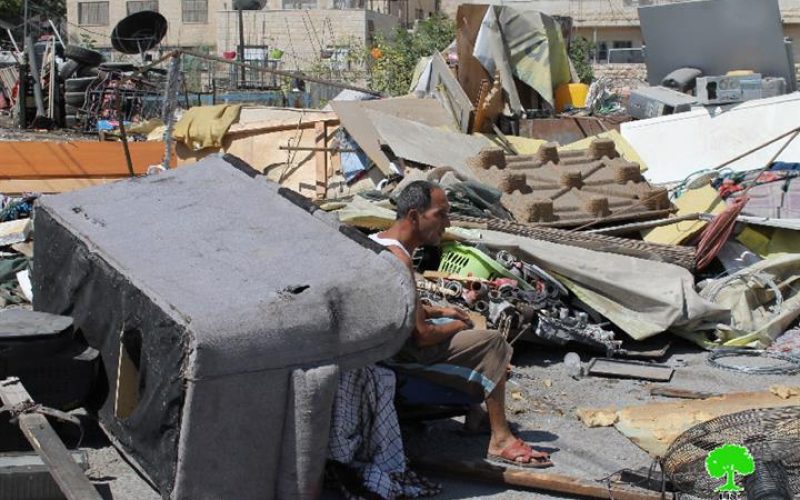 A force from the Israeli occupation army accompanied by a staff from the Civil Administration and some military dozers at dawn of Wednesday arrived at the main entrance of Al-Eizariya town and demolished six commercial structures, which are in face of Maale Adummim colony.
Demolition was carried out under the claim of structures (carwash, vegetables shop, and 4 junk yards) being close to the aforementioned colony. Noteworthy, the structures are founded on an area of 7 dunums.
The reason demolitions are justified by the occupation is that such structures threaten the safety and security of Maale Adummim colony. The following table shows information about the affected people due to the demolition:
#

Affected citizen

Nature of demolished structure

No. of jobless workers due to the demolition

Remarks

1

Jabir Burqn

Junk Yard

4

20,000INS losses

2

Mokhlis Qasrawi/ Waseem Ju'ba

Vegetables shop

2

Demolition was carried on while the vegetables still inside

3

Oubaida Rajabi

Used goods shop (cars parts, devices and furniture)

5

Some cars parts and metals were confiscated from the structure

4

Alaa Al-Ahmad

Junk Yard

1

Confiscation of some items

5

Khalil Abu Al-'Aqas

Used goods shop (electronic devices and metals )

1

Confiscation of some items

6

Sami Abu Ghaliyeh

Carwash

4

Demolished many times before

Total

6 structures

17
Source: Field observation- Department of Monitoring Israeli Violations- Land Research Center-2015
Citizen Mohammad Burqn told a researcher from Land Research Center the following:
"Yesterday, a new officer from the Civil Administration arrived to the place at 11:00 in the morning and gave me a 12 hour deadline to evacuate my structure before demolishing it and confiscating its interior; my neighbors were verbally informed of demolition as well. I did not compel to the notice because the Civil Administration has never been serious in such situation. Ironically, they came back at dawn and carried out the demolition"
Citizen Oubaida Rajabi also asserted:
"I work here for a period of over 9 years and this is the demolition no. 25 inflected on my structure during that period. I do sell metals such like iron and copper in addition to cars parts and junks; five other workers profit from this job with me. Three months ago, an officer from the Civil Administration delivered me a demolition notice on my structure. Surprisingly, the force came today, carried out the demolition and confiscated 20,000INS worth of goods"
Prepared by
The Land Research Center
LRC