The Israeli occupation demolishes a residence in the Hebron village of Halhul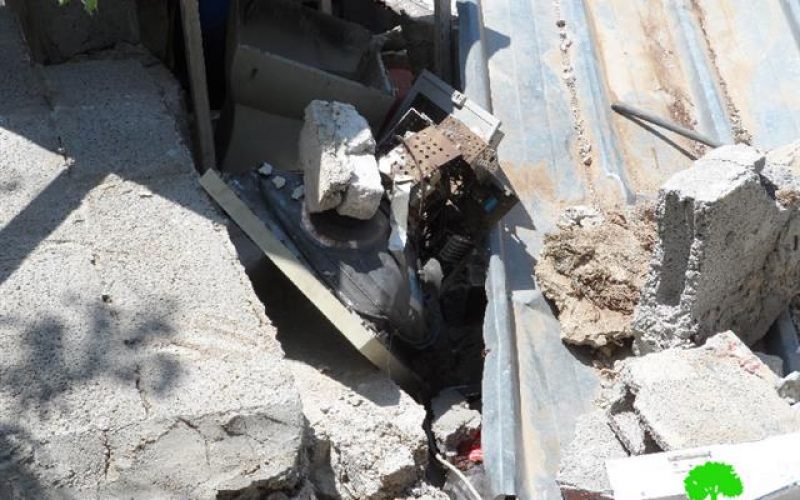 Violation: demolishing an inhabited house
Location: Beit Kheiran- Halhul
Date: 05/08/2015
Perpetrators: the Israeli Civil Administration and army
Victims: Citizen Azmi Ajloune
Details:
The Israeli occupation authorities on August 05, 2015 demolished a residence belonging to Citizen Azmi Ajloune in the area of Beit Kheiran, east Halhul town in Hebron.
Ajloune told a researcher from Land Research Center that he left his house on August 04, 2015 to attend a wedding ceremony in Hebron where he spent the night over. At the morning of the next day, Ajloune's wife received a phone call informing her that the Israeli occupation authorities demolished their residence later that night. The family was informed that the demolition was carried out by a military dozer before dawn.
Shalabih, the citizen's wife said that they came back to find their house as rubbles with the interior destroyed. The door of the house was reported to be demolished for it was locked at time.
The attacked house was built in 1985 with a total area of 60m2; it accommodates two rooms, a kitchen and a bathroom. The residence is home for Ajloune's five member family.
Photos 1-6: sings of the demolition on Ajloune's house
The citizen asserted that he found a stop-work order left by his structure two years ago; Ajloune did not know how to deal with the order so that he ignored it at the time.
The Red Crescent association immediately gifted a tent for the affected family, who in this regard pointed out that they will not be able to live in it due to the heat wave that is hitting the country.
The family called upon humanitarian organizations to provide them with a proper residence as a replacement of their previous house.
It should be marked that the area of Beit Kheiran is located to the south of Beit Ummar village and to the west of Jerusalem-Hebron Street. The house of Ajloune is reported to be the only residence in that area.
Prepared by
The Land Research Center
LRC