The Israeli occupation army ravages and uproots olive trees in Bethlehem governorate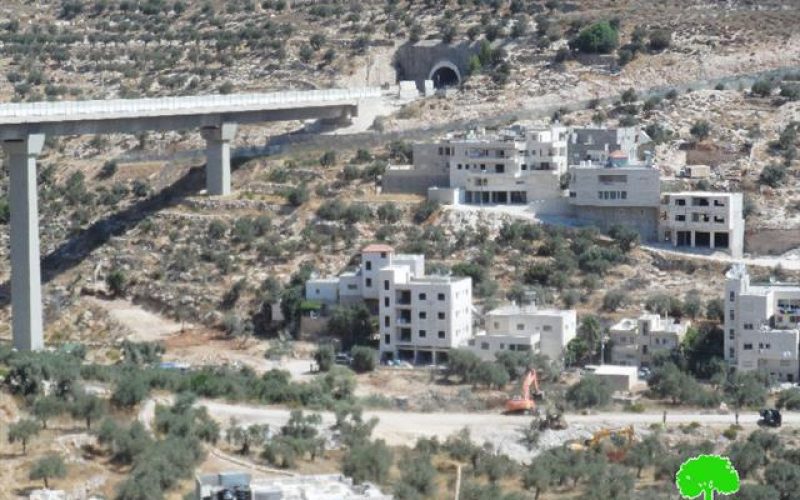 Violation: ravaging vast area of olive trees
Location: Beit Jala- Bethlehem
Date: August 17, 2015
Perpetrators: Israel Civil Administration and Army
Victims: families from the area
Details:
The dozers of the Israeli occupation army on August 17, 2015 ravaged some lands in the area of Bir Ouneh under the "tunnel" crossing as per completing the establishment of the apartheid wall. This step came after a decision made by Israel Supreme Court to initiate the construction of the wall in the area of Krimzan from Bethlehem to reach the crossing area.
The dozers ravaged around 6 dunums and uprooted olive trees aging tens of years. Residents of Beit Jala tried to stand up against soldiers at time of uprooting the trees, which they consider a Roman treasure and heritage.
Citizen Luna Qasasfa told a researcher from Land Research Center the following:
"It feels like our souls have been uprooted when we watched our trees being uprooted by the occupation; we feel a tremendous pain in our bodies seeing a single tree getting uprooted. My kids were even forced to re-plant the uprooted trees in a different plot of mine that was not targeted with uprooting"
She also added: "We are afraid of what will happen to our lands; would it be impossible to access our lands when the apartheid wall is constructed in the area? "
It should be marked that construction of the apartheid wall in the area will negatively affect the economical status of the lands' owners due to the fact that most of them rely on farming and agriculture as a source of income. Also, the area of Krimzan, which is considered a breather, will no longer be available and will be isolated behind the wall.
Beit Jala:
It is located 1 km to the west of Bethlehem and 8 km to the south west of the Occupied City of Jerusalem. 3147 dunums (22%) of the town's lands were confiscated to expand the borders of "greater Jerusalem" and a number of surrounding colonies including:
Gilo: it was established in 1971 to cover around 2738 dunums in area nowadays. 1117 dunums are part of Beit Jala lands. The colony is inhabited by 31500 colonists.
Har Gilo: it was established in 1972 to cover around 420 dunums in area nowadays. 314 dunums are part of Beit Jala lands. The colony is inhabited by 414 colonists.
Area and Location:
Beit Jala is inhabited by 16700 Palestinians (PCBS). Its total area is 14337 dunums divided into 6142 dunums (area 'A'), 91 dunums (area 'B'), and 8104 dunums (area 'C') (Oslo Interim Agreement 1995).
Prepared by
The Land Research Center
LRC