Stop-work order on structures in the Qalqiliya village of Jayyous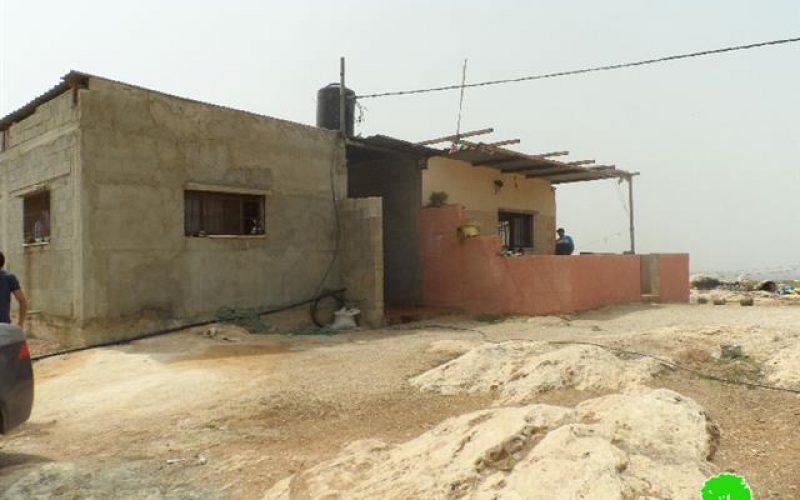 Violation: serving a stop-work order on structures
Location: Jayyous village- Qalqiliya
Date: August 13, 2015
Perpetrators: the Israeli occupation army
Victims: the family of Ali Abu Sharip
Details:
The Planning and Construction Committee- Israel Civil Administration on August 13, 2015 served the family of Citizen Ali Abu Sharip two stop-work orders on a residence and an agricultural barrack under the claim of "unlicensed construction" . According to the military order, the affected were given a deadline until September 03, 2015 to complete all licensing procedures. This comes in time with the hearing session of the Planning and Construction Committee- Israel Civil Administration in the Israeli court of Beit El to consider the status of the notified structures.
It should be marked that the house was built in 1998. In 2001, the house was isolated behind the apartheid wall, which formed an obstacle to the owners in terms of the freedom of movement.
After dismantling a segment of the wall in 2013, the aforementioned structures were restored to the Palestinian side. Despite that, the owners were not safe from the occupation's harassments and assaults. Last violation was seen in the serving of the stop work order on the barrack and house that shelter 8 members including 4 children. The following table shows information about the affected citizen due to the order:
Affected citizen

Family

Minors

Notified structure

Order

Photo

Ali Abu Sharip

8

4

House (100m2)

Metal slaps barrack (90m2)
Source: Field observation- Department of Monitoring Israeli Violations- Land Research Center-2015
About the apartheid wall in Jayyous:
The segregation wall isolated, in 2002, around 8600 dunums form the villages of Jayyous and Falamya. After a long tribunal war in Israel Supreme Court, a decision was made, on September 9th 2009, to modify the wall to its final status where 2450 dunums from northwest Jayyous shall be returned to their owners.
On January 18, 2013, the modification of the wall started and was represented in ravaging new areas for the sake of establishing a new modified segment to substitute the old one. The removed segment is of 3km in length from the northwestern side of Jayyous. As a result, 80 dunums were left damaged after the removal.
On September 01, 2014, the work on the new segment was done and on September 7th, farmers were given access to their returned lands.
According to the mayor of Jayyous: "the returned lands contain two artisan wells namely ( Yabok and Abu Thahir) and has more than 25dunums planted with green houses. Rest of the area is olive groves.
Noteworthy, the isolated lands include 27dunums planted with vegetables, citrus, olives and guava as well.
Prepared by
The Land Research Center
LRC