Eviction order on a natural reserve in the Tubas area of Ras Al-Bikai'a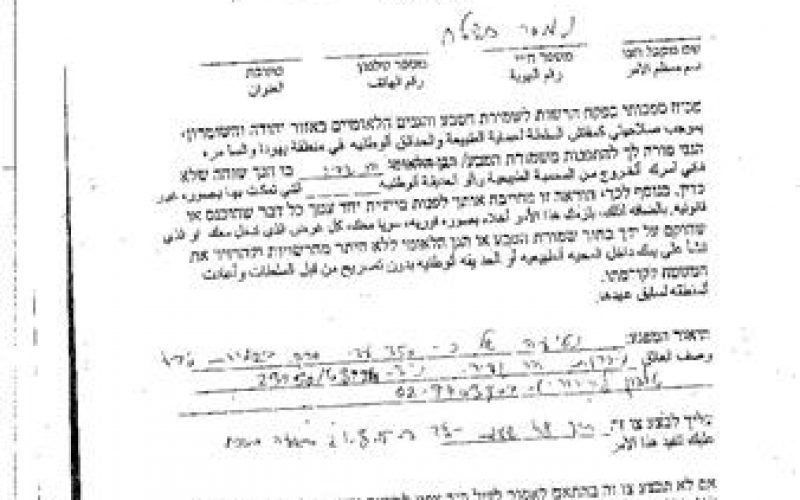 Violation: serving an eviction order on a natural reserve
Location: Ras Al-Bikai'a- Tubas governorate
Date: August 19, 2015
Perpetrators: Israel Nature Authority
Victims: residents of Tubas
Details:
Israel Nature Authority on August 19, 2015 hanged an eviction order on the natural reserve of Ras Al-Bikai'a. Noteworthy, the order includes evicting the area from the trees that have been planted by Tubas Ministry of Agriculture within "Green Palestine" project. The targeted area by the project totaled 220 dunums, which were planted with 13,000 seedlings of (carob, acacia and oak), Agronomist Rafi' Al-Odaili from Tubas Ministry of Agriculture said.
The military order no. 2134 compelled the responsible people of the lands to restore the previous status of the targeted area within a 48 hour deadline. This came on the claim that the lands are natural reserve, taking into account that the lands are registered to the Jordanian Lands Treasury.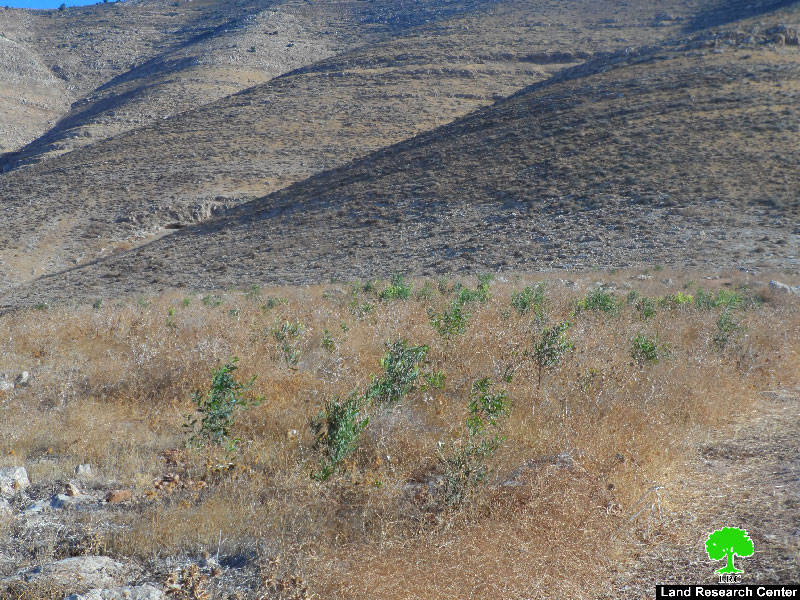 Photos 1-3: the targeted location
Photos 4-5: the military order
It should be marked that the area of Ras Al-Bikai'a is an extension of Einun village, which was used as pastures for Bedouin communities residing the area. The village later became targeted by Israeli military trainings and used to get declared closed military zones. The Palestinian government tried to bring life back to the area through the "Green Palestine" project, but the Israeli occupation works hard to make such developmental projects fail.
Israel Nature Authority in 2015 raided the project location and confiscated the workers tent, agricultural equipments, two water trucks and tens of seedlings.
Agronomist Rafi' Al-Odaili from Tubas Ministry of Agriculture told a researcher from Land Research Center that 165,000 dunums of Tubas governorate are considered "state property" for Israel. The ministry of agriculture works hard to cultivate the area to be benefited from by herders and farmers. Many lands were cultivated and planted with forest trees namely (Bseilihm, Einun, Al-Sakut, Lihif Jadir).
Noteworthy, the Israeli occupation authorities impose restrictions on those lands where they give themselves the ultimate freedom to exploit such areas in colonial expansion plans.
Prepared by
The Land Research Center
LRC