Demolitions of structures in the villages of Northern Jericho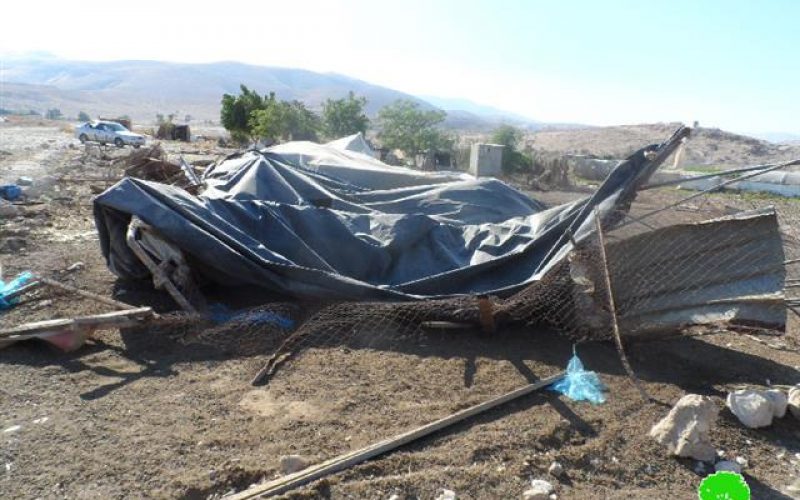 Violation: demolishing residences and structures
Location: Jiftlik and Al-Zubeidat villages
Date: August 11, 2015
Perpetrators: the Israeli occupation army
Victims: 3 Palestinian families
Details:
Within the Israeli policy that aims at emptying the Palestinian Jordan Valley (Al-Ghoor) from its indigenous, a massive force from the Israeli occupation army (6military vehicle and two dozers) on August 11, 2015 raided the Bedouin community of Arab Id'eis, southest Jiftlik village. Noteworthy, the community is located next to the Israeli camp of Jiftlik.
It should be marked that the dozers immediately embarked on demolishing two residences, a barrack for sheep and a barn. The following table shows information about the damage resulted due to the latest demolition:
Affected citizen

Family

Minors

No. of sheep

Demolished structure

No. of photo

Remark

Residence

Barrack

Barn

Mahmoud Id'eis

10

5

120

100m2residence (metal slabs and cement)

25m2 barrack

160m2 barn

Had a structure demolished in the same location

Abdallah Id'eis

4

2

0

48m2 residence (mud and metal slabs)

—

—

Had his structures demolished three times before

Total

14

7

120

2

1

1
Source : Field observation- Department of Monitoring Israeli Violations- Land Research Center-2015
It should be marked that the targeted family has been living in the area since 20 years ago; agriculture and animals husbandry are the family's only source of income. Noteworthy, Id'eis family hails from the area of Imran in Yatta, southern Hebron.
Mr. Mahmoud Id'eis told a researcher from Land Research Center that the Israeli occupation targeted them four consecutive times during the past ten year; all attacks came under the claim of "unlicensed construction", taking into account that the structures were built four years ago.
Demolition of an agricultural storehouse:
In addition to the aforementioned, the Israeli occupation army destroyed a shed that was built two years ago to be used as storehouse for fodder and agricultural tools. The shed belongs to Citizen Farhan Suliman from the village of Al-Zubeidat.
the targeted shed
The demolished shed is reported to be of 12m2 in area; it served many barns in the area that are notified of demolition as well.
Prepared by
The Land Research Center
LRC