The Israeli occupation demolishes an agricultural road in Yasuf village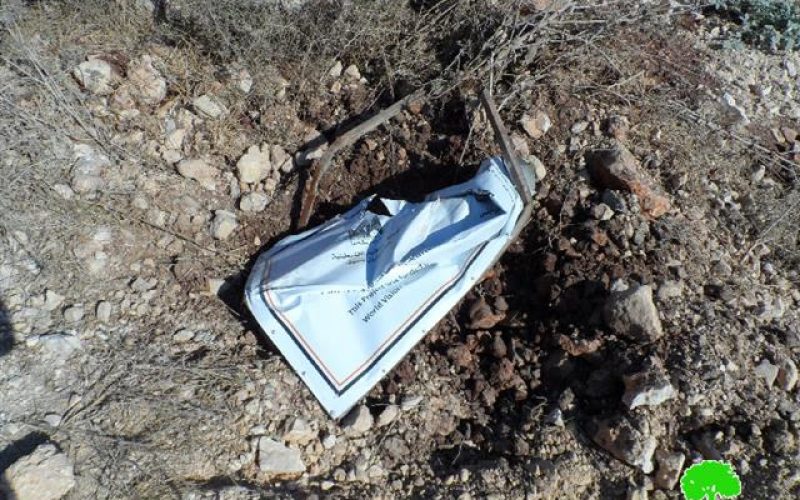 Violation: destroying an agricultural road
Location: Yasuf village- Salfit
Date: July 21, 2015
Perpetrators: the Israeli occupation army
Victims: around 35 agricultural families
Details:
A massive force from the Israeli occupation army accompanied by two military dozers on July 21, 2015 raided the area of Al-Kurum Al-Tahhta, east Yasuf village and embarked on demolishing an agricultural road (450m) by digging holes in it.
The attacked road is reported to be implemented with funds from World Vision organization to serve the threatened of confiscation lands in the area.
It should be marked that the demolition took place two weeks after the Israeli occupation authorities confiscated the machineries used to open the road on July 09, 2015. Noteworthy, the confiscated machineries were moved to Huwwara military camp and a financial fine was imposed on them.
Photos 1-2: the demolished agricultural road
The claim of "unlicensed construction":
It should be marked and according to the force officer, the demolition was carried out under the claim of unlicensed construction within area classified "C" according to Oslo Accords. Noteworthy, the military order was left under a rock by the road sometime during the past May.
The chairman of Yasuf village council Abdel Rahim I'bayyah, about the importance of the agricultural road, told a researcher from Land Research Center the following:
"The road (450m) was opened in the area of Al-Kurum Al-Tahhra on April 2015 for the sake of serving 120 agricultural dunum belonging to 35 families. The road cost reached around 35,000 dollar. Noteworthy, the road is 1.5 km away for Tapuah colony from the east and 200m away from the village's master plan"
He also added:
"What the occupation did is not strange; it displaced a whole people, looted the goods of the lands and destroyed the agricultural sector in the area. Thus, it is not surprising that the Israeli occupation demolishes a road with a false claim of delivering a stop-work order on it when this never really happened. Also, more than 15 residences are threatened of stop-work or demolition where more than 1000 dunums have been confiscated for the favor of Tapuah colony's expansion".
Yasuf:
It is 16km south of Nablus. Yasuf is surrounded by Huwara and Jamma'in (north), Marda (west), Yatma (east), and Iskaka (south).
Yasuf is inhabited by 2090 people (according to 2013 projections). It has a total area of 6037 dunums, 330 of which are built-up area of the village.
The Israeli occupation confiscated 814 dunums for these two colonies: Kfar Tapuah colony which was built on Yasuf lands in 1978. The colony is inhabited by 523 colonists and Rachelim- Shvut that was built in 1991 and devoured 10 dunums.
Besides, the bypass road number 508 confiscated more than 155 dunums of the village lands.
According to Oslo Accords, only 1427 dunums of Yasuf lands are under Area B (PA is in charge of civil matters with Israel responsible for security) while most of Yasuf is under Area C (Israel maintains full security and administrative control). About of 4609 dunums of Yasuf is in area C.
Prepared by
The Land Research Center
LRC