The Israeli dozers demolish structures in the Jerusalem town of Silwan
The dozers of the Israeli occupation army on July 28, 2015 demolished a residence that is still under construction and two shops for selling carpets in the neighborhood of Ein Al-Luzeh that is relative to Silwan town. Demolition was carried out under the claim of unlicensed construction. The residence is reported to be of 100m2 in area where the other two shops total 100m2 too.
The demolished structures belong to Citizen Khalil Al-Abasi, who told a researcher from Land Research Center the following: "My structures were built two years ago; the house was supposed to be a home for my son Faris, where the two shops were used for selling carpets. At time of construction, I received a stop-work order from the occupation's municipality but continued the building process without obtaining a construction permit for the whole area needed to be re-planed, which requires collective effort from the owners of all building in the area"
At the early hours of July 28, 2015, a massive force from the Israeli police imposed a closure on the area and declared it inaccessible. Workers accompanying the staff evicted the two shops from carpets before two military dozers leveled the structures to the ground. Demolition lasted for 2 hours. Estimated losses were reported to be 200,000 INS.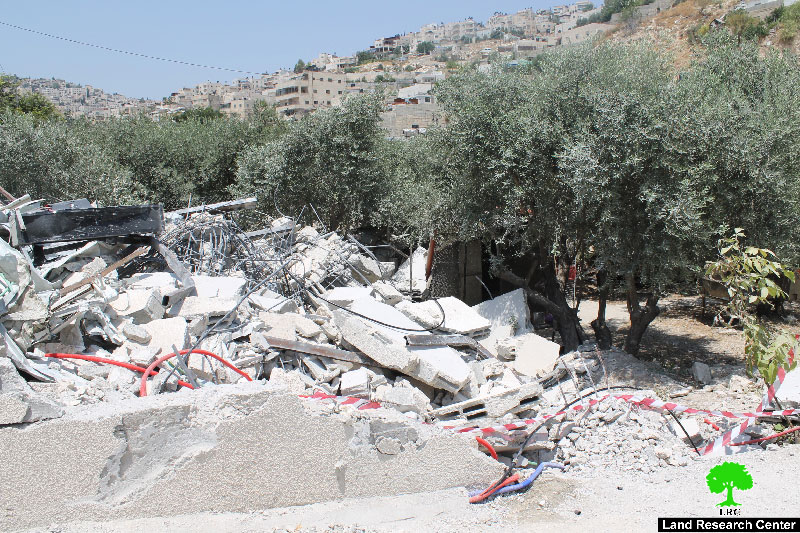 Side of the demolition on Abbas's structures
Prepared by
The Land Research Center
LRC