Stop-work orders on structures in the Qalqiliya village of Jit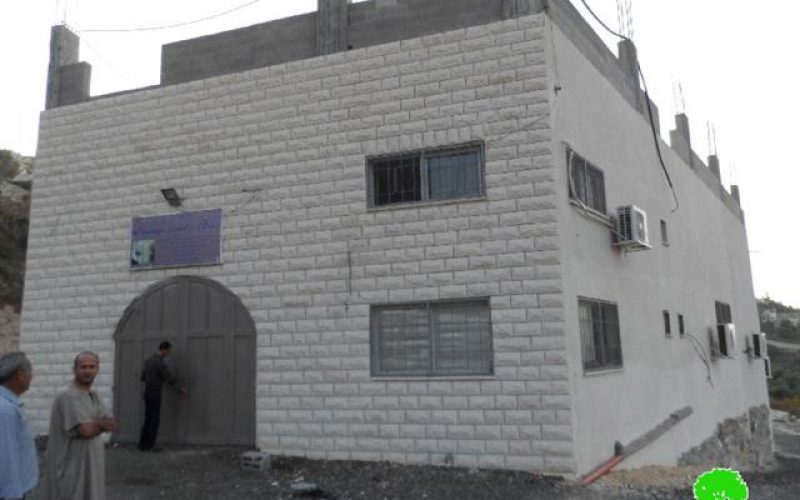 Violation: serving stop-work orders
Location: Jit village- Qalqiliya
Date: 22/07/2015
Perpetrators: Planning and Construction Committee- Israel Civil Administration
Victims: 9 Palestinian families
Details:
Targeting Palestinian building is a systematic policy of the Israeli occupation that aims at taking over Palestinian land and imposing a de facto that is hard to deal with. It also deprives the Palestinian citizen from hisher basic rights represented in the right to adequate and safe housing.
It should be marked that a massive force from the Israeli occupation army accompanied by a staff from Civil Administration on July 22, 2015 raided the village and delivered stop-work orders on six residences, a chicken farm and a wedding hall. The orders came under the pretext of "unlicensed construction" within an area classified C according to Oslo Accords.
The affected people were given a deadline until September 16, 2015 to complete all licensing procedures. This comes in time with the hearing session of the Planning and Construction Committee in the Israeli court of Beit El colony to consider the status of the notified structures. The following table shows information about the damage resulted due to the orders:
Affected citizen

Location

Family

Minors

Area/m2

No. of order

Nature of structure

Photo

Mahir Yamin

Karm Abu Dhiab

9

3

125

Under construction house (one floor)

Iyad Al Sakhen

Karm Abu Dhiab

8

3

160

Inhabited house( one floor)

Shadi Hamid

Ibqi' El Zayid

7

5

160

Inhabited one floor house

Ahmad Yamin

Karm Abu Dhiab

7

1

145

Under construction house (one floor)

Qassem Sadih

Karm Abu Dhiab

9

7

400

Chicken farm

Majdi Yamin

Karm Abu Dhiab

5

3

170

Inhabited one floor house

Rashid Yamin

Ibqi' El Zayid

5

3

150

180265

Under construction house (one floor) and a basement

Nidal Yamin+ Amjad Yamin

Ibqi' El Zayid

12

8

600

A wedding hall

Total

62

33

1910
Source : Field observation- Department of Monitoring Israeli Violations- Land Research Center-2105
Jit – an Overview:
Jit is located 12 km to the south west of Nablus city, on An Nar Mountain. It is also 14 km to the east of Qalqiliya city and is located under the jurisdictions of Qalqiliya Governorate. The village residences are placed over two parallel mountains overlooking the main road connecting Nablus and Qalqiliya. Jit is surrounded by various Palestinian communities including Surra and Tal (east), Far'ata. Al Funduq, Immatin, and Hijja (south), Qusin and Kafr Kaddum (north). It is also edged by the expanding Israeli colony of Kadummim.
Its total area is 6460 dunums including 243 dunums of built up area.
The Israeli Occupation confiscated more than 1200 of the village lands for colonial expansion purposes including the expansion of Kadummim and Gil'ad Zohar colonial nucleus. Such colonial entities cause day-to-day suffering to surrounding Palestinian population because of the Israeli army measures in addition to the daily aggressions committed by the colonists. Such attacks included attacks against agricultural fields and farmers.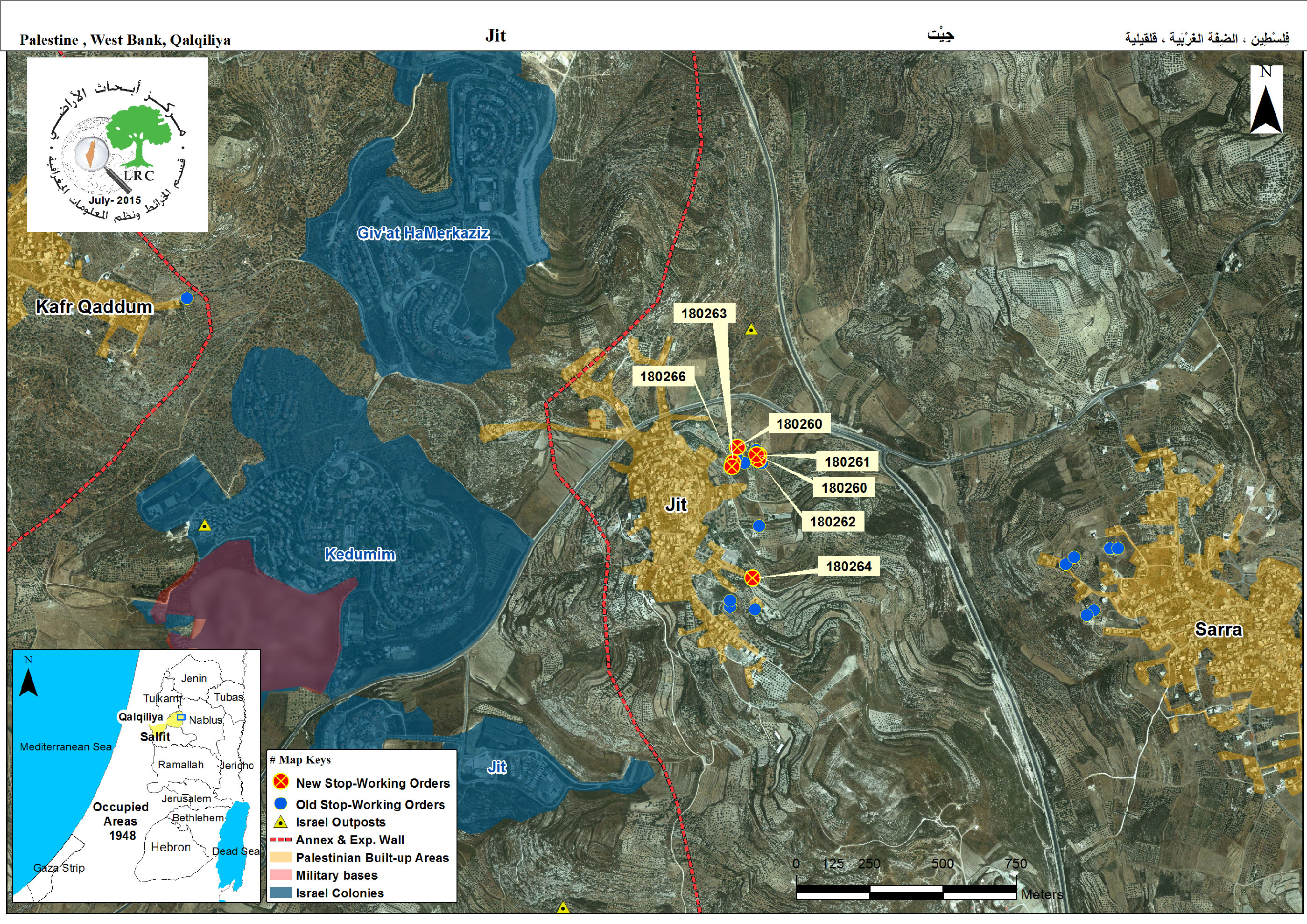 The colonies take every chance to plant more mobile homes and confiscate lands; concurrently, the Israeli Occupation Army targets Palestinian structures on various justifications, mainly, the lack of construction permits; on the other hand, not only the colonists are free to plant their mobile homes anywhere in the West Bank but they also receive full support from their government and army. Jit is inhabited, according to the latest statistics done by the Village Council, by round 2700 people. The unemployment rate reached 34% of the total population. The Israeli measures and land confiscation drastically contributed to such high rate.
Prepared by
The Land Research Center
LRC