Extending the validity of a land grab on 15 dunums in the Nablus village of Aqraba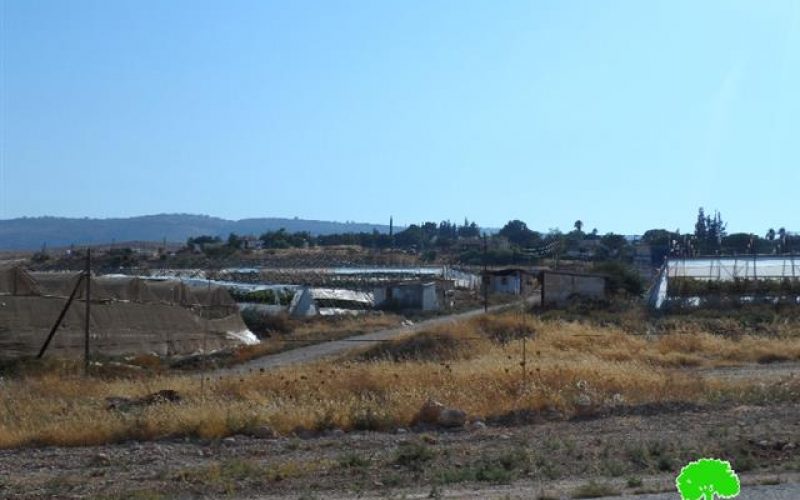 Violation: extending the validity of a land grab
Location: Lafjam area- Aqraba
Date: 26/07/2015
Perpetrators: the Israeli occupation army
Victims: farmers from the area
Details:
A massive force from the Israeli occupation army on July 26, 2015 raided the area of Lafajm and delivered a military order that includes extending the validity of a land grab under the claim of "security purposes". The military order o. (T/199/05) was issued by the commander of the Israeli occupation army in the West Bank Nitzan Alon. According to the Israeli occupation, the order was first issued in 2005 and was renewed twice, the last time of which occurred on July 2015.
According to the military order, the Israeli occupation extended the validity of a land grab on 15.65 dunums from the area of Lafjam within the natural block no.12 inclduing the following areas: ( Al-Birnas, Khalayel Al-Ful, Wadi Lafjam, Dakouk Mountain and Al-Sawsanih).
Photos 1+2: the military order no. (T/199/05)
Photos 3+4: the targeted lands exploited by Jetit colonists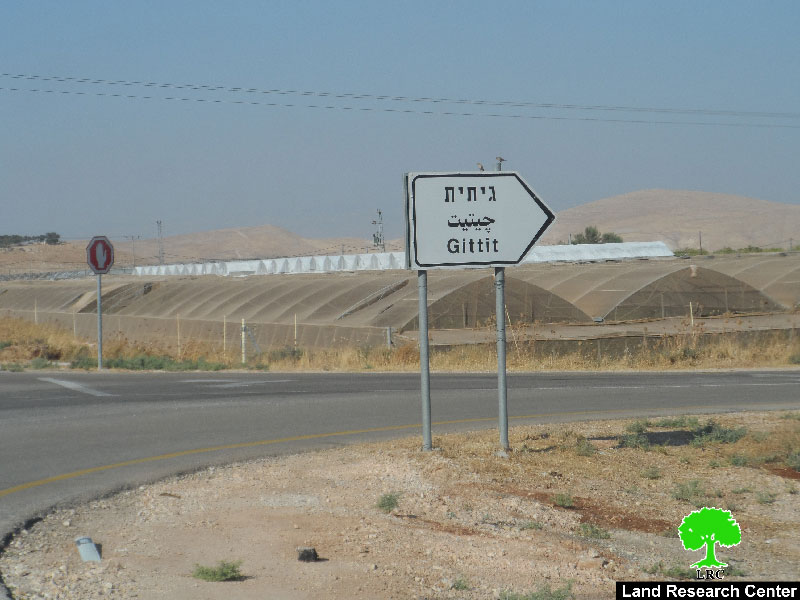 Photo 5: Jetit colony on Aqraba lands
Denying peoples' rights
It is indicated that according to the field observation of Land Research Center and the statement of Aqraba's mayor, the targeted location is indeed agriculturally used by colonists of Jetit for more than five years. The occupation imposed punitive measures on Palestinians who try to reach their lands in that area. It should be marked that the used area by colonists is bigger in size than mentioned in the military order. This helps colonists to take over more land for the favor of the colony's expansion.
The human rights activist from Aqraba Mr. Yusif Deirih said the following:
"Most of the colonies and outposts in the area are founded on confiscated lands from the village under the claim of "Security Purposes". Such lands are given to colonists to establish colonies on and to use for agricultural ends. Also, lands become inaccessible for Palestinians even if they seek to restore them via courts; the only result they get is access ban due to security purposes".
It should be marked that Lafjam and At Tawil total area is around 30,000 dunums, including 8,000 dunums of arid lands unsuitable for cultivation as well as 15,000 dunums that are used for seasonal crops and 7000 dunums that have been captured by the Israelis. The area is subject to colonial activity presented in Jetit colony (established in 1973; its total area is 1720 dunums and inhabited by 191 colonists), Ma'ale Efrayim (established in 1970; its total area is 4778 dunums and inhabited by 1423 colonists), Itamar colony (established in 1984; its total area is 7189 dunums and inhabited by 651 colonists
Prepared by
The Land Research Center
LRC