Torching 2000 dunums of pastoral lands in Al-Tawil hamlet due to military training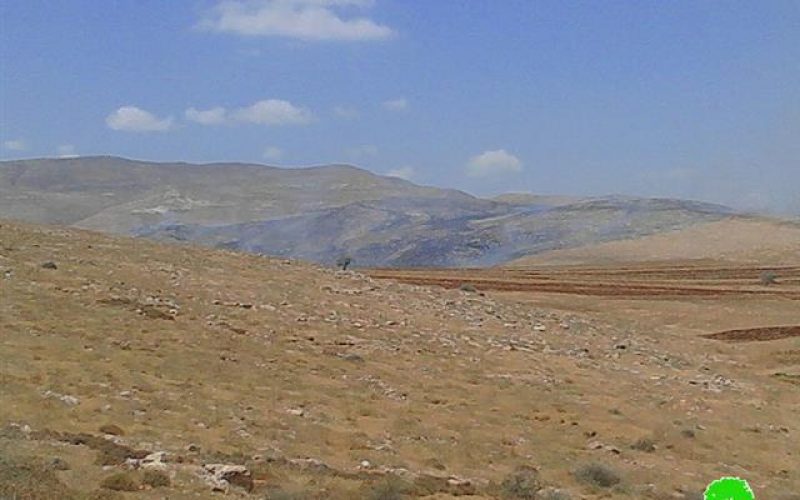 Violation: burning down 2000 dunums
Location: Al-Tawil hamlet- Nablus
Date: June 10, 2015
Perpetrators: the Israeli occupation army
Victims: herders from the area
Details:
It is reported that the Israeli occupation army has been conducting military trainings in the area of Palestinian Jordan Valley (Al-Ghoor) for over two years. This area is considered strategic for the occupation to impose control on Al-Ghoor and to create an unchangeable de facto. Such trainings have negative impact on Palestinian farmers and on the livestock sector, which is seen as the crucial nerve of Palestinian economy in the area.
Torching 2000 pastoral dunums:
It should be marked that an area of 2000 dunums on June 10, 2015was burned down due to the Israeli military trainings in the area. The fire was reported in the hamlets of Al-Tawil and Al-Dawa, east Aqraba town.
Mr. Yousef Diriyeh from Aqraba municipality told a researcher from Land Research Center the following:
"There was an obvious undermining from the occupation's side in dealing with the fire in the area; it is as if the occupation is intending to strike the agricultural sector of the area, taking into account that the burned down lands are pastures"
He also added: "We tried to call the Palestinian District Coordination Office to facilitate the entering of fire brigades to the area but the Israeli occupation hindered the process. After an hour and more, the Palestinian Civil Defense was allowed in to extinguish the fire, which reached out a vast area at time"
Photos 1-2: the fire that started due to military training
Frequent targeting:
It should be marked that an area of 2000 dunums was also burned down in the area of Ras Humsa. The areas of Al-Himih hamlet and Kardala village became a victim of Israeli military trainings.
Threat on the livestock sector:
Fires are reported to have destroyed vast area of pastoral lands in Al-Ghoor, taking into account that pastures are the farmer's last resort for grazing their sheep at time of the increase in the fodder prices.
Al-Tawil area is the only place that is left with useable pastures after the occupation declared most of Al-Ghoor area a closed military zone.
Farmer Ayman Bani Jabir said that other farmers from the area suffer from soldiers' harassments represented in chasing, denying access to lands and transforming pastures into closed military zones. As a result, the area of pastures decreased notably, which negatively affected the sector of livestock.
After having the lands burned down, farmers fear that the occupation might take over the area under the claim of the lands being "arid" and not suitable for agricultural purposes.
Prepared by
The Land Research Center
LRC