The Israeli occupation destroys a natural reserve in Tubas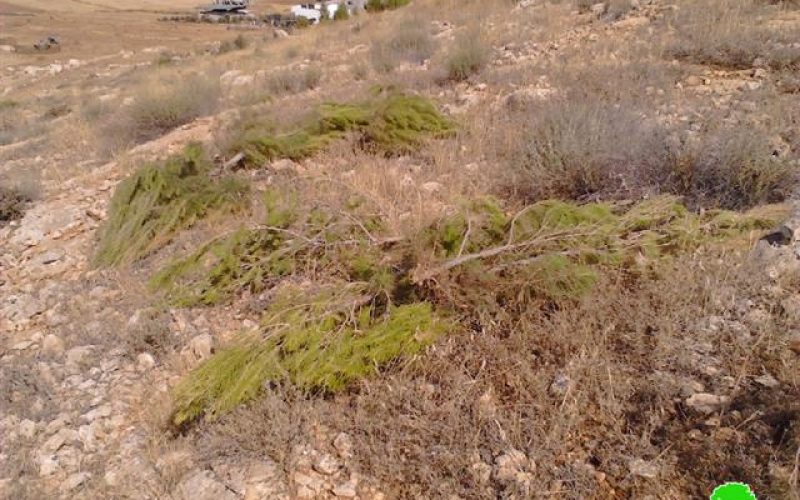 Violation: uprooting 1200 seedlings
Location: Lihif Jader- Tubas
Date: 16/06/2015
Perpetrators: the Israeli occupation army
Victims: residents of Tubas
Details:
In synchronization with the international day to fight desertification, the Israeli occupation dozers on June 16, 2015 embarked on ravaging a massive area of the natural reserve Lihif Jader, east Tubas governorate.
Around 6:00 a.m. in the morning, two dozers accompanied by a massive force from the Israeli occupation army and the so-called Israel Nature Authority raided the area of Lihid Jader and uprooted around 1200 trees from a 500 dunum area. The attacked trees were reported to be planted 5 years ago within the Green Palestine project that is implemented by Palestine Ministry of Agriculture.
It should be marked that the attacking force intended to cut the trees down from the stocks to sustain entire damage to the trees so that farmers can't benefit from.
Israel Nature Authority justified the attack under the claim of the trees being planted within a natural reserve without a proper permit, taking into consideration that the area has been served a "removal" order on the trees four years ago.
By the end of 2014, Israel Nature Authority served new orders on forest seedlings that were planted in the same location by Palestine Ministry of Agriculture. The order came under the claim of "changing the landmarks of the natural reserve" and that a big part of the area is classified "state property".
Photo 1-2: the cut down trees in the targeted area
Targeting natural reserves:
Under the claim of preserving nature, the Israeli occupation authorities through Israel Nature Authority, in less than a year, targeted a massive area of Palestinian lands and uprooted the trees there, which were planted by Palestine Ministry of Agriculture within the Green Palestine project.
Areas such like Umm Al-Kbaish, east Tammun village, Al-Sateh and Lihid Jader, east of Tubas and other towns and villages are considered a main target for the Israeli plan that aims at taking over the whole area to empty it from indigenous people.
Land Research Center sees that land confiscation is a violation of all international covenants concerning lands and natural reserves including:
Article 1 of International Covenant on Civil and Political Rights stating:
"All peoples may, for their own ends, freely dispose of their natural wealth and resources without prejudice to any obligations arising out of international economic co-operation, based upon the principle of mutual benefit, and international law. In no case may a people be deprived of its own means of subsistence"
Article 17 of the (1948) Universal Declaration of Human Rights stating:
"Everyone has the right to own property alone as well as in association with others. No one shall be arbitrarily deprived of his property."
Prepared by
The Land Research Center
LRC