Stop-work orders on residential tents on Yatta town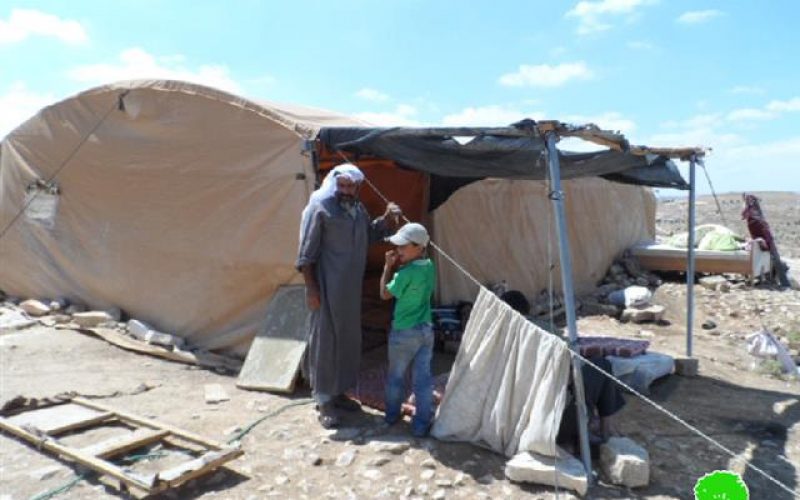 Violation: serving stop-work orders on tents
Location: Khirbet Al-Mafqara- Yatta
Date: 22/06/2015
Perpetrators: Israel Civil Administration and army
Victims: Qasem Hamamdeh and Yasir Al-Adra
Details:
The Israeli occupation authorities on June 22, 2015 served stop-work orders on two residential tents in the area of Khirbet Al-Mafqara, east Yatta town. Eyewitnesses said that a staff from the Civil Administration and the Israeli occupation army raided the area and hanged the orders on the tents.
The military order came under the pretext of unlicensed construction. July 27, 2015 was assigned as the hearing session of Israel Inspection Sub-Committee in the Israeli court of Beit El to consider the status of the notified structure.
The orders were served on the following:
The tent of citizen Qasem Hamamdah: it is of 50m2 in area and is made of metal poles and shade cloth; the tent was gifted by ACF association as a humanitarian aid after the Israeli occupation authorities demolished the citizen's previous tent on December 31, 2014. The tent is home for ten member family including 4 children.
Photo1: the stop-work order served on the tent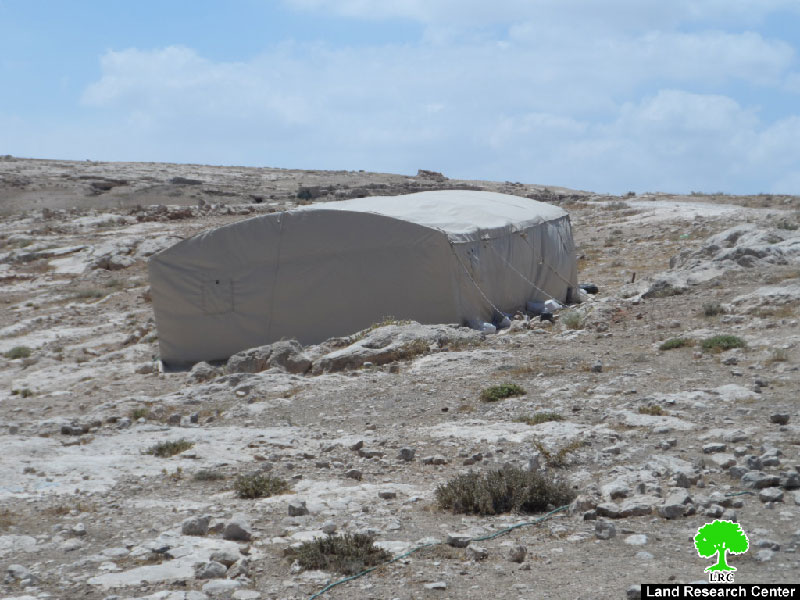 Photo2: view of the notified tent
The tent of Citizen Yasir Al-Adra: it is of 50m2 in area and was built five months ago; the tent is home for seven member family including 5 children.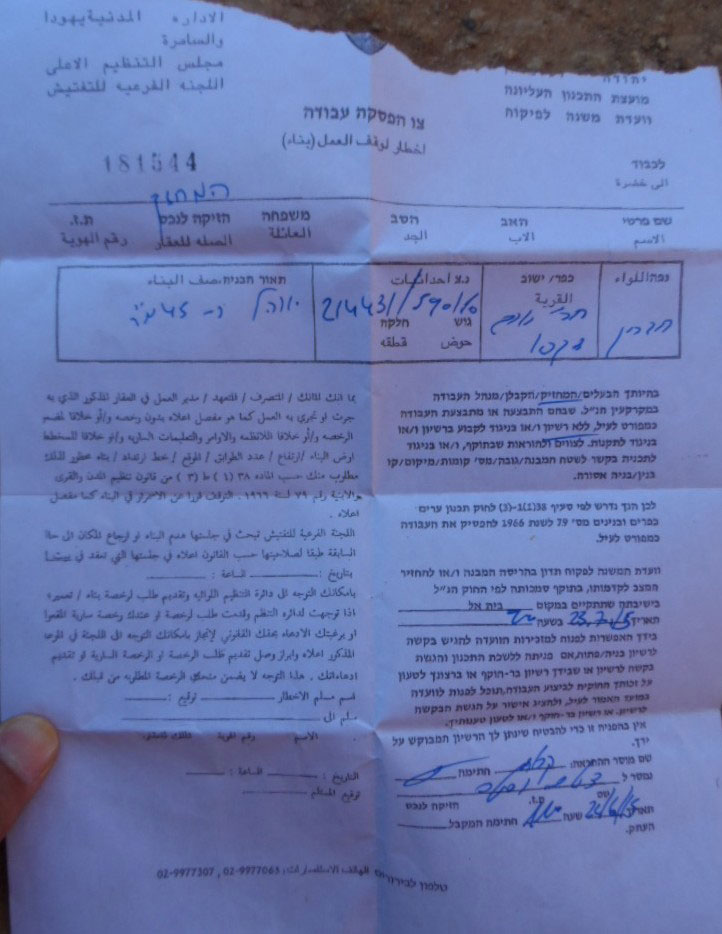 Photo3: the stop-work order served on the tent
Khirbet al-Mafqara:
It is a primitive community that is located 17 km to the far east of Yatta town. The Khirbet populates around 150 people who are divided on 22 families from the al-Hamamdeh clan. Noteworthy, the khirbet is administered by a joint village council for the khirbets of al-Mafqara and al-Tuwani.
Al-Mafqara borders:
Khafat Maaon to the north.
Afai Gal and bypass road no. 60 to the west
Yaqub Dalia colony to the south
Maaon colony to the east. See Map 1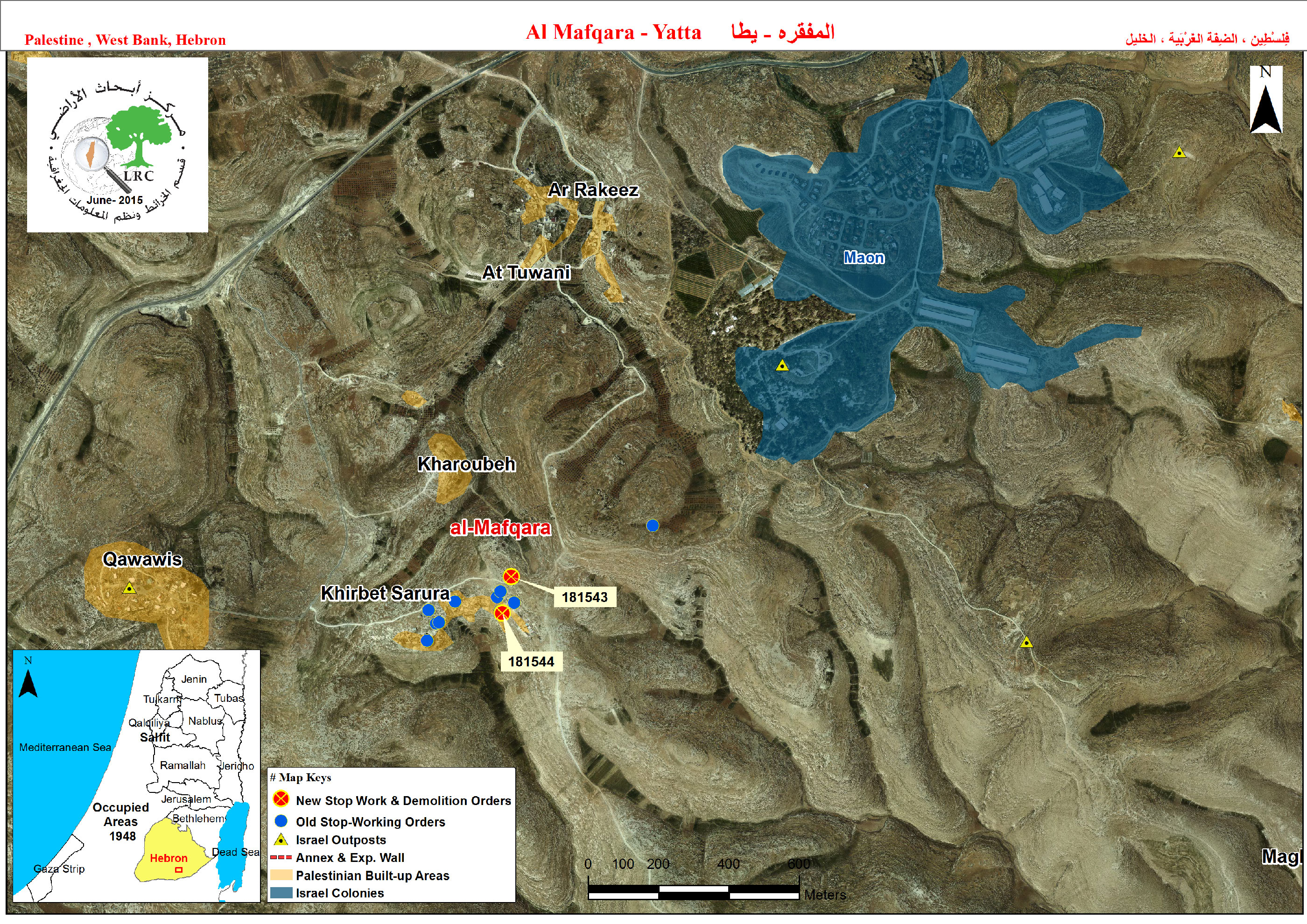 Prepared by
The Land Research Center
LRC