Demolition orders on barns and residences in Tubas governorate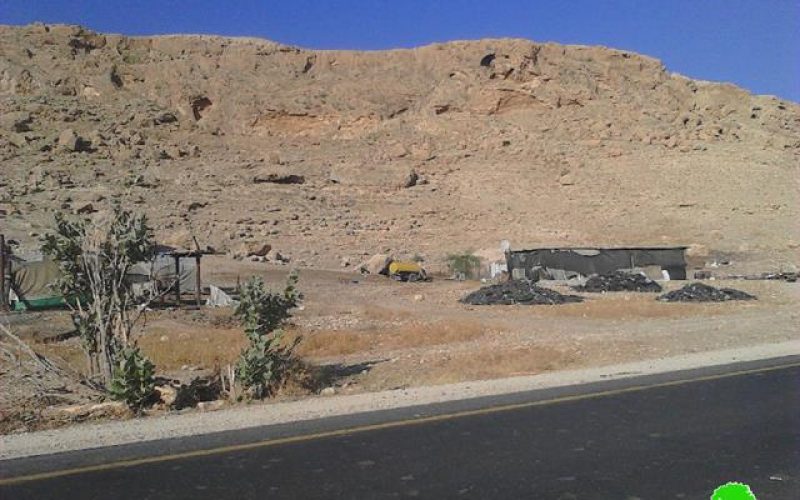 Violation: serving "additional opportunity to object demolition" orders
Location: Tubas governorate
Date: June 2015
Perpetrators: Planning and Construction Committee- Israel Civil Administration
Victims: 3 Palestinian families
Details:
In a new attempt from the Israeli occupation to impose a de facto on the lands of the northern parts of the Palestinian Jordan Valley (Al-Ghoor), Israel escalated its violations against people and lands for the sake of taking over the area and emptying it from indigenous residents.
The Israeli occupation authorities on June 2015 served "additional opportunity to object a demolition" orders including a three day deadline objection period. The order followed a demolition order that was served on the residences and barns of two families under claim of "unlicensed construction". Same order was served on Citizen Khaled Subaih on June 03, 2015 under the same claim and with the same objection deadline.
It should be marked that the notified families live in the areas of Khirbet Al-Ras Al-Ahmar and Ein Hilweh, where the occupation never grant licensing permits for constructions. The following table shows the damages resulted due to the orders:
Affected citizen

Family

Minors

Location

Notified structures

No. of order

Date of demolition order

Photo

Residences

Barrack

Mohammad Bani Oudeh

12

7

Al-Ras Al-Ahmar

2 tents (40+60m2)

1 metal slaps barrack (90m2); a tent for sheep (45m2)

13/5/2013

1

Adel Daraghmeh

11

5

Ein Hilweh

2 tents (45+60m2)

2 tents (40+40m2)

4/9/2012

2

Khaled Subaih

8

5

Al-Aqaba

1 residential tent(60m2)

2 tents (45+60m2)

24/11/2009

3

Total

31

17

5

1 barrack+ 5 tents
Source : Field observation- Department of Monitoring Israeli Violations- Land Research Center-2015
Israeli's policy of home demolition in comparison with the international law:
The policy of home demolition was not really conducted on the bases of "Security and military measures" as stated in the article 53 of Geneva convention but to guaranty the expansion of Israeli colonies in the west Bank. The Israeli occupation authorities seek to harass and displace Palestinians to take over as much area of lands as possible to serve the Israeli colonial expansion plans.
It should be marked that the policy of home demolition in the occupied lands of Palestine is a clear-cut breach and a contradiction of many international conventions and humanitarian laws including the following:
Article 147 of Geneva fourth Convention stating:
"And extensive destruction and appropriation of property, not justified by military necessity and carried out unlawfully and wantonly"
Prepared by
The Land Research Center
LRC