Demolition of agricultural room in the Salfit area of Dhaher Soboh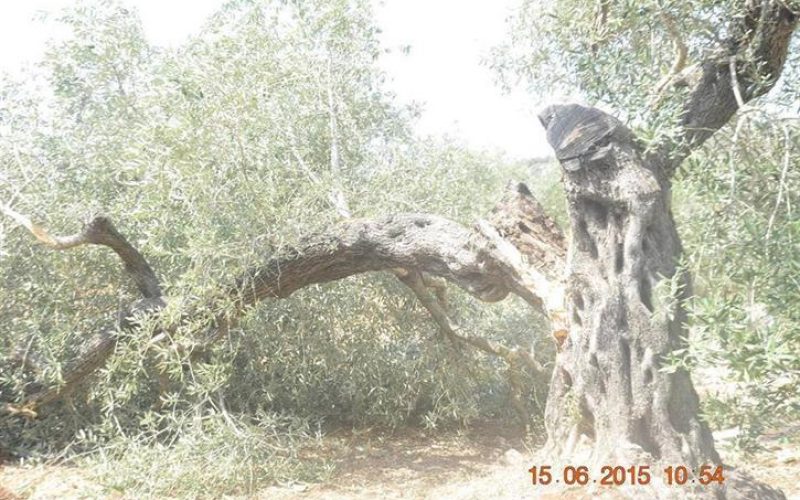 Violation: demolishing a agricultural room
Location: Dhaher Soboh
Date: 15/06/2015
Perpetrators: the Israeli occupation army
Victims: farmer Najeh Ahmad
Details:
A force from the Israeli occupation army accompanied by a military dozer on June 16, 2015 raided the area of Dhaher Soboh in Salfit and embarked on demolishing a agricultural room owned by famer Najeh Ahamd, who is from the village of Kfar Ad-Dik.
The Israeli occupation justified the demolition under the pretext of "unlicensed construction"; and that the structure has been served a stop-work order on July 2014.
The targeted room is used to serve Ahamd's 4 dunum plot, which is threatened of confiscation for the favor of establishing a new colony in the nearby. Attacks and violations against residents of the area and their properties came as an Israeli attempt to empty the area from indigenous inhabitants for the favor of colonial expansion plans.
The following table shows damages resulted due to the demolition
| | | | | |
| --- | --- | --- | --- | --- |
| Affected citizen | Family | Damage | Area-m2 | Photo |
| Najeh Ahmad | 8 | Demolition of a agricultural room, uprooting three trees, and ravaging a 100m2 | 40 | |
The importance of Dhaher Soboh for the governorate of Salfit:
The 300 dunum Dhaher Soboh is a very strategic area for Salfit; not only it has a central location but it also has a very fertile soil for olive plantation. The area is famous for ancient Roman olive trees and the abundance of water springs; Dhaher Soboh is considered one of the historic sites of Palestine and an icon of the land's Arabism.
The area of Dhaher Soboh is also considered a source of livelihood for many people who take farming as their main job at time colonial expansion is increasing notably.
It should be marked that the Israeli occupation escalated ravaging lands and demolishing structures owned by residents of the village.
Despite all that, the Palestinian farmer insists on not leaving hisher land to protect it from colonial expansion plans and preserve their history.
i: Salfit Ministry of Agriculture
Prepared by
The Land Research Center
LRC