Ravaging agricultural lands and sabotaging trees in the Hebron area of Suba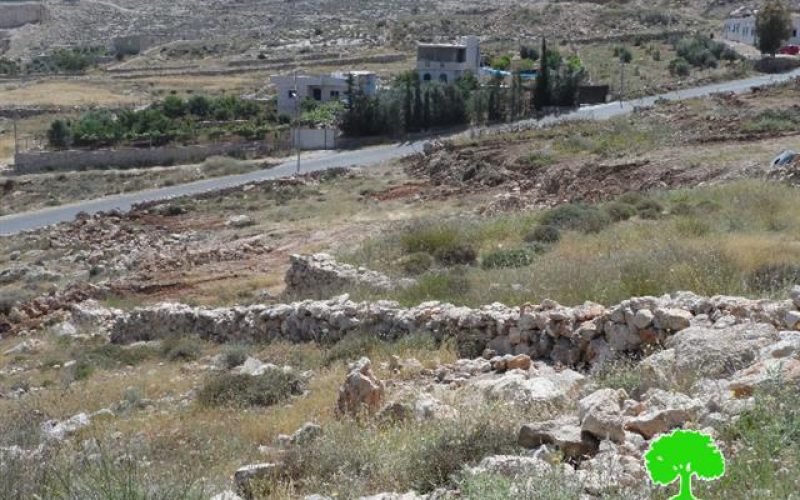 Violation: ravaging lands and destroying trees
Date: 06/05/2015
Location: Idhna -Hebron
Perpetrators: Israel Civil Administration and army
Victims: citizens from Hebron
Details:
The Israeli occupation authorities on May 06,2014 leveled agricultural lands and uprooted fruitful trees in the area of Suba, southeast Idhna village in Hebron governorate.
Citizen Tha'er Qawasmi (40) asserted that that a force from the occupation army accompanied by five military dozers and a truck raided his lands and neighbors' lands and embarked on ravaging the location.
Dozers reached out a 220m retaining wall that surrounds the plot of citizen Qawasmi ; the citizen's 3.6 dunum plot was ravaged with all trees uprooted. Not only that, a 150m2 greenhouse was demolished and a hole was made in a 200m3 water cistern that was used to serve the land.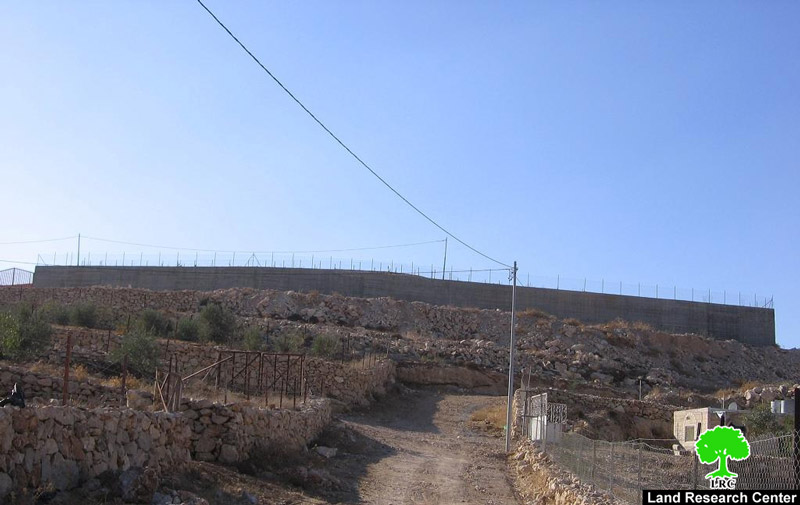 Photo1 : a view of Qawasmi's plot before ravaging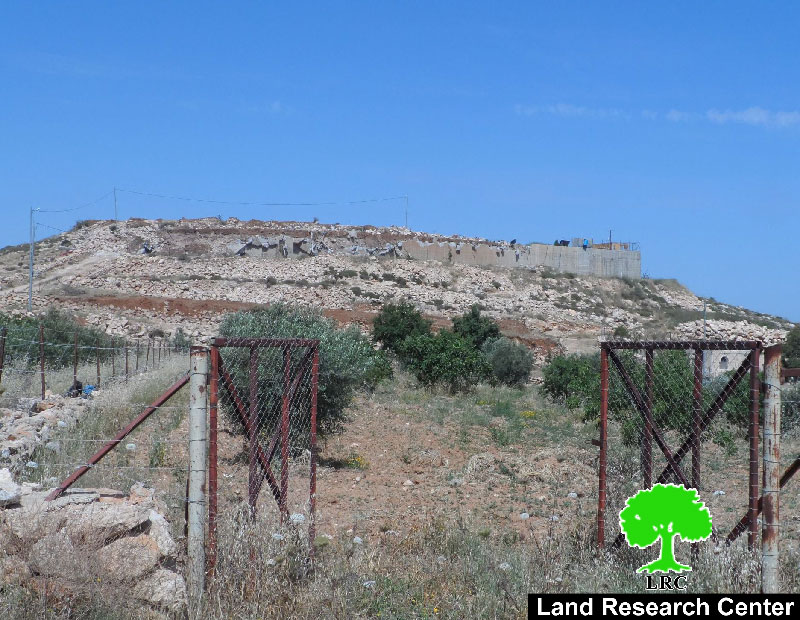 Photo 2: the plot after ravaging
It should be marked that Qawasmi ran a reclamation on his land that is located atop of a hill in Suba area. The man established retaining walls and planted the plot with trees but the occupation notified it with stop-work and construction on all the aforementioned structures in 2010. In addition, an eviction order was served on the plot under the pretext of it being "State Property".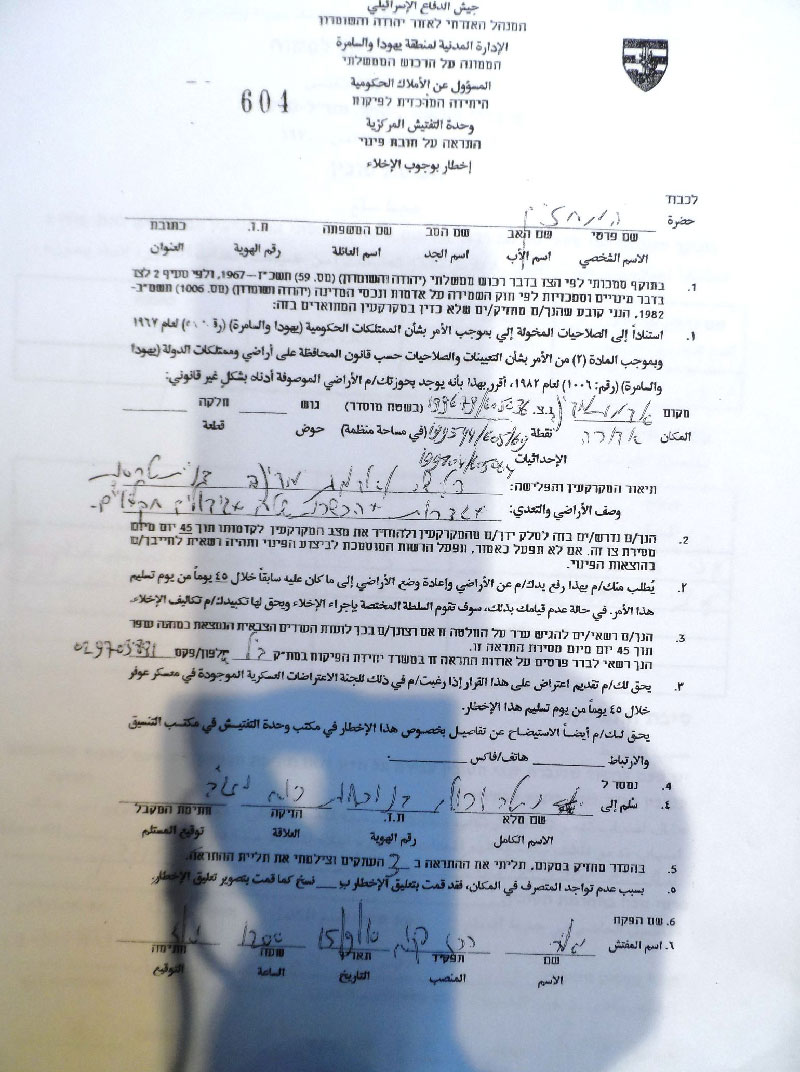 Photos A,B,C : the different orders served on Qawasmi's plot
After being delivered the orders, citizen Qawasmi prepared a legal file to object the orders in Israeli courts through attorney Ghayyath Naser and also applied to obtain a building permit. Despite all that, the occupation came and carried out demolition on his land.
Qawasmi pointed out that the occupation carried out the attack without showing any court decision and when asking the responsible officer about such a paper, all he showed was just a map !.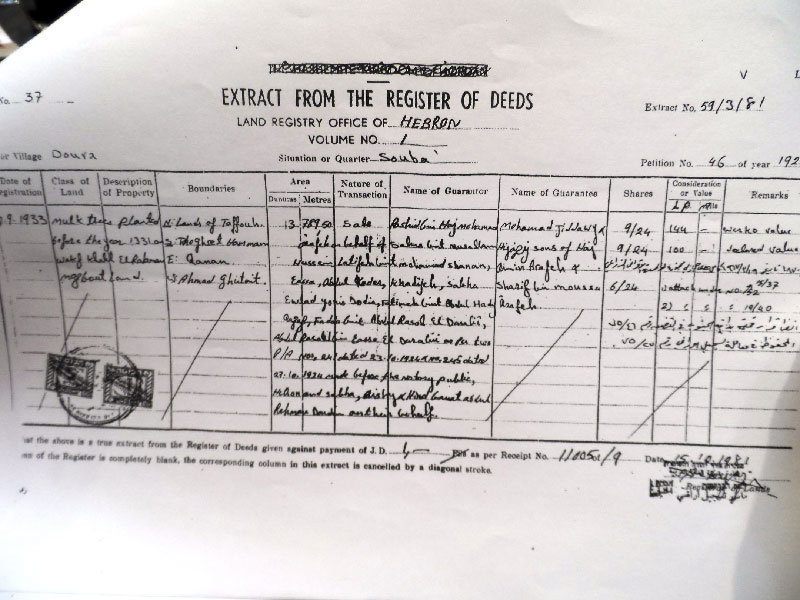 Photo D: a tabo document ( Othman lands registration certificate)
The reclamation implemented on Qawasmi's plot is estimated with one million INS distributed as follows :
100,000 INS : Costs of dozers and hammers to level lands and building foundations
100,000 INS: Cost of concrete for walls
Costs of 65 tones of metal ,dirt-moving trucks (200 trucks), workers, stone blocks
Costs of building a cistern, planting trees, setting up barbed wires over the walls , and making vineyards
It should be marked that the occupation changed the landmarks of the plot; it uprooted 250 saplings including 100 olive trees, not mentioning almond, grapes, and citrus trees.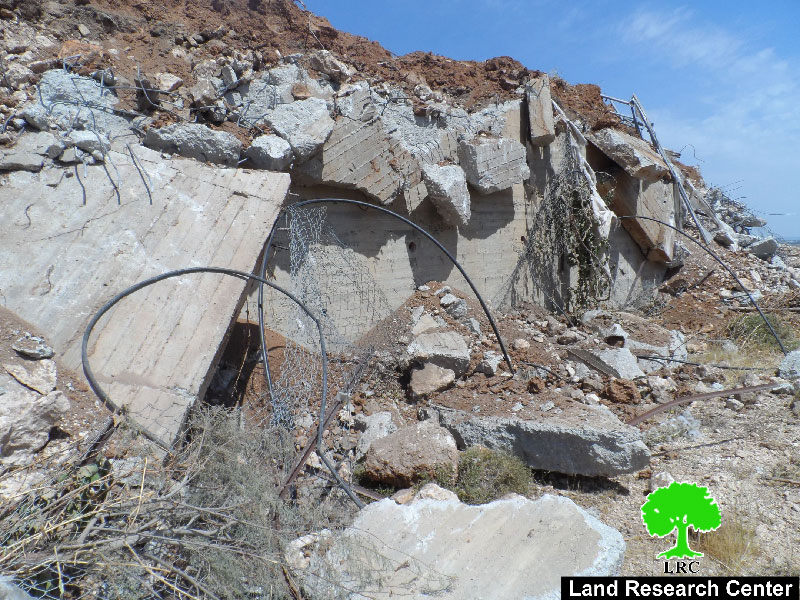 Photos 3-7: signs of damage inflected on Qawasmi's land
The attack also reached out the following citizens' lands and structures:
Citizen Nathmi Hraiz: Hraiz had his 2 dunum plot ravaged and 60 olive trees aging 12 years and 20 other almond trees uprooted and stolen via trucks . In addition, the plot's surrounding wall was demolished as well.
Citizen SHukri al-Muhtaseb : Muhtaseb had his retaining wall that surrounds a 2 dunum plot ravaged.
Citizen Hijazi Qawasmi : Qawasmi had his retaining wall that surrounds a 1 dunum plot ravaged.
Citizen Yasin Za'tari : Za'tari had his retaining wall and barbed wires that surrounds a 1 dunum plot ravaged.
Citizen Amjad al-Bakri: Bakri had his retaining wall that surrounds a 1 dunum plot ravaged.
Photos 8-11: signs of damage and ravaging on citizens' lands
اعداد: