Demolition of a industrial workshop in Silwad town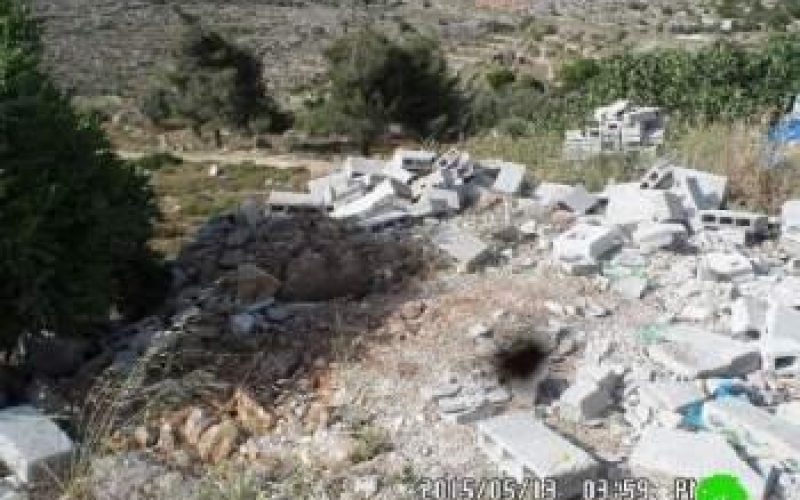 Violation: demolishing a workshop
Date: 11/05/2015
Location: Silwad town
Perpetrators: Israel Planning and Construction Committee
Victims: Citizen Abdallah Hamed
Details:
It did not last a month before the Israeli occupation army came again to carry out a second demolition on citizen Abdallah Hamed's workshop under the pretext of unlicensed construction. The structure is located in Silwad town and is demolished for the second time in a month.
A massive force from the Israeli occupation army accompanied by a military bulldozer on May 11, 2015 raided the area of Silwad and embarked on demolishing a 12m2 room (cement blocks and metal slaps).
It is indicated that t citizen Abdallah Hamed (39) was previously served a stop-work order on his industrial workshop on April 16, 2015; the structure was eventually demolished and the owner built another one instead.
The workshop was the citizen's only source of livelihood to support a 4 members family including two children, taking into account that it is located in a Palestinian neighborhood and is away from colonies.
Photos 1-2: the affected workshop
About Silwad :
It is located to the northeastern part of Ramallah with a total land area of 18,400 dunums of which 5,100 is built-up area. The town populates around 10,000 people according to the data of Silwad local council. Colonies like Ofra and Amona, which are founded on the eastern part of Silwad, confiscated more than 21% of the town's lands.
Prepared by
The Land Research Center
LRC