Uprooting and looting 520 olive saplings in the Salfit village of Deir Istiya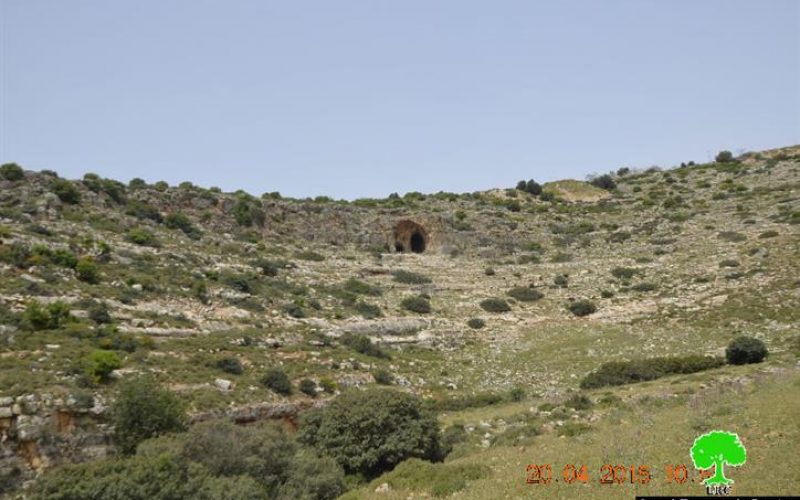 Violation: uprooting trees
Date: 16/04/2015
Location: Deir Istiya- Salfit
Perpetrators: Emmanuel colonists
Victims: farmer Rizq Abu Naser and Mustafa Koukash
Details:
A fanatic group of colonists from Emmanuel colony on April 16,2015 sneaked into the area of al-Mughaibeh, which is located to the northern part of Deir Istiya; more specifically 4km to the north of village and 200m south of Emmanuel colony. Colonists cut down and sabotaged 490 olive saplings and 30 fig seedlings (2years) that have been recently planted.(Salfit Ministry of Agriculture MoA).
It should be marked that the attacked trees belong to farmers Rizq Naser (130 olive saplings) and Mustafa Koukash (360 olive seedlings and 30 fig saplings).
The mayor of Deir Istiya Mrs. Amal Koukash told an observer from Land Research Center the following: " the targeted saplings were gifted by the Agricultural Relief and MoA for the sake of protecting the northern lands of the village from futuristic Israeli colonial activities of takeover and grab. According to strong evidences and eyewitnesses, colonists of Emmanuel are those who carried out the attack against the saplings"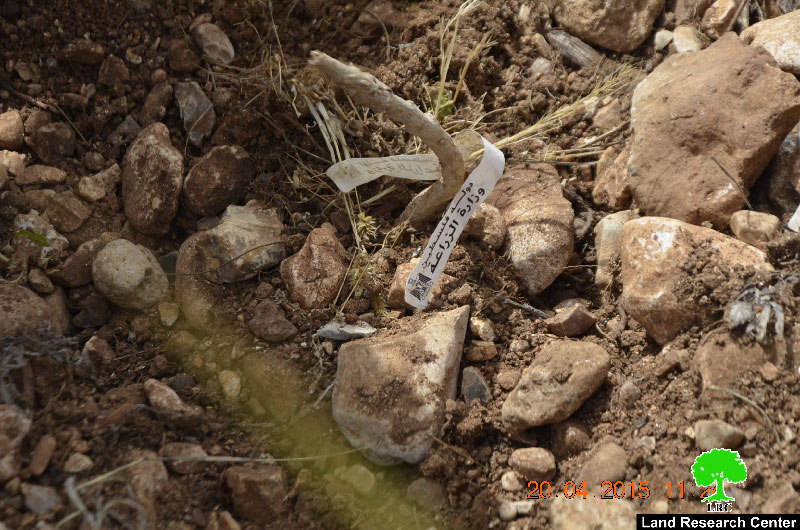 Photos 1-3: the attacked seedlings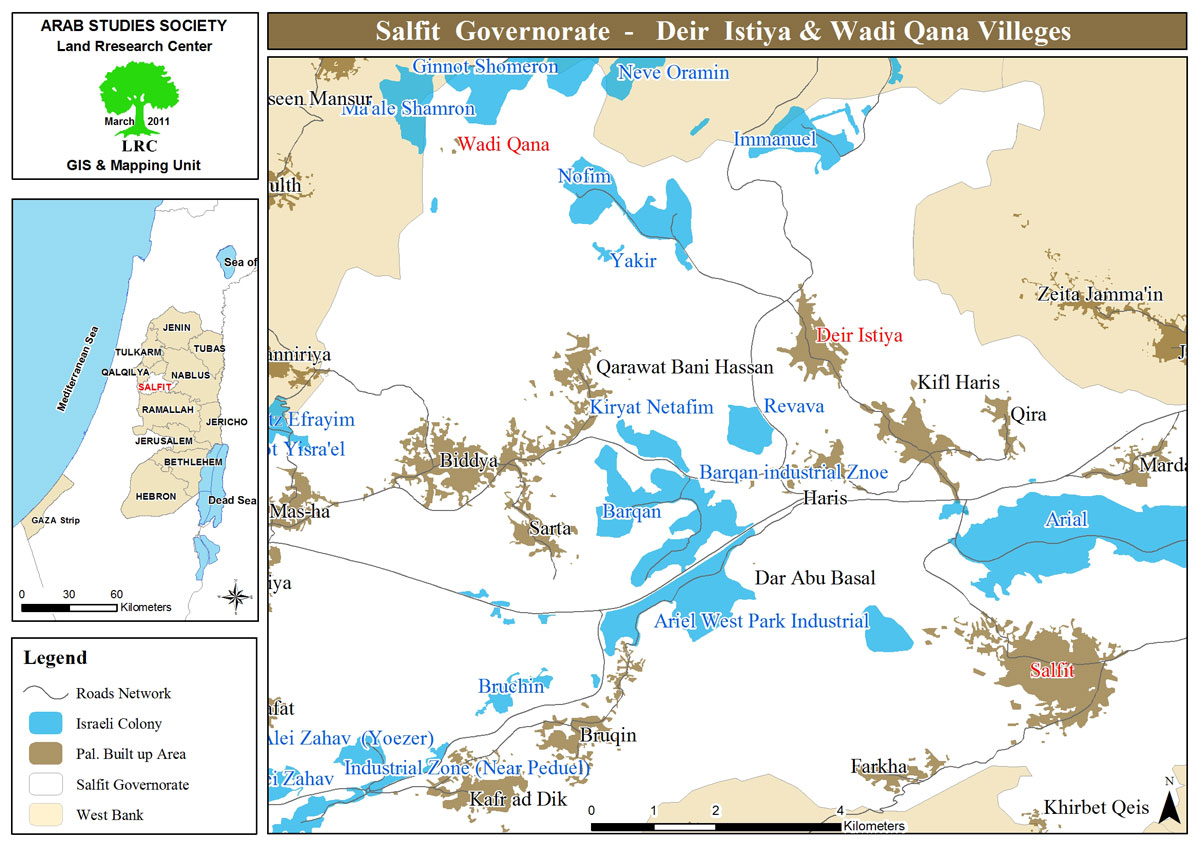 Seedlings looting:
It is indicated in the same context that colonists did not only uproot the saplings from the lands but looted them and moved them to an unidentified location. The seedlings were probably moved to Emmanuel colony. Such attack on lands are meant to evict lands from plantation and to divert farmers from using their lands, which provides a room for the occupation to conduct and implement colonial expansion plans on them.
Frequent attacks:
It should be marked that the Israeli occupation army has previously carried out attacks and violations in the area of Wad Qana that is relative to Deir Istiya village ; the attack was represented in uprooting 114 olive saplings and moving them to the colony of Karne Shamron. This shows that colonists and the Israeli government – represented by the army- exchange roles in carrying out attacks against the Palestinian farmers who are left with no purpose but protecting their lands from loss.
About Emmanuel:
It was established in 1981 with a total area of 520 dunums. It is inhabited by around 2585 colonists, most of them are western Europeans.
It is edged by Jinsafut (west), Amatin (north), Deir Istiya (south).
The colony holds within its boundaries a synagogue, high schools, medical centers, military camps, and an industrial zone that holds the following industrial plants:
Aluminum processing facility and workshops.
Furniture factories.
Food processing facility
New industrial facilities are being built .
The Israeli occupation established part of the apartheid wall nearby the colony, which separated 578 dunums from Deir Istiya behind it.
Deir Istiya:
It is located 6 km to the north west of Salfit. Its total area is 34, 765 dunums including 1527 dunums of built-up area. 40 % of the total area of Deir Istiya has been subjected to colonial activities.
The town is inhabited by around 4000 people who depend largely on herding and agriculture in their living knowing that fertile soil and plenty of water are available.
It is considered one of the most concerned towns with education, compared to other surrounding towns and villages.
It is subject to colonial activities and colonies that are sporadic all over it, trying to seize every dunums and invades every place like cancer.
Prepared by
The Land Research Center
LRC