The occupation army set 500 dunums alight in Humsa al-Fouqa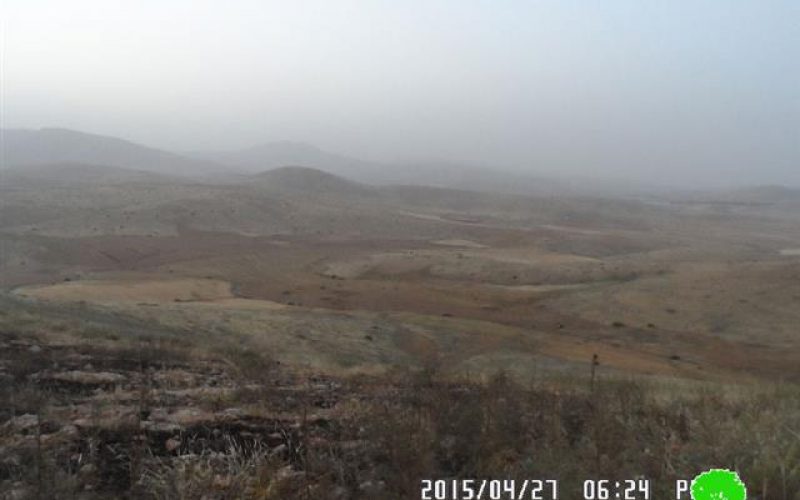 Violation: setting 500 dunums ablaze
Date: 27/04/2015
Location: Humsa al-Fouqa- Tubas
Perpetrators: Israeli occupation army
Victims: residents of the area
Details:
In an attempt to empty the area of Palestinian Jordan Valley (al-ghoor) from its indigenous people, the Israel occupation work day and night to harass people and push them to move out of it. The residents' natural resources, houses, and pastures were targeted by the occupation to achieve that end.
The Israeli occupation authorities- during training exercises- on April 27, 2015 hurled bombs into the pastures of Ras Humsa area, torching around 500 dunums.
Views of the damages that followed the military training exercises with a view of al-Hamra military camp.
The responsible of al-ghoor file Mr. Mutaz Bsharat told an observer from Land Research Center the following:
" we – at Tubas governorate- was informed at 1:00 of Monday that the occupation set fire to the lands of Humasa al-Fouqa while conducting military training. The governorate then talked to the Israeli side through the Palestinian District Office of Coordination; the occupation claimed sending fire brigades but that never happened. When sending our fire brigade to the area, the Israeli army detained it at the entrance of Ro'i colony for half an hour before letting it through. As a result, the fire reached out a vast area of lands and destroyed them".
He also added: "every year, the occupation sets fire to pastures on purpose in an attempt to put a pressure on the area's residents and to destroy their survivals needs".
It is indicated that the area of Ras Humsa is 6km to the east of Ro'i colony and overlooks al-Hamra camp from a 3km distance from the north. The area was previously declared as a military closed zone, where army trainings take place every now and then at the expense of farmers and their lands.
Prepared by
The Land Research Center
LRC