The Israeli occupation conducts military training in the Nablus area of Al-Taweel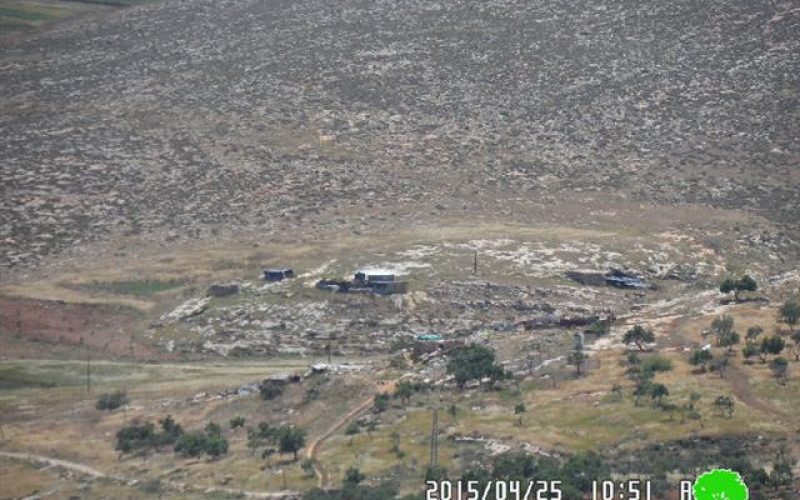 Violation: carrying out military trainings
Date: 20/04/2015
Location: Khirbet al-Taweel- Nablus
Perpetrators: the Israeli occupation army
Victims: residents of al-Taweel
Details:
On the green hills to east of Aqraba town, there is Khirbet al-Taweel that represent a long story of bitter reality imposed by the Israeli occupation. To implement its political agenda, the Israeli occupation has been working to displace the indigenous residents for the sake of taking over the whole area to allow colonial expansion.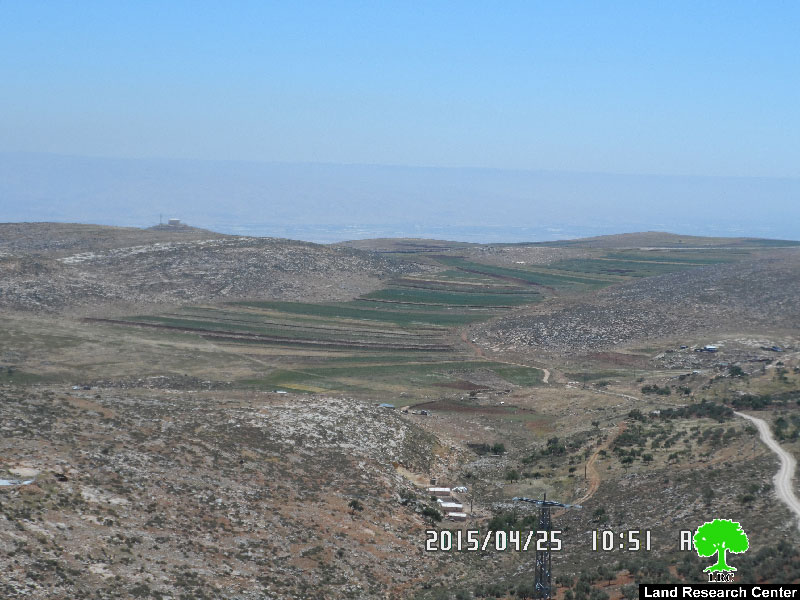 Photos 1-3: Khirbet al-Taweel
Military trainings that destruct agricultural lands:
The Israeli occupation forces on April 20, 2015 conducted intensive military training using armored forces and troops in the area of al-Taweel. It should be marked that the resident of the area were verbally informed to temporarily evacuate the location until the trainings are over. Residents met that order with rejection since it is a step for a futuristic displacement under the pretext of the area being closed military zone.
The Human Rights activist of Aqraba town Yousef Daireih, about the damages resulted, told an observer from Land Research Center the following: " the area of al-Taweel accommodates very fertile lands, which a big number of farmers depend on in the village of Aqraba. The area is known for the abundance of pastures that develop the sector of livestock and fauna. Unfortunately, the occupation invests all efforts to take over pastures and destroy crops; especially grains, which dozers level at time of trainings".
He also added: " the occupation, through conducting training, imposes its agenda to force people move out of the area, which makes a room for takeover and occupational expansion".
Non-stop destruction:
Since 2014, the area of Khirbet al-Taweel was reported to undergo 7 demolition operations by the Israeli occupation. Demolition was inflected on the village's only mosque, three pools for water catchment, and five residences.
Not only that, the village's infrastructure was targeted in an attempt to put pressure on residents and deprive them from simplest surviving needs for the sake of forcing them out of the area.
Every now and then, the occupation declares Khirbet al-Taweel a closed military zone where farmers are denied access to their lands . (source: Land Research Center )
For further information about demolitions targeting Khirbet al-Taweel, please read the following reports issued by Land Research Center during 2014:
Prepared by
The Land Research Center
LRC