Two vehicles set fire to in village near Ramallah in suspected price tag attack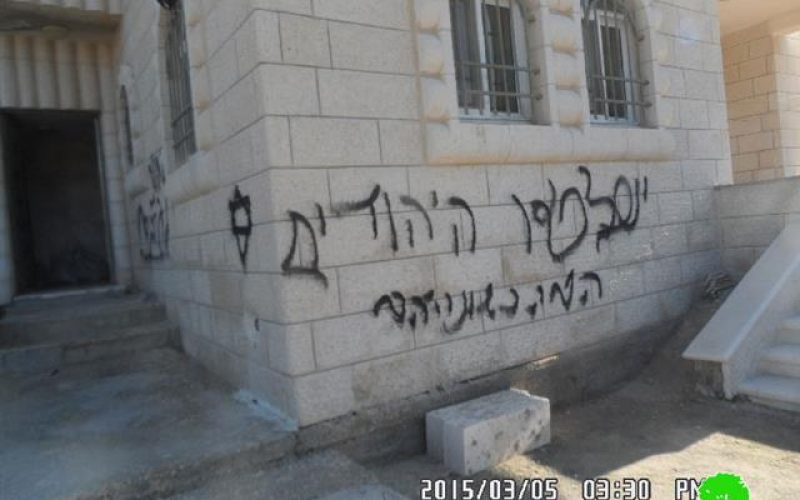 Violation: torching cars and drawing racist graffiti
Date: 04/03/2015
Location: al- Mughayyir village
Perpetrators: Price tag gangsters
Victims: Jamal Abu Alia and Akram Na'san
Details:
Two months after setting fire to a mosque in the village of Mughayyir northeast of Ramallah, vandals set fire to two cars Thursday morning. On the site of the attack, the vandals sprayed graffiti in Hebrew, which indicates it had been a hate crime. (link)
According to the Palestinians, colonists from the nearby Edi Ad colony , came to the village in the early hours of the morning, painted graffiti and set fire to two vehicles belonging to Jamal abu Alia and Akram Na'asan.
Colonists torched a Polo Volks Vagen belonging to citizen Jamal Abu Alia and a Hyundai 4x drive belonging to Akram Na'san. Not only that, colonist spray-printed "death to Arabs" and "glory to Jews" in addition to the David Star on the walls of citizen Jamal Abu Alia house.
The following table lists information about the damage inflected by the attack:
| | | | | |
| --- | --- | --- | --- | --- |
| Affected citizen | Family | Minors | Damage | Photo |
| Jamal Abu Alia | 6 | 4 | A 1996 Polo Volks Vagen entirely torched | |
| Jamal Abu Alia | | | Hatred-inciting slogans | |
| Akram Na'san | 5 | 3 | A Hyundai 4x drive partially torched | |
Source: Field Observations – Monitoring Israeli Human Rights Violations-Land Research Center 2105
citizen Jamal Abu Alia told Land Research Center the following : "At around 4:30 a.m. , I heard a glass crack and then I looked out the window and saw a colonists pouring diesel into my car while another one was spray-printing something on the wall . Immediately went up to the roof and started throwing rocks on them. The attackers ran off to a car that was waiting for them on the street. I also noticed a car that came out from a neighboring house; it turned out that a different group of colonists set the car of my neighbor on fire. My neighbors and I managed to extinguish the fire later "
Previous attacks:
A group of Price tag gangsters on June 10, 2011 torched the grand mosque of al-Mughayyir (link). Not only that, the same group of gangsters carried out many attacks varying from cutting down aging trees to shutting down agricultural roads and confiscating vast area of lands to serve the colonial expansion in the area.
About Al Mughayyir:
Al Mughayyir is located 30 km to the north east of Ramallah; it is inhabited by around 3054 people according to 2014 PBS population projections.
Most of the village agricultural farmlands are located in its eastern parts; its total area is 33055 dunums, 501 of which are built-up area. The Israeli occupation confiscated 37 dunums of Al Mughayyir lands for bypass #458.
According to Oslo Accords, about 95% of the village is under Area C (Israel maintains full security and administrative control) while only 5% is under Area B (PA is in charge of civil matters with Israel responsible for security). Here are the areas in dunums:
Area B (1, 695) dunums.
Area C (360, 31) dunums.
Al Mughayyir is strangled by Israeli colonies from all sides which makes the village a place to covet for colonists. From the eastern part of al Mughayyir, there are Tomer, Gilgal, Pezael, and Netiv Hagedud colonies while from the west, there are Shvut Rachel and its outposts as well as Shilo. Colonies of Niran, Yitav, and Kokhav Hashahar are located to the north of the village while Maale Efrayim and Migdalim to the south.
Prepared by
The Land Research Center
LRC