The Israeli occupation confiscates 504 meters of water pipelines from Tubas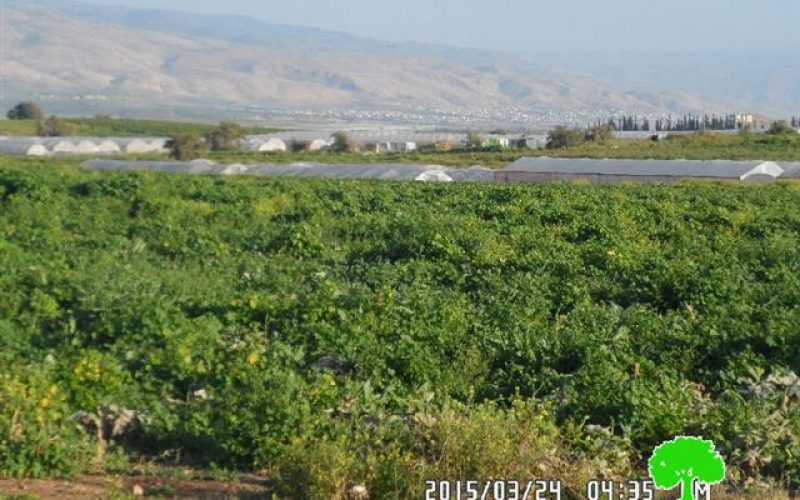 Violation: confiscation of 504meters of pipelines
Date: 24/03/2015
Location: Ein al-Baida- Tubas
Perpetrators: the Israeli occupation army
Victims: 13 agricultural families
Details:
A massive force from the Israeli occupation accompanied by a staff from the Civil Administration on March 24, 2015 raided the area of Ein al-Deir, east of Ein al-Baida village that is few meters away from the Palestinian-Jordanian borders.
It should be marked that the force dismantled and confiscated 504 meters of water pipelines, which serve not less than 1050 agricultural dunums planted with winter and summer crops and 24 dunums planted with citrus. Noteworthy, those lands are considered the main source of income for 13 families from the area.
The pipelines totaling 84 pieces (6m*4inches) were implemented through Palestine Ministry of Agriculture with funds from international bodies.
The pipelines were supposed to pump 45m3 of water per hour from the al-Dair spring to the agricultural land, taking into account that the Israeli company for water Mikrot controls the water pressure of the spring.
The chairman of Ein al-Baida village council Mr. Hussein Sawafta told an observer from Land Research Center that :
"7 artisan cisterns and 8 water springs dried due to Mikrot company openings of new cisterns next to the Palestinian ones.; we are now going through a state of water sacristy that might eventually destroy the agriculture sector of the area".
He also added: " In reality, we get a kind of "compensation" by the occupation on stealing our water, which is opening the water pipelines for us periodically and for specific amounts"
Photos 1-2: agriculture in the area of Ein al-Baida and the lands that were
supposed to be served by the confiscated pipelines
Ein al-Baida :
The village is 18km to the east of Tubas; it totals around 70,000 dunums, 11,000 of which are agricultural where 668 dunums are the village's built-up area.
1650 people are the total population of Ein al-Baida, 60% of which come originally from refugee origins and are distributed on the areas of al-Sakut, al-Himih and al-Deir as two main families namely (Daraghmah and Fuqha)
Of the agricultural lands, an area of 5,000 dunums is only used by farmers where 6,000 dunums are confiscated and given to colonists by the occupation.
The rest of the village's area is unused and declared as closed military zones and military training camps by the occupation.
Prepared by
The Land Research Center
LRC