Demolition of Makhoul community and confiscation of water truck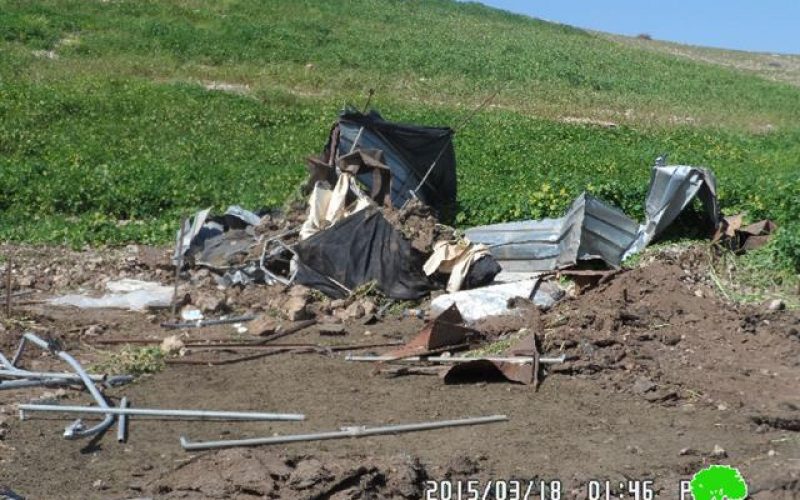 Violation: demolishing a whole community
Location: Tubas governorate
Date: 18/03/2015
Perpetrators: Israeli occupation army
Victims: 5 Bedouin families
Details:
The Bedouin community of Makhoul in the area of northern Palestinian Jordan Valley (Al-Ghoor) has been undergoing an Israeli plan aiming at displacing indigenous residents to facilitate a massive takeover for the favor of colonial expansion. This plan has been put since 1967 where all the successive governments of Israel worked to achieve.
A massive force from the Israeli occupation army accompanied by two military dozers on March 18, 2015 raided the area of Makhoul, evicted people and embarked on demolishing the whole community. According to the field follow-up of Land Research Center, the demolition reached out 4 residences, 12 barracks and a number of barns and agricultural tools.
Photos 1-4: view of the demolition operation on the community
Another demolition in Al-Hadidiya community:
The Israeli occupation authorities also carried out a demolition on the community of Al-Hadidiya that is located 1k away from Makhoul community. The demolition was reported to reach out a 50m2 agricultural barrack used for sheep.
Without a previous warning:
It should be marked that the demolition was carried out without any previous notices served on the community.
Noteworthy, the community was entirely erased on September 16, 2013; the residents of the community (170 members) were displaced as a result. Residents then applied to obtain licenses for their residences through lands ownership documents and leasing contracts, which prove the legal status of their presence on the lands.
After being submitted in Israel Civil Administration- Beit El colony, the Israeli occupation authorities rejected the licensing application for Makhoul'speople and demolished the community again.
Confiscation of water trucks:
It is indicated, within the same context, that the Israeli occupation army on March 19, 2015 confiscated two water trucks (150m3 each) from the community of Al-Farisiya under the pretext of the trucks being in a "military zone".
It should be marked that the two trucks were gifted by Palestinian Hydrology Group to help the 230 people of the community. The residents of the community relied on these trucks to fill the gap of water scarcity in the area, which is caused by the practices of the Israeli occupation.
About Makhoul:
It is located in the heart of Palestinian Jordan Valley; Makhoul is undergoing an Israeli plan of forcible displacement. Noteworthy, every single residence and family in this community has been served either a stop-work or a demolition order.
The community of Makhoul has a total population of 170 people, who hail from the city of Tammun, south Tubas governorate. Agriculture and sheep husbandry are the only source of income from the community's residents.
It should be marked that the community is surrounded by two military camps namely (Al-Hamra and Zukah) not mentioning that the area is considered a training zone for the military. The following table shows the damage resulted due to demolition:
Affected citizen

Location

family

Minors

No. of sheep

Demolished structures

Residences

Barrack

Barns

Other

Hussein Bsharat

Makhoul

2

0

250

A 50m2 residential tent

240m2 barrack

A100m2 barn

A 50m fence, bathroom, kitchen and 4 feeders

Ashraf Bsharat

Makhoul

3

1

140

A 50m2 residential tent

240m2 barrack

A100m2 barn

A 30m2 cheese storehouse, kitchen, bathroom, 2 feeders, 3 water barrels and a 50m fence

Mahmoud Basharat

Makhoul

4

0

125

A 50m2 residential barrack

2 barracks for sheep (180m2 each)

2 barns (100m2 each)

Kitchen,2 bathrooms, 1 solar cell, 4 water barrels and 4 feeders

Mohammad Bsharat

Makhoul

4

1

170

A 50m2 residential tent

Two barracks (50+60m2)

A 60m2 barn

Kitchen, bathroom and solar cell

Ahmad Bani Oudeh

AL-Hadidiya

5

2

180

A 50m2 barrack

Two water trucks

Al-Farisiya

Confiscation of two trucks (150m3)

Total

18

4

865

4

7

5

Two water truck, solar cells and home facilities
Source : Field observation- Department of Monitoring Israeli Violations- Land Research Center-2015
Land of Research believes that destruction operations are a violation to all the international conventions, human rights, and international legitimacy. They are a violation of the Geneva convention, article no. 53, stating that:
"Any destruction by the Occupying Power of real or personal property belonging individually or collectively to private persons, or to the State, or to other public authorities, or to social or cooperative organizations, is prohibited, except where such destruction is rendered absolutely necessary by military operations."
It is also a violation of article 17 of the universal declaration of human rights, 1948, stating: "1. Everyone has the right to own property alone as well as in association with others.
2. No one shall be arbitrarily deprived of his property."
Furthermore, it is a violation of part (g) of article 23 of the "La Hague" Conventions of 1907 stating that "destroying or seizing the enemy's property, unless such destruction or seizure be imperatively demanded by the necessities of war" is prohibited.
Prepared by
The Land Research Center
LRC