The Israeli occupation demolishes barracks and tents in Jericho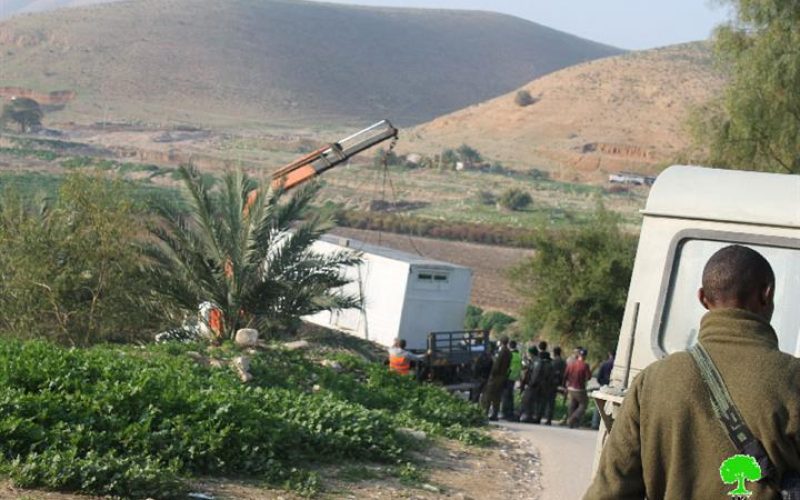 Violation: destroying barracks and tents
Date: 22/01/2015
Location: Jiftlik village
Perpetrators: Israeli occupation army
Victims: 6 Bedouin families
Details:
The area of Jiftlik, north Jericho governorate lately witnessed new systematic targeting carried out by the Israeli occupation for the sake of emptying the area from indigenous inhabitants.
A massive force from the Israeli army accompanied by a military dozer on January 22, 2014 raided the area of al-Krazliya, southeast Jiftlik village and embarked on demolishing a number of tents, barns and barracks belonging to Bani Maniya family. The occupation claimed the structures unlicensed and built within area classified C according to Oslo Accords; this is how Israel justified the demolitions.
It should be marked that Khirbet Krazliya, which is relative to Jiftlik area, witnessed during the past two years around four demolitions on the whole Khirbet (a whole bedouin community). The latest demolition is considered the fifth of its kind, which was inflected upon the Khirbet without any previous warning andor notices.
Residents perseverance is stronger than the occupation practices; citizens of the area insist on staying there no matter they undergo of attacks and violations by the occupation. The following table lists information about the affected citizens and their structures :
Affected citizen

Family

Minors

No. of sheep

Damage

Residential tentm2

Sheep barrackm2

Sheep barnm2

Other

Attiah Bani Maniya

9

3

60

1 (60)

1(60)

1(75)

24 metal angles, fodder barrel(3m3), kitchen(6m2), bathroom

Youesef Bani Maniya

3

1

20

1(45)

–

–

–

Zahi Bani Maniya

10

4

77

1(60)

1(60)

1(120)

1(150)

Kitchen(6m2)

Bathroom

Zuhair Bani Maniya

10

3

45

1(60)

1(45)

1(60)

1(40)

1(60)

Kitchen(6m2)

Bathroom

Salah Bani Maniya

2

0

15

1(45)

Total

34

11

217

5

5

4
About Krazliya
This Khirbet is located 3km away from Jiftlik village, where an Israeli military camp is founded in the nearby. This community lacks the lowest life standers for it has no roads, services and even infrastructure; resident of the area live a primitive life and take sheep husbandry as the main source of income.
The confiscation of Jiftlik's caravan :
In the same context, the Israeli occupation authorities confiscated, on the same day, a caravan that is located at the main street in the middle of Jiftlik village. The caravan belongs to Mr. Ayoub Masa'id who comes from the village; Masa'id used the caravan as a source of income for his 7 member family including 5 minors through selling beverages and snacks.
The occupation officially delivered a confiscation order on the caravan and claimed it unlicensed. Noteworthy, the caravan was served two stop-work orders before.
Prepared by
The Land Research Center
LRC