The Israeli occupation demolishes a agricultural room in Hebron
Violation: destroying a agricultural room
Date: 05/01/2015
Location: al-Baq'a –Hebron
Perpetrators: Israel Civil Administration and army
Victims: Abdulwahhab Jaber
Details:
The Israeli occupation authorities on January 01, 2014 demolished a agricultural room belonging to citizen Abdulwahhab Jaber in the area of al-Baq'a , east Hebron.
Citizen Abdulwahhab Jaber(55) asserted that a force from the occupation army accompanied by the Civil Administration and a bulldozer raided the area at 11:00 a.m. and embarked on demolishing his agricultural room. Noteworthy, the room is founded on the citizen's land that is located nearby the bypass road no 60. Demolition reached out the room and all the interior inside.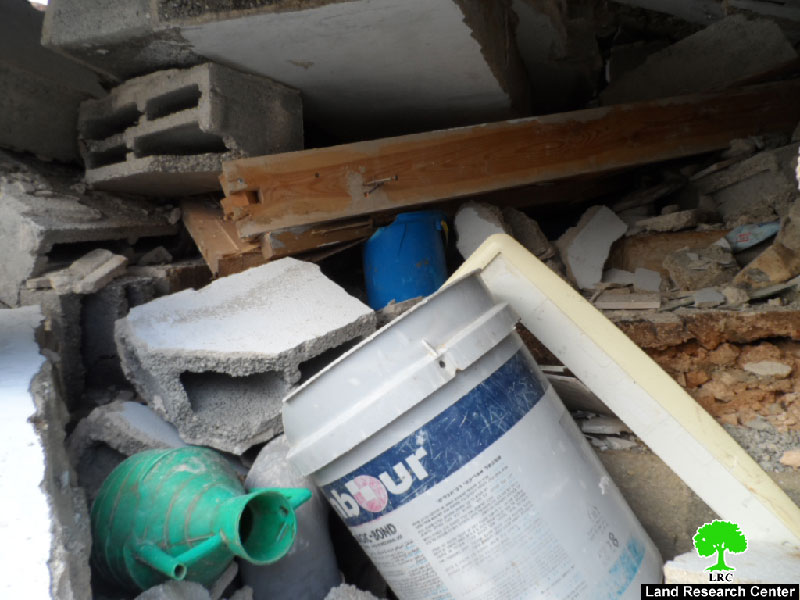 Photos 1-5: signs of the demolition
The 20m2 room was established 6 years ( cement bricks and a cement roof). Jaber used this room as a resting place while working in his land, which is planted with vine and vegetables.
Jaber pointed out that the occupation authorities previously notified the room with stop-work and demolished a 1200m3 water pool (used for irrigation) on June 08,2009.
It should be marked that the colonies of Qiryat Arba and Kharsine are located nearby the Palestinian lands of al-Baq'a . Noteworthy, the two colonies were established on confiscated Palestinian lands. It should also be marked that colonists from Kharsine started lately using a land owned by Jaber as a parking space for their cars at the entrance of the colony.
Prepared by
The Land Research Center
LRC