Stop-work orders on structures in Tubas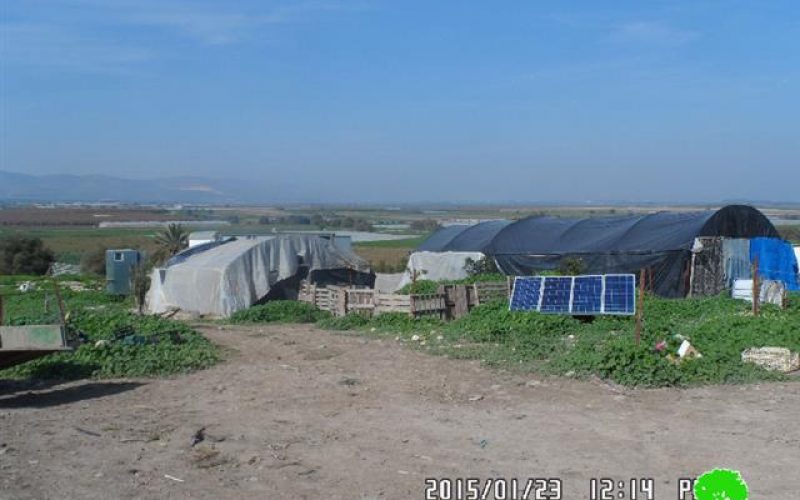 Violation: serving stop-work orders on different structures
Date: 20/01/2015
Location: Khirbet al-Deir/ Tubas governorate
Perpetrators: Israel Planning Committee
Victims: five Palestinian families
Details:
Within the occupational plan of emptying the Palestinian Jordan Valley(al-ghoor) and displacing its people, the so-called Israel Civil Administration- Inspection and Planning Committee and an army patrol on January 20, 2015 raided the area of Khirbet al-Deir, which is located near the Palestinian-Jordanian borders.
It is indicated that the Inspection Committee handed five Palestinian families out "stop-work and construction" orders on their residential and agricultural structures under the pretext of unlicensed construction within area classified C according to Oslo Accords.
The military orders gave the residents a deadline until February 16,2014. This comes in time with the hearing session of the Planning Committee in the court of Beit EL to consider the status of the notified structures.
Photos 1-6: view of the Khirbet al-Deir
The following table shows information about the notified structures:
Affected citizen
Family
Minors
No. of sheep
No. of order
Notified structure
Residential tent
Sheep tent
Sheep barns
Other
AbidRabbuh Oudeh
10
4
300
181976
1(16m2)
1(60 m2)
1(200 m2)
two fodder storehouses (9 m2 +6 m2)
1(45 m2)
1(60 m2)
1(160 m2)
a bathroom and a traditional oven
1(90 m2)
1(45 m2)
Iyad Daraghmeh
4
0
120
181977
1(16 m2)
1(60 m2)
1(200 m2)
A fodder container, a green house, a bathroom and a kitchen
1(60 m2)
1(90 m2)
Nidal Daraghmeh
9
7
144
181978
1(16 m2)
1(16 m2)
1(60 m2)
A fodder storehouse (9 m2), a bathroom and a kitchen
1(24 m2)
1 (120 m2)
1(25 m2)
Alaa' Daraghmeh
10
6
180
181979
1(16 m2)
1(60 m2)
1(60 m2)
12 m2 fodder storehouse, a bathroom and a kitchen
(120 m2)
Fayez Daraghmeh
6
4
100 cows
N/A
–
1(150 m2)
–
9 m2 fodder storehouse
Total
39
21
844 cows
5
11
8
7 fodder storehouses
Source: Field Observations – Monitoring Israeli Human Rights Violations- Land Research Center -2015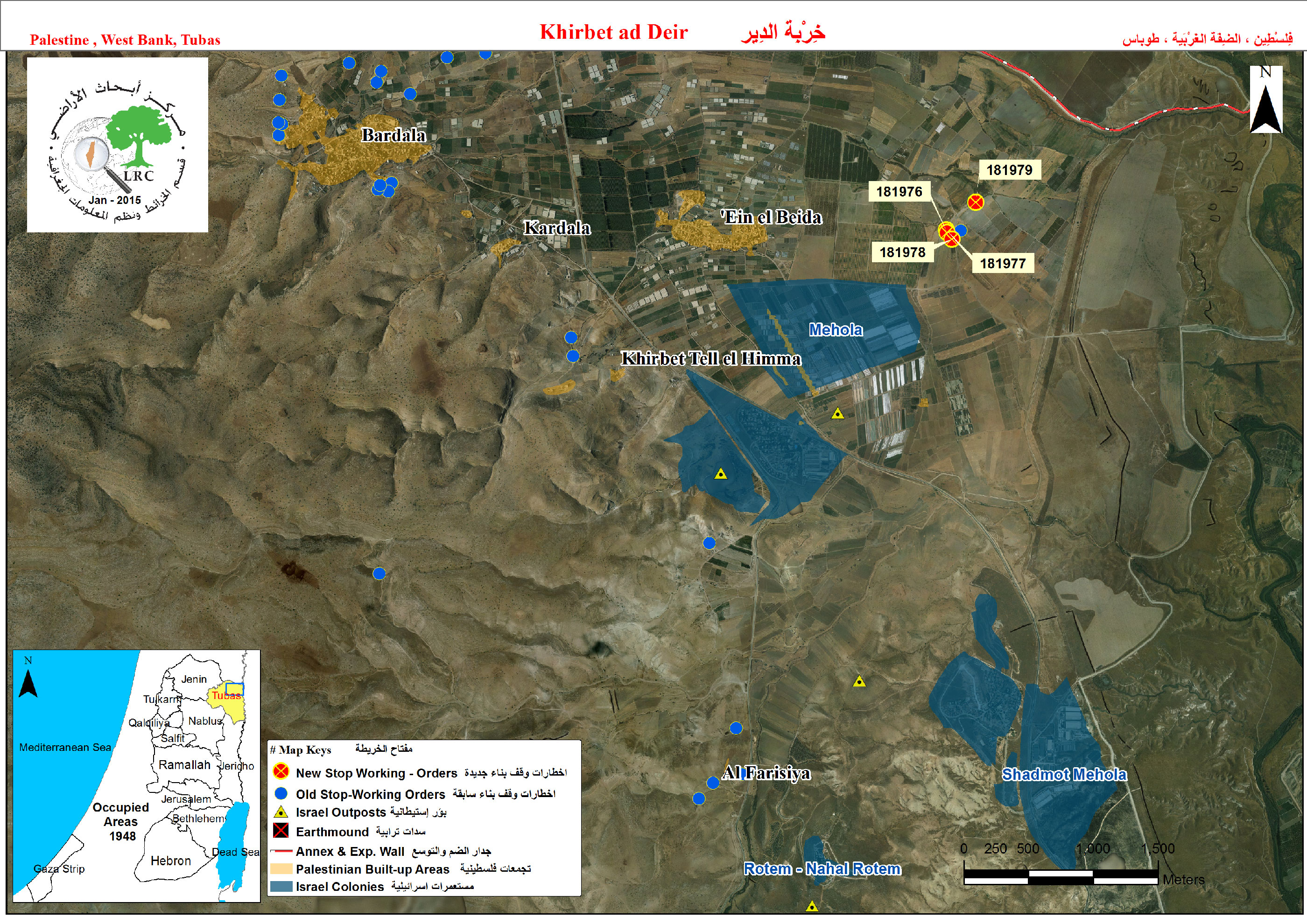 It should be marked that Khirbet al-Deir is 1km to the western side of the Palestinian-Jordanian borders and 2km to the eastern side of Tubas governorate.
The lands of Khirbet al-Deir are classified as "taboo" or listed in the Ottoman land registry ; despite that residents have ownership documents for their lands, yet the occupation insists on displacing them.
Residents of the area come originally from Tubas and Tammun village in the nearby. Life is characterized as primitive where houses and barns take the shape of tents; agricultural and animal husbandry is people's only source of income there.
According to the residents, it is the first time the area is stormed and a number of stop-work orders were served; people fear this would be the first step for a wide range demolition campaign on the area.
Prepared by
The Land Research Center
LRC