Rise in the number of settler attacks against Palestinians in the occupied West Bank during the year 2014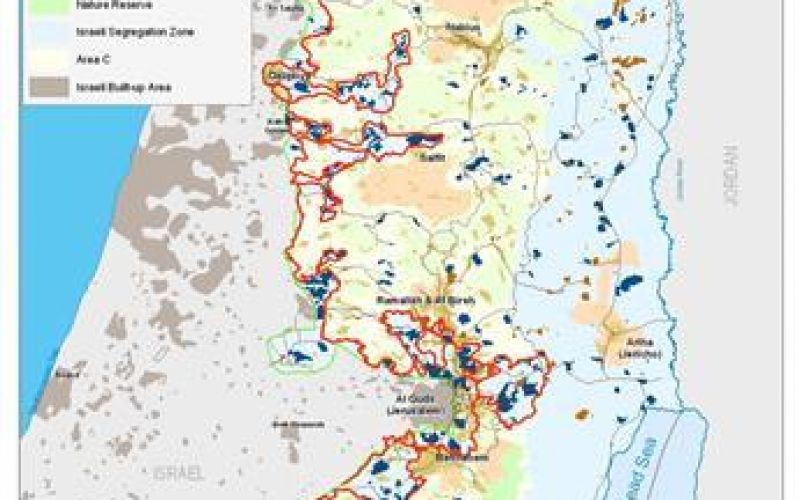 The frequency of Israeli settlers' violations increased in the occupied West Bank Governorates during the year 2014 and has become a major challenge for "Palestinians" especially in the preservation of their lives from harm. These attacks increased during the past years and most notably in the framework of the "price tag" policy which is implemented by settlers against Palestinian civilians, land and property to justify their aggressions and assaults.
In light of this hostile violation carried out by Israeli settlers against the Palestinian community, the Israeli Occupation Authorities have consistently failed to prevent settlers' attacks and even opened up the way for settlers to commit further attacks against land and property for the purpose of settlement expansion, and the imposition of bitter facts on the ground before reaching any final peace agreement with the Palestinians
An Analysis conducted by the Applied Research Institute – Jerusalem (ARIJ) of the Israeli settler attacks in the occupied Palestinian territory during the year 2014, ARIJ recorded 763 settler attacks that were committed at the hands of Israeli settler groups and have targeted Civilians, lands, properties, livestock, and agriculture. These attacks inflicted huge losses and suffering among Palestinians. Chart No. 1 gives details of the Israeli Settler attacks during the year 2014:-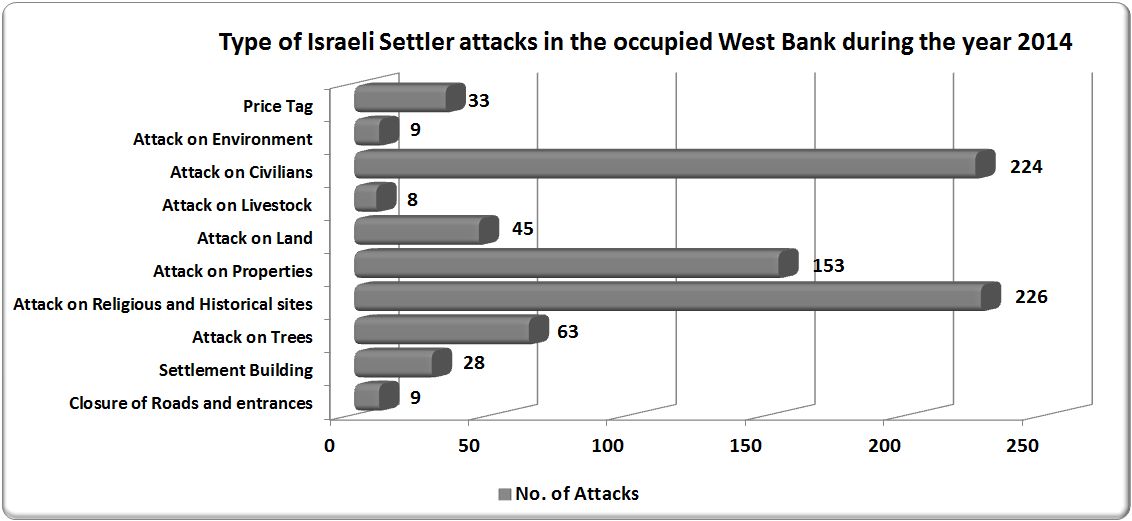 Chart (1) shows that during the year 2014, Israeli settler attacks against Palestinian civilians and religious and historic sites were the most among other attacks in the occupied West Bank, where the extent of Israeli settler attacks on Al Aqsa Mosque have become more common and under the watchful eye, protection and support of the Israeli police and army. Accordingly, ARIJ recorded 224 attacks against Palestinian civilians which included harassing and assaulting Palestinian civilians, insulting and beating them with sharp tools, and hurling stones at them causing extensive harm. These attacks were not limited to seniors but also targeted women and children, especially school students while heading to school or coming back from it.
ARIJ also recorded a total of 226 attacks that were committed by settlers against Mosques (Al Aqsa Mosque was among the most targeted) and churches and monasteries through writing racist slogans against Palestinians (Christians and Muslims alike ), setting Mosques ablaze, attacking worshipers, which showed the feelings of hatred and extremism these settlers hold for Palestinians.
Settlers also attacked Palestinian properties such as cars, houses and public parks where 153 attacks where recorded during the reporting period; additionally, settlers attacked Palestinian lands through fencing them, or adding caravans to some areas in an attempt to confiscate them or add them to a nearby existing settlement, with 45 attacks recorded in the same aforementioned period.
Israeli settlers' attacks also varied from closing entrances to Palestinian communities or main roads that constitute a vital geographical link between many Palestinian communities; or polluting the Palestinian environment such as spraying crops with pesticides or chemical toxics or even pumping wastewater from settlements into Palestinian lands to destroy crops and trees.
Israeli settler attacks also targeted fruit trees, mostly olive trees, which are the main source of livelihood for hundreds of Palestinian families in the occupied West Bank, in addition to targeting agricultural lands and open spaces; and the expulsion of Palestinians from their lands under the pretext of "settlement property", "State land" or " area C" which falls under the full Israeli control. ARIJ analysis showed that more than 7,700 Palestinian trees were either uprooted or vandalized (burnt or sprayed with toxic chemicals) during the reporting period. This number constitutes 73.3% of the total number of trees that have been destroyed during the year 2014, which is 10596. The Governorates of Ramallah, Nablus and Bethlehem are among the most affected Governorates from settlers' attacks with regard to the destruction and the uprooting of trees where more than 5000 trees were uprooted in Ramallah Governorate, this is in addition to nearly 1500 trees in Bethlehem Governorate and more than 700 trees in Nablus Governorate. See Chart 2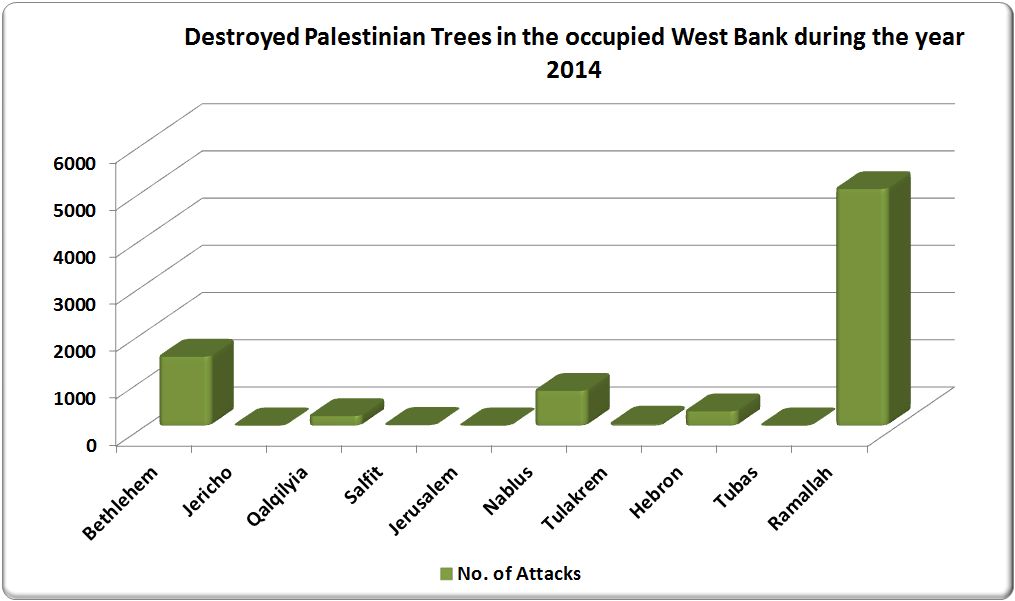 Additionally, most of the violations that have been recorded during the year 2014 were in the vicinity of Israeli settlements and outposts. Here are the names of some of the settlements that are considered as hotbeds of extremist settlers' groups. The settlements of Efrat, Neve Daniel, Tekoa, Beitar Illit, Har Gilo, Eliezer, Nikodim and El David in Bethlehem Governorate; Israeli settlements located within the so-called "Gush Etzion settlements bloc" and the settlements of Karmiel, Susia, Avigal, Negohot, Maon, Kiryat Arba, Kharsina, and Karmi Tzur in Hebron Governorate; the settlements of Ofra, Beit El, Migron, Talmon, Pisagot and Adi Ad outpost outpost in Ramallah Governorate; the settlements of Ma'ale Adumim, Pisgat Ze'ev, Ramat Shlomo, and Neve Samuel in Jerusalem Governorate; the settlements of Yitzhar, Shilo, Eli, Bracha, Itamar and Shevut Rachel in Nablus Governorate; the settlements of Ariel, Revava, Burqan, el matan outpost, Leshem neighborhood, and Kfar Taphuh in Salfit Governorate; the settlements of Maskiot and Roi in Tubas Governorate; the settlements of Hermesh and Avni Hefetz in Tulkarem Governorate; Mevo Dotan in Jenin Governorate and the settlements of Kedumim and Karni Shomron and Havat Gilad outpost in Qalqilyah.
Moreover, the following Palestinian communities were among the most affected by settlers violations in the occupied West Bank, such as Kifl Haris, Bruqin, Deir Estya, Deir Ballut, and As Sawiya in Salfit Governorate; Urif, Qaryout, Jalud, Huwara, Burin,Qusra, Qabalan and Madama in Nablus governorate; Silwan, Sheikh Jarrah, Jabal Al Mukkabir, the old city of Jerusalem, Kafr Aqab, Beit Hanina, Shuafat and hizma in Jerusalem Governorate; Yatta, Beit Ummar, Susyia, Hebron old town and areas south of Hebron Governorate; the western rural area of Bethlehem in addition to Tequ', Kisan and Beit Fajar in Bethlehem Governorate; Turmus'ayya, sinjil, Taybeh, Mughayyar, Ras Karkar and Beitillu in Ramallah Governorate; Kherbit Jubara, Kafa, Shufa and Kafr al-Labad in Tulkarem Governorate; and Jalboun and Araba villages in Jenin Governorate.
Some Palestinian Governorates in the occupied West Bank suffer higher number of settler attacks than other Governorates. The attacks were more frequent in Jerusalem Governorate (which ranked top among other Palestinian Governorates) where 283 attacks at the hands of the settlers were recorded, followed by Hebron Governorate (131 attacks), and Nablus Governorate (130 attacks) and Bethlehem Governorate (101 attacks). See Chart 3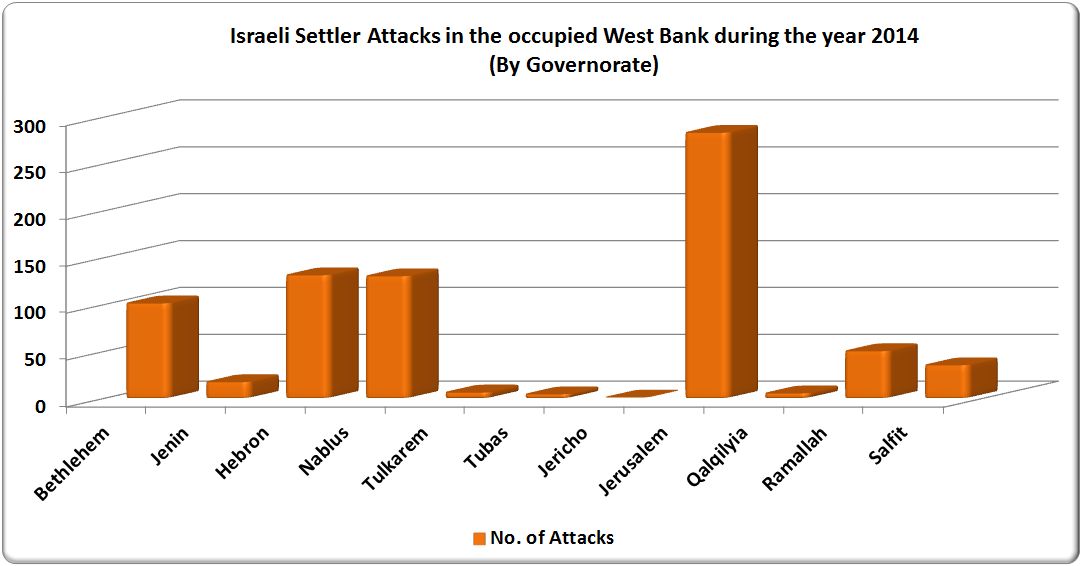 To conclude,
The international community must not tolerate Israel's disregard of the repeated settlers' attacks and provocations actions against the Palestinian people and community. In addition to what the Palestinian people are going through from land confiscation for the different colonial purposes (building settlements, outposts, military bases and construction of bypass roads) and the construction of the Segregation Wall and the establishment of Israeli military checkpoints and border crossings, the settlers' attacks increase the daily suffering of Palestinians and affect all aspects of life.
Prepared by:
The Applied Research Institute – Jerusalem