Ravaging a 3 agricultural dunum plot and the fence surrounding it in Bethlehem
Violation: ravaging lands and destroying a fence
Date: al-Khader- Bethlehem
Location: 17/01/2015
Perpetrators: Israeli occupation army
Victims: Rana Tubeilih
Details:
The dozers of Israeli occupation authorities on January 17, 2015 embarked on ravaging 3 dunums from an a agricultural land owned by citizen Rana Tubeilih in the area of Shu'b al-Ijel, which is located between the towns of al-Khader and Husan.
More precisely, the dozer demolished the plot's iron gate, uprooted 40 olive saplings, and destroyed the fence surrounding the land under the pretext of the location being a " State Property"
It should be marked that the Israeli occupation authorities on June 2012 notified the plot with "takeover" after the owner ran a reclamation project on it and cultivated it for the sake of protecting the land from occupational plans.
Photos 1+2: the eviction order on Tubeilih's plot in 2012
The coordinator of the Wall and Colonization Committee Hasan Braijeih told a researcher from Land Research Center the following: " there is a notable escalation in Israeli violations on the lands of al-Khader area in Bethlehem; such attacks are carried out for the sake of expanding colonial outposts and confiscating as much are as possible from Palestinians"
Photos 3-4 :the damage resulted by the Israeli dozers in Tubeilih's plot
Located 4 kilometer west of Bethlehem, Al Khadr village is surrounded by Beit Jala and Battir (north), Husan and Nahhalin (west), Ad Doha, Wadi Rahall, and Beit Jala (east), Wadi An Nais (south).
Al Khadr has a population of 9774 according to statistics conducted in 2007. It has a total area of 8279 dunums, 184 of which are built-up area.
The Israeli occupation confiscated 29 dunums of Al Khadr lands for Efrat and Daniel colonies. Efrat was built in 1979 and devoured 5.8 dunums of Al Khadr. It is inhabited by 7037 colonists. Daniel was built in 1982 and confiscated 23 dunums. 1073 colonists live in the colony.
Bypasses number 60 and 375 devoured more than 487 dunums. Not to mention the Apartheid Wall that destroyed 280 dunums and isolated 5638 dunums of the village. The Wall in Al Khadr is 2805 meters long.
According to Oslo Accords, 10% of Al Khadr is under Area A (PA has full civil and security control) while 6% is under Area B (PA is in charge of civil matters with Israel responsible for security). However, most of the village lands (84%) is under Area C (Israel maintains full security and administrative control). Here are the area in dunums:
Area A (808) dunums
Area B (475) dunums
Area C (6996) dunums
[i] Source: Geographic Information System- Monitoring Israeli Violations Team- Land Research Center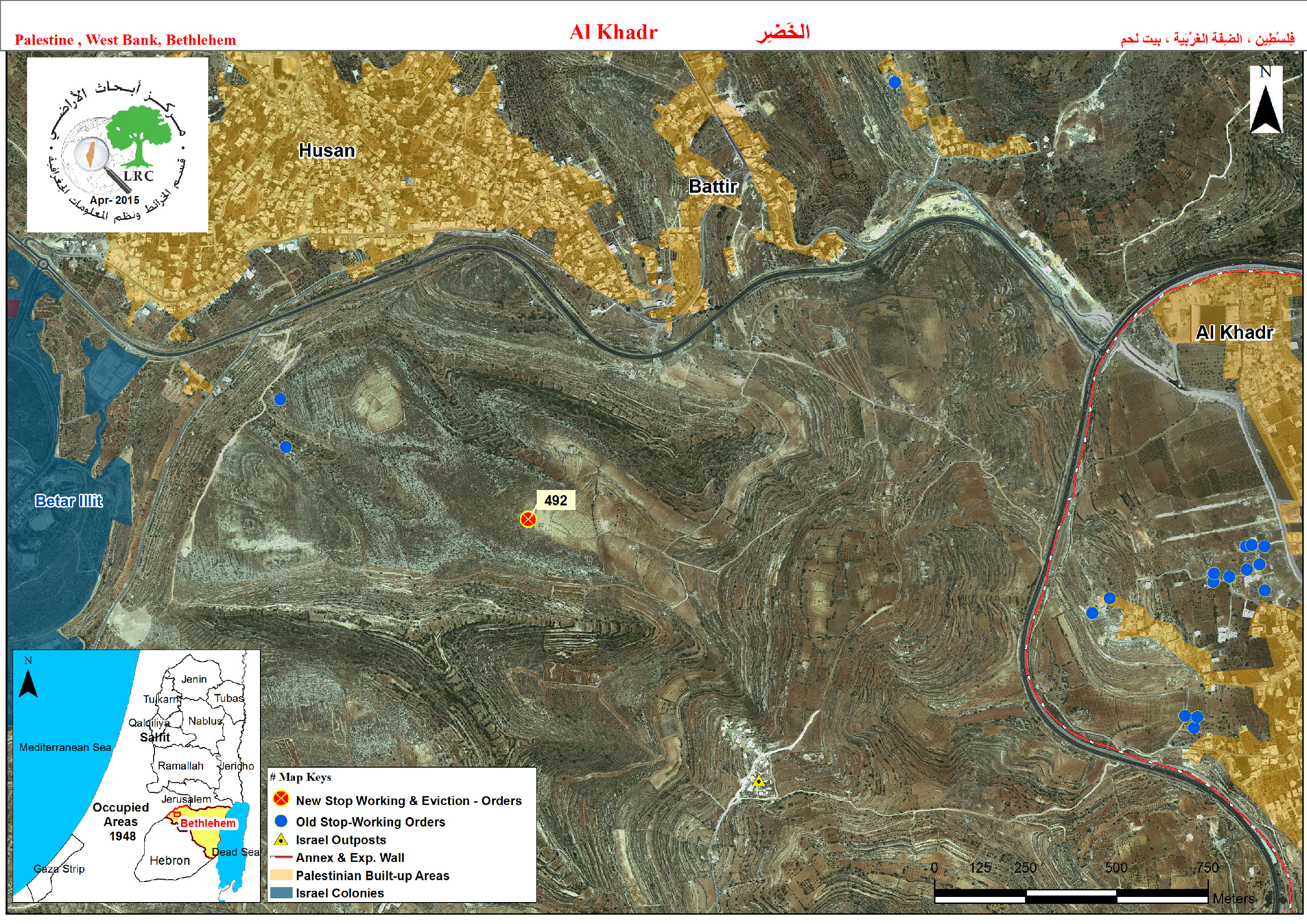 Prepared by
The Land Research Center
LRC