A Jewish colonist poisons 15 heads of Sheep in Nablus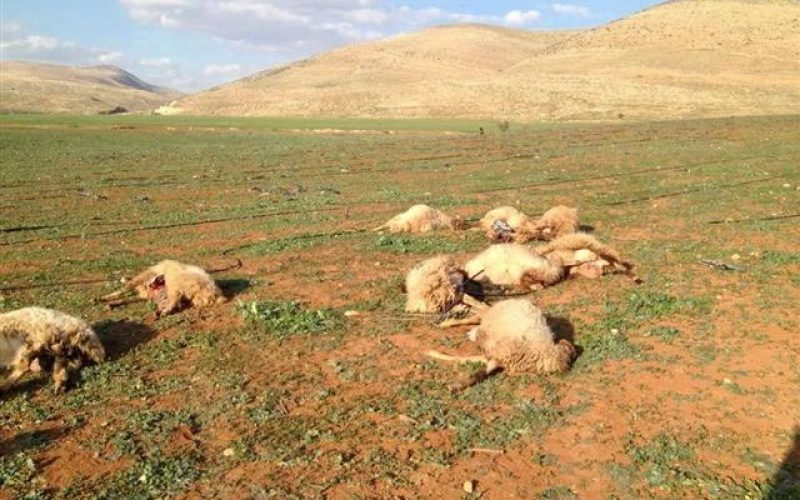 Violation : 15 heads of sheep dead because of poison
Location: Lafjam area/ Nablus governorate
Date: 05/01/2015
Perpetrators : Jetit colonists
Victims: farmer Mohammad Hamed
Details :
Israeli occupation followed many strategies to put a pressure on the citizens of Palestinian Jordan Valley (al-ghoor) and to force them to leave their lands. Targeting fauna was a highly conducted policy in the area to reach the wanted goal of emptying al-ghoor.
An extreme colonists from Jetit on January 05, 2014 sprayed a vast area of pastures with chemical insecticides in the area of Lafjam. As a result, 15 heads of sheep perished due to chemicals. Noteworthy , sheep belong to Mohammad Ibrahim Hamed(51).
The mayor of Aqraba Ayman Bani Fadil to the Land Research Center researcher said the following : "there are clear-cut evidences that colonists are behind the attack; colonists were present at the location couple of days before the attack took place. One colonist named Asaf confessed carrying out the poisoning incident, taking into consideration that this colonist has previously put hand on a land planted with wheat, which is located nearby the attack scene". According to Nablus veterinary department, sheep death cause is due to toxic chemicals sprayed on pastures.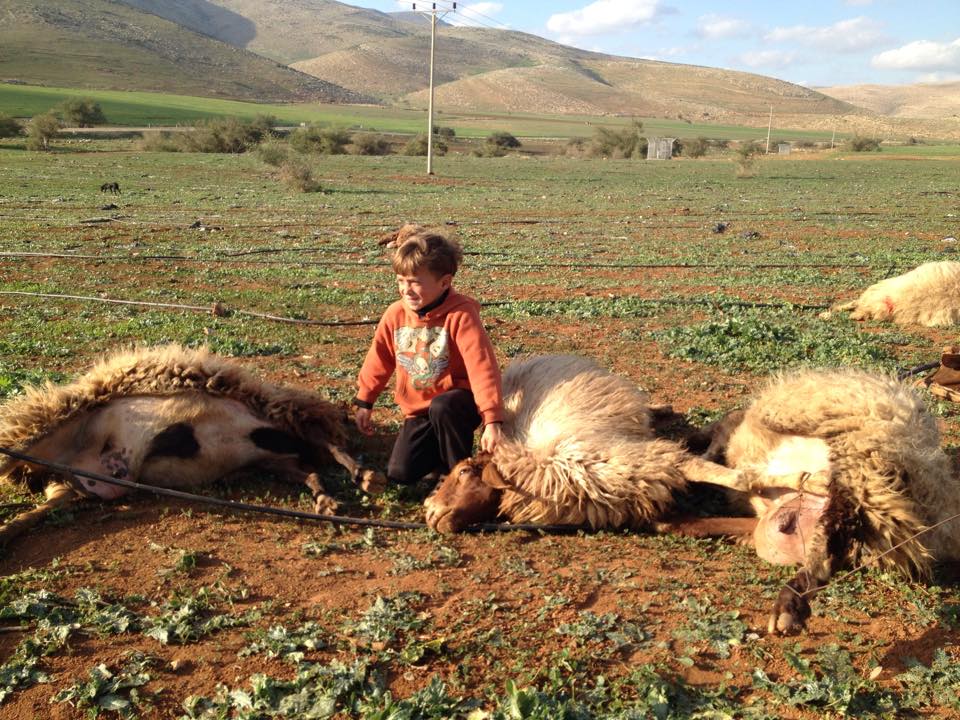 Photos 1-3: the dead heads of sheep
In the same context, Jetit colonists attacked herders in the area of Lafjam, which is located within area classified C according to Oslo Accords; colonists tried to steal sheep and confiscate them but failed because of herders interference. Shortly after, the army of Israeli occupation stood up to defend colonist by shooting live bullets to disperse farmers and send them out of pastures.
The area of Lafjam is inhabited by 500 farmers coming originally from Aqraba. The warmth of the area and abundance of agricultural lands have prompted farmers and shepherds to live in Lafjam. The latter is now threatened of being confiscated at any time.
It should be marked that Lafjam is of 30,000 dunum in area mostly pastoral and agricultural, of which 8,000 dumum is arid land. Around 15,000 dunum is used for irrigated and field crops plantation where 7,000 dunum is subject for colonial activities.
The following colonies are founded on the lands of Lafjam that are classified as area C:
Jetit :It was established in 1973 and is inhabited by 191 colonists until 2005. The colony has a total area of 1720 dunum and is 37km away from the Green Line*.
Maale Afraim : it was established in 1970 and is inhabited by 1423 colonists until 2005; the colony has a total area of 4778 dunum.
Itmar colony extension: it was established in 1984 and is inhabited by 651 colonists until 2005. The colony possesses an area of 7189 dunum and is 28km away from the Green Line*.
*Green Line refers to the demarcation lines set out in the 1949 Armistice Agreements between the armies of Israel and those of its neighbors (Egypt, Jordan, Lebanon and Syria) after the1948 Arab–Israeli War).
Prepared by
The Land Research Center
LRC