Itamar colonists cut down 50olive saplings in Aqraba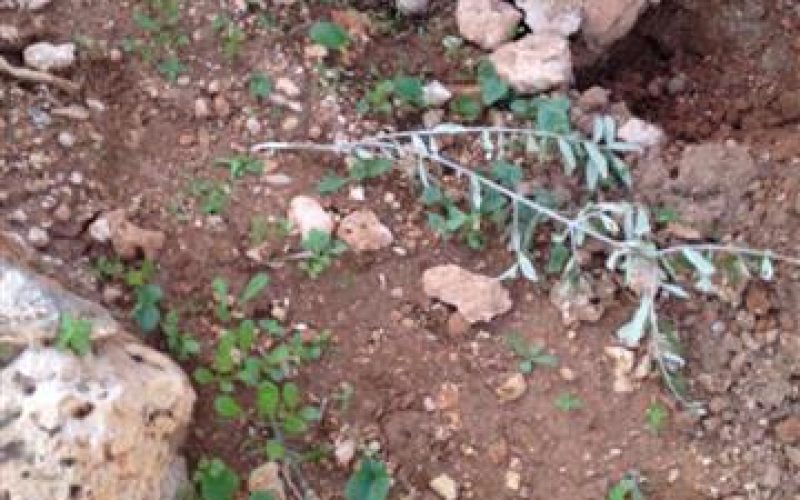 Violation: cutting down olive seedlings
Location: Aqraba town/ Nablus
Date: 05/12/2014
Perpetrators: Itamar colonists
Victims: farmer Shaher Bani Jame'
Details:
In less than eight months from planting trees in his land to protect it from colonial expansion plans, farmer Shaher Bani Jame' got his trees cut down by Itamar colonists at the early hours of December 05, 2014. Noteworthy, the two year trees were planted in the area of al-Jahir, northeast Aqraba town; the location is only 400m away from Itamar colony from the southern part. Also , al-Jahir is located on the agricultural road linking Itamar with the colonies of Maale Efraim and Gitit.
Colonists have been known for hating the olive tree since it stands as a Palestinian icon of Steadfastness and giving, not mentioning it being a symbol of Arabism.
In 2013, a group of extreme colonists accompanied by troops from the Israeli army sabotaged a solar station for electricity generating in the area of Khirbet al-Dawa, which is adjacent to al-Jahir area. By mid 2013, colonists opened agricultural roads to link three colonies with each other (Maale Efraim, Gitit and Itamar). This gives a negative impression that the occupation aims at changing the landmarks of the area to take it over.
About Aqraba:
18 kilometers to the southwest of Nablus, Aqraba can be set as an example of a recurrent target for the Israeli occupation attacks.
The village total area is 34,660 dunums, mostly, agricultural lands. However, the Israeli occupation announced more than 281,000 dunums of the village lands military zone where Palestinians are not allowed to exploit in any way while soaking the area with various colonies including Gitit. That left only 1,350 of Aqraba land to be built-up area of the village.
The colonies are expanding on daily basis; they are classified as "agricultural settlements"; in addition, the Israelis have placed numerous watch towers and military encampments in order to control the whole region.
In 1969, 'Aqraba witnessed the milling of by-pass road "506" which connects all the Israeli colonies to the east of 'Aqraba besides easing the movement of the Israeli Occupation Army vehicles in the area; however, the Palestinians are not allowed to even get near the road.
More than 500 Palestinians are residing in nomads gathering around 'Aqraba; the residents of these gathering face day-to-day threats against their houses, tents, shacks; basically, their existence. Additionally, the Israeli colonists try to chase these people out of their fields in an attempt to take over the area.
'Aqraba is inhabited by around 8,180 people with unemployment reaching up to 50% because of the hard conditions imposed by the Occupiers.
Prepared by
The Land Research Center
LRC