Extending the validity of a land grab in Ramallah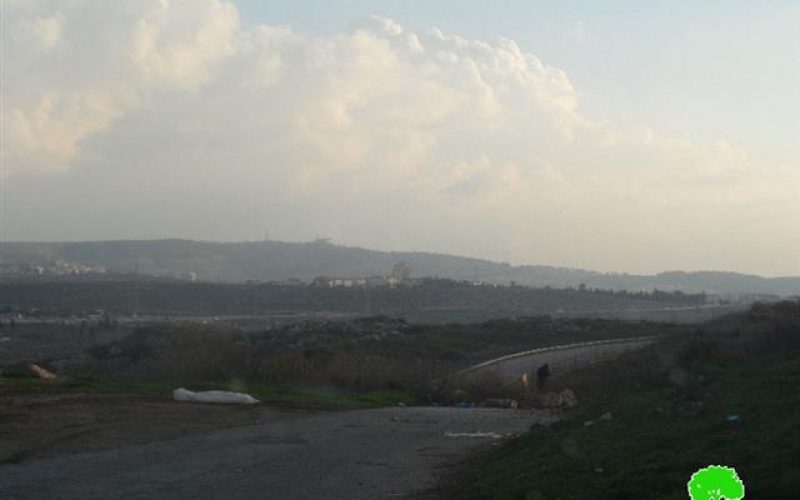 Violation: serving an order to extend validity of a land grab
Date :03/12/2014
Location: the villages of Ein Erik and Beit Ur el-Fuqa and the town of Beituniya
Perpetrators: the Israeli occupation army
Victims : residents of the villages
Details:
In a new step taken in favor of the apartheid wall, the Israeli occupation army on December 03, 2014 served the military order " validity extension and borders amendment no.(C/88/06)" that is signed by Israeli army commander Nitzan Alof. The order stressed on extending the validity of a land grab on 321 dunums from the villages of Ein Erik and Beit Ur el-Fuqa and the town of Beituniya, west Ramallah under the pretext of "Security purposes" .
The order mentioned that the validity extension is due to December 2017; this extension comes for the favor of the substitute bypass roads the occupation opened in 2008 to serve the villages of western Ramallah, the order claimed.
It should be marked that this very order came to bypass the decision of Israel Supreme Court(2008) in regard to letting Palestinians use the bypass road no.443, which traverses Ramallah starting from Mod'in colony from west to the villages of western Ramallah reaching Jerusalem. As a result, the occupation opened a substitute road( good for nothing) for Palestinians on the lands of Ein Erik and Beit Ur el-Fuqa and the town of Beituniya in order to ban them from using road no.443.
Photos 5+6: Ofra checkpoint that separates Beituniya from road no.443
The first land confiscation for the favor of the aforementioned substitute road was in 2008; in 2011 a " validity extension" order was first served on the road where the second order took place in 2014. The following table shows information about the targeted lands according to the final order:
Town/ village

No. of natural block

No. of plot

Beituniya

12

42,43,76

13

19-22, 24-26, 53, 56, 60-82, 86, 87

33

12, 5, 8, 10, 14-17, 19

35

73, 77, 78.

Ofra el-Fuqa

2

1-11، 18، 24،25،27،28، 30، 36، 38.

3

7،11،12،14،16،19

Ein Erik

6

16-19، 21،23

7

27-32، 36

8

38، 40 ،41

9

11، 13-15
It should be marked that the bypass road no.443 was considered the lifeline to the villages of west Ramallah, linking them to each other and to other towns.
The road, as a matter of fact, helped increase the economy of the area making it a huge economical center but when shut down, the economy notably deteriorated to the worst .
Land Research Center LRC sees that land grab contradicts with all of the International conventions and Humanitarian laws including:
Article 17 of the (1948) Universal Declaration of Human Rights stating: "Everyone has the right to own property alone as well as in association with others. No one shall be arbitrarily deprived of his property."
Article 147 of the Fourth Geneva Convention of 1949 indicated that:
Extensive destruction and appropriation of property not justified by military necessity and carried out unlawfully and wantonly. is a grave breach of the Convention.
Prepared by