Extending validity on a 10 dunums land grab in Salfit governorate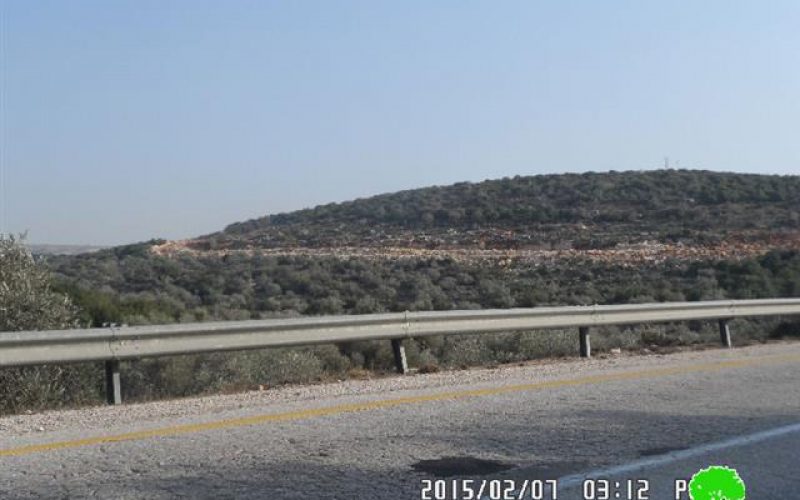 Violation: extension on a land grab
Date: 16/11/2014
Location: periphery of Emmanuel colony
Victims: agricultural farmers from Deir Istiya village
Details:
The Israeli District Coordination Office served the Palestinian side on January 16, 2014 a military order that states an extension on a land grab validity for a 7.5 dunums from the village of Deir within the natural block no. 3.
According to the order no. (05/09/C) entitled " Extending validity and borders amendment", the Israeli occupation granted itself the right to take over the area of Aqabit Jardih, north Emmanuel colony for the sake of establishing a wall around it.
It should be marked that the occupation previously confiscated that area in 2005; this is the third time an extension is inflected on the area, which is lasting until 2017.
Photos 1-4: the military order
The Mayor of Deir Istiya Mrs. Amal Kouksh told a researcher from Land Research Center the following: "the area of Aqabit Jaradih is considered a source of income for many agricultural families in Wad Qana; lands there are planted with olive trees. The real threat is not represented in confiscating the 7.5 dunums plot but in the threat of confiscating 477 dunums, which are located nearby the targeted area. Noteworthy, the threatened lands were declared inaccessible for Palestinians but through a specific permit".
Photos 5-6: segment of the apartheid wall surrounding Emmanuel colony
It should be marked that the targeted areas belong to the following ( Mahmoud Afanih, Yoused Jadallah, Abdallah Hazim, Mahmoud Isma'il and Salem Hazim) all from the Aqabit Jardih.
About Emmanuel:
It was established in 1981 with a total area of 520 dunums. It is inhabited by around 2585 colonists, most of them are western Europeans.It is edged by Jinsafut (west), Amatin (north), Deir Istiya (south).
The colony holds within its boundaries a synagogue, high schools, medical centers, military camps, and an industrial zone that holds the following industrial plants:
Aluminum processing facility and workshops.
Furniture factories.
Food processing facility
New industrial facilities are being built .
The Israeli occupation established part of the apartheid wall nearby the colony, which separated 578 dunums from Deir Istiya behind it.
Prepared by
The Land Research Center
LRC