Colonists spray paint "hatred inciting" slogans on walls in Burin village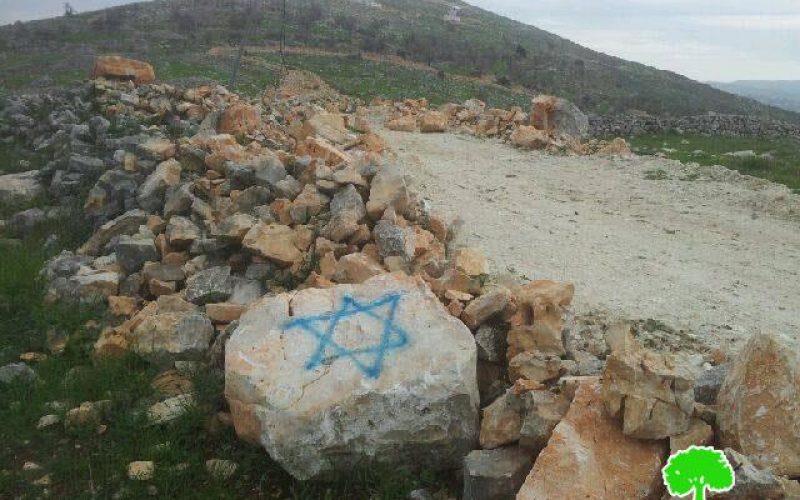 Violation: drawing disseminative slogans and cutting down electricity wires
Location: Burin/ Nablus governorate
Date;26/11/2014
Perpetrators: Givat Ronen colonists
Victims: heirs of Bilal Eid
Details:
On October 26, 2014 , a group of Givat Ronen colonists sprayed paint "hatred inciting" slogans calling on killing all Arabs in addition to drawing David star on the walls of a house located to the northeastern side of Burin. Noteworthy, the house belongs to the heirs of Bilal Eid; a citizen from the area. From another side, same colonists cut down the electricity wires providing the house with power.
It should be mentioned that the house is located within area classified B according to Oslo Accords (under Palestinian authority) but farmers are denied access to it and even banned from using it in any way.
Photos 1-2: the slogans on the walls
Noteworthy, the attacked house is uninhabited since 1967 and is located atop of a hill that overlooks Burin village; Givat Ronen colony is located 2km away from the aforementioned house. This is why the house was under interests spot.
In a related attack, colonists set fire to 16 olive trees and a vast area of pastures on July 31, 2014; the targeted area is reported to be in the periphery of the attacked house previously mentioned .
About Givat Ronen :
In 1999, the army of Israeli occupation grabbed around 4.5 dunums from the lands of Burin from the eastern side, which is adjacent to Bracha colony. The occupation justified the land grab under the pretext of "Security reasons" to build a watchpost in the area; in the after math of the second intifada, colonists set up caravans in the periphery of the watchpost, which later on became an outpost under the name of Givat Ronen.
The outpost is considered an imminent danger on the lands of Burin; a number violations and attacks by colonists from the nearby colony were documented. The attacks varied between home raids, lands torch, trees cut down.
Prepared by
The Land Research Center
LRC