Yitzhar colonists set fire to 130 olive trees in Huwara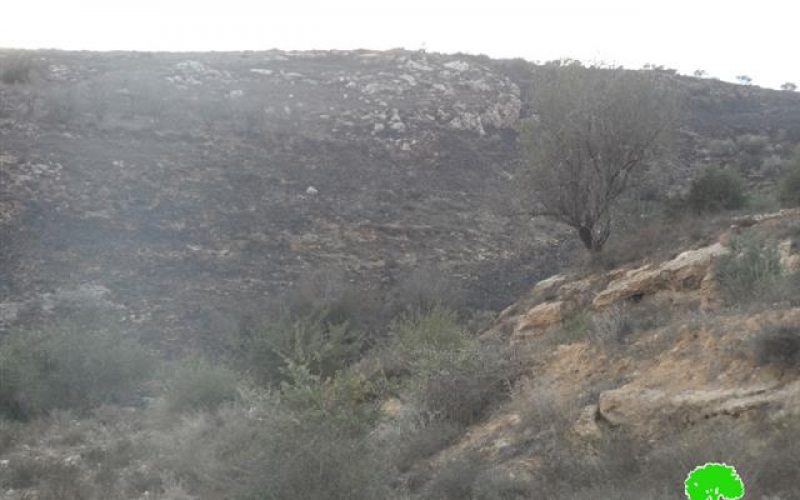 Violation: setting fire to 130 olive trees
Location: Huwara village- Nablus governorate
Date: 22/10/2014
Perpetrators: Colonists of Yitzhar
Victims: several families from the area
Details:
Yitzhar colonists have been escalating, each olive harvesting season, their brutal activities of wreaking havoc in Palestinian lands mainly targeting the olive trees during the harvesting season since it stands as national celebration for villagers and their families.
On October 22nd , the West Bank town of Huwara witnessed a horrendous crime committed by colonists of Yitzhar who broke into an area known as "Al Lohaf" within the natural block no.16 , west of Huwara, and set fire to the olive groves.
According to Palestine Ministry of Agriculture report, 130 olive trees aging 40-50 years have been totally damaged.
It is indicated that the abundance of yellow hey in the area helped spreading the fire to a wider range to reach out tens of agricultural dunums.
In reference to the data available in Huwara municipality, the burnt down trees belong to citizens named Mane' Dumaidi (60trees), the heirs of Mohamad Khumos (27tres), the heirs of Abdeljawad Khumos (13trees), the heirs of Jamil Khumos(19 trees) and the heirs of Sa'da al-Salman (11trees).
It is reported that the forces of the Israeli occupation were present at the location but did nothing to prevent the fire from spreading over. On contrary, the reason they were there is to protect colonists who carried out the attack, witnesses said.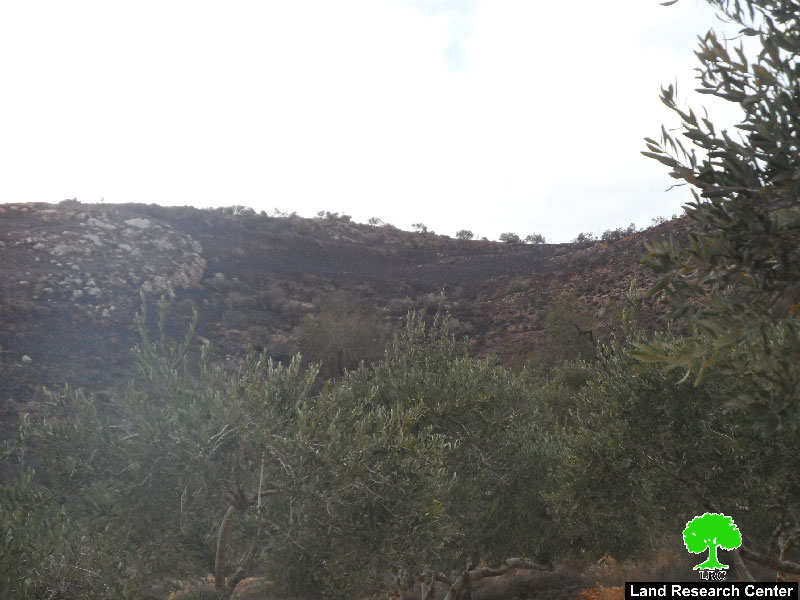 Photos 1-6: the fire location
Ongoing attacks on the area :
It is indicated that the area of "Al Lohaf" has been witnessing, every now and then, several attacks carried out by colonists represented in beating farmers, looting crops and cutting and burning down trees. Noteworthy, Yitzhar and Bracha colonists tried, several times during 2014, to set up caravans in the area but residents of Huwara stood up for them to prevent lands takeover.
Yitzhar:
The colony of Yitzhar was built in 1983 on the lands of Boren and Qibliya lands, southwest Nablus. It was built as an outpost but soon expanded by confiscating 10 dunums from the villages of Boren, Qibliya, 'Urif, Madama, and Huwara. The built-up area of the colony is estimated to be 269 dunums while the area of the confiscated land is 1223 dunums (source : Foundation for Middle East Peace)
Yitzhar is founded within the natural block no.8 on the shrine of a great Muslim leader called Salman the Persian (Salman al- Farsi), after whom the mountain surrounding the area is named.
Prepared by
The Land Research Center
LRC