Notifying a 3.5 dunums land with eviction in Bruqin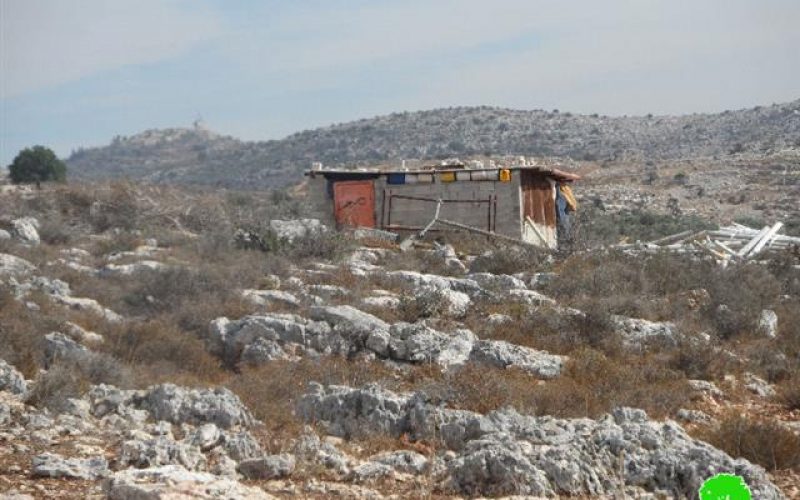 Violation: serving an eviction order on a land and a stop work order on a barrack
Location: Bruqin village/ Salfit governorate
Date: 10/10/2014
Perpetrators: the Civil Administration of Israel
Victims: farmer Iyad Barakat
Details:
The officer of the "State Property" in the Civil Administration of Israel served, on October 10th 20014, an evection order on a land owned by farmer Iyad Barkat. The military order mentioned returning the land into its original status within a period of 45 days from the order's issuance.
The military order no1142 with an aerial photo of the targeted location attached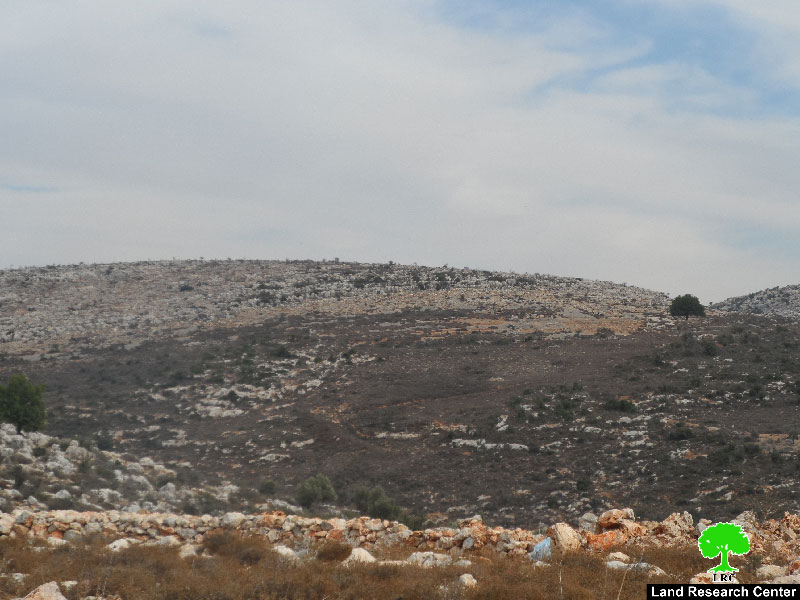 Photos1-3: the threatened land
The occupation justified the takeover under the pretext of the land being a "State Property" despite that it is located in the area of al-Baq'an, north of Bruqin and is 1km away from the built-up area of the area. Noteworthy, the industrial zone of Burqan is only 3km away from the targeted land.
According told an LRC observer and the farmer's testimony, the land is of 3.5 dunums in area and is planted with 55 olive seedlings aging 5 years. Citizen Iyad told an observer from Land Research Center LRC the following: " A year ago, I planted this land that I legally own according to legal documents. The land is planted with olive saplings aging 5 years. Brutally , the occupation came to put hand on the land claiming it "state property".
Barakat also added: " I surveyed the land and issued a Jordanian registration form to be submitted to the Civil Administration of Israel for the sake of objecting the order".
Stop work order on a agricultural barrack:
In addition to the aforementioned aggression , the Israeli occupation handed out farmer Barakat a stop work order no. 160798 on a agricultural barrack ( made of metal slabs and bricks) , which is located next to his threatened- of -eviction land. Noteworthy, the barrack is of 60m2 in area and is used for animal husbandry. As a matter of fact, the farmer has 40 sheep. For the record , farmer Barakat supports a family of a nine member family; he works as a farmer besides working for the Ministry of Education.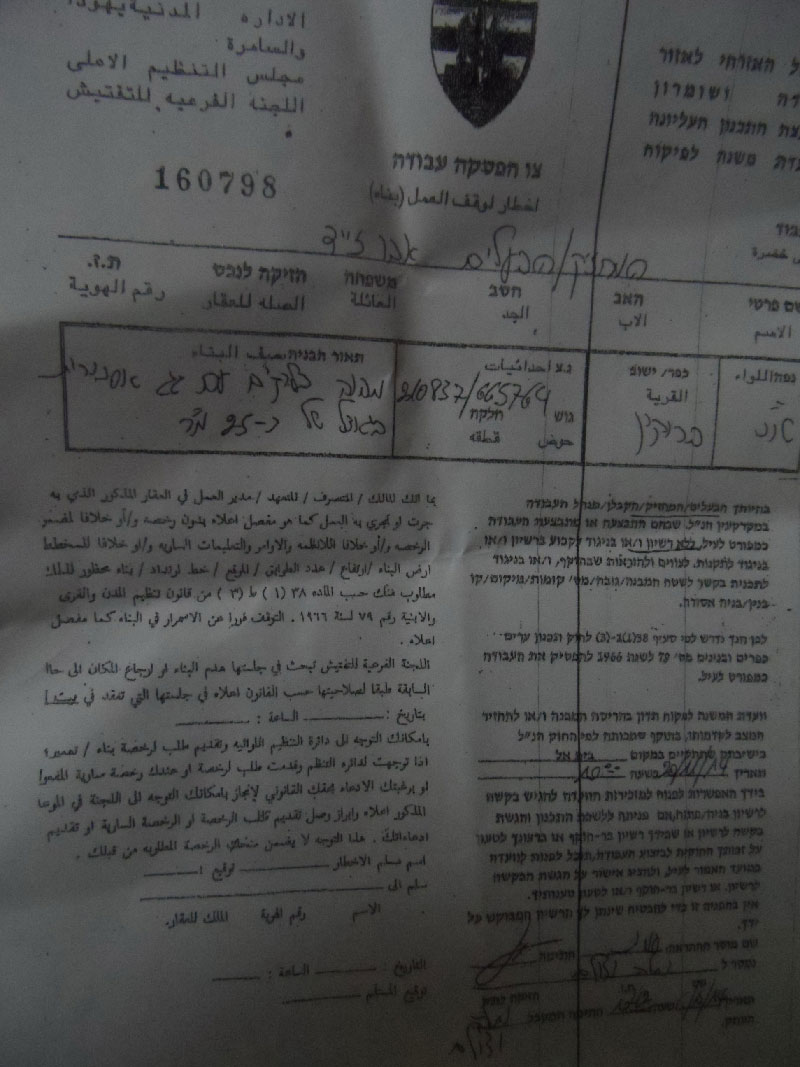 The stop work order no.160798
About Bruqin:
It is located 13 km to the west of Salfit city; it is one of the Palestinian villages that depend mostly on agriculture in its income. The village's total area is 13273 dunums including 1336 dunums of built-up area inhabited by around 3500 people.
1200 dunums are planted with olives while 3000 dunums are used for herding purposes; the rest (8000 dunums) are under the nearby colonies control.
The village is facing vicious attack from the Israelis; more than 8000 dunums of the village lands were confiscated for colonial expansion purposes. Table 1 gives details of land confiscations in Bruqin:
| | | | | | |
| --- | --- | --- | --- | --- | --- |
| No. | Colony | Establishment date | Built-up area | Type | Built over |
| 1 | Barkan | 1981 | 622.5 | Industrial | Sarta, Bruqin, haris |
| 2 | Bruqin | 1999 | 265.5 | Residential, industrial | Bruqin, Haris |
| 3 | Ariel Gardens | 1978 | 5226 | Industrial | Bruqin |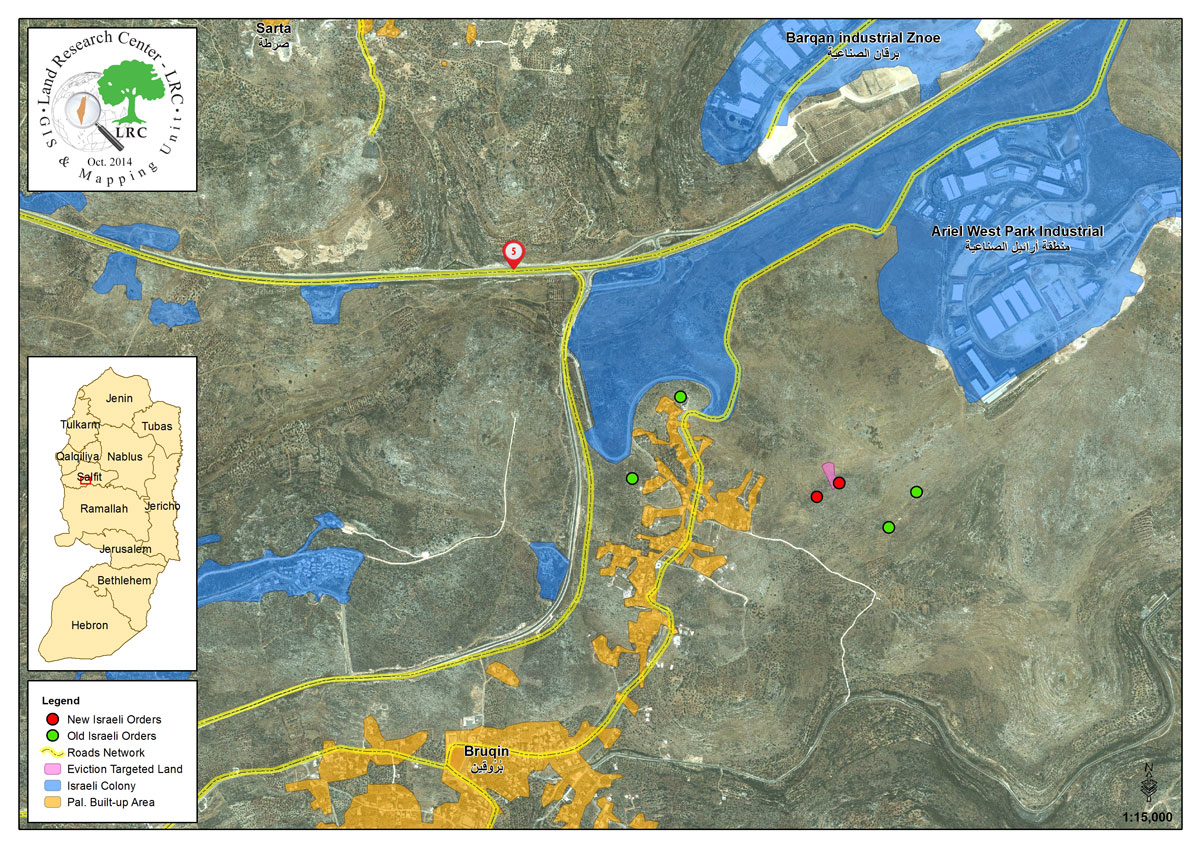 Prepared by
The Land Research Center
LRC