Israeli Settler attacks in the occupied West Bank during the third quarter of 2014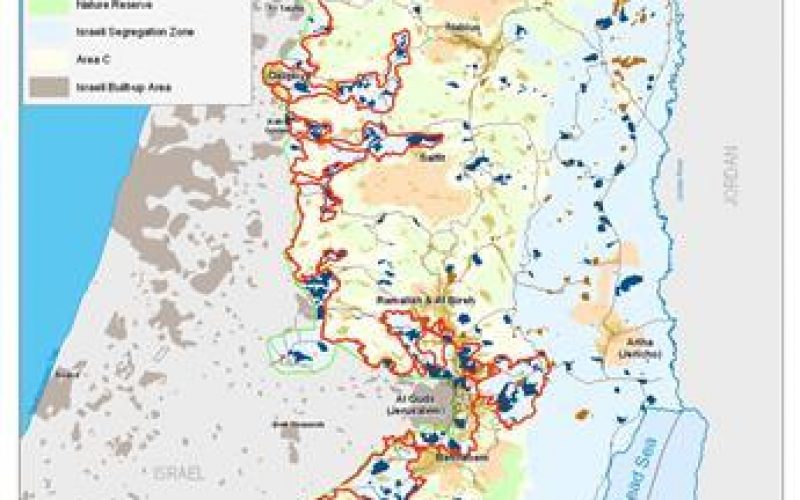 Israeli settler attacks escalate to an unprecedented level in the occupied West Bank and has become a continuous nightmare for the Palestinians, especially that these attacks are not confined to land and property, but target Palestinian civilians under the guise of the so called "Price Tag" policy. This systematic revenge policy is aimed at the Palestinian population all over the West Bank territory in an attempt to put pressure on the Israeli Government to not make any concessions with regard to settlement building and land annexation in the occupied State of Palestinian land.
Additionally, with the absence of the Israeli deterrence of settler attacks, this price tag policy has increased year after year, and has become a matter of concern that these settler groups will control the reins and thus put pressure on the Israeli government to impose more facts on the ground.
Analysis conducted by the Applied Research Institute – Jerusalem (ARIJ) to the Israeli settler attacks in the occupied Palestinian territory during the third quarter of 2014, ARIJ recorded 172 settler attacks were committed at the hands of settler groups and have targeted lands, properties, livestock, agriculture and even Palestinian civilians themselves. These attacks inflicted huge losses and suffering upon the Palestinians. Chart No. 1 gives details of the Israeli Settler attacks during the third quarter of 2014:-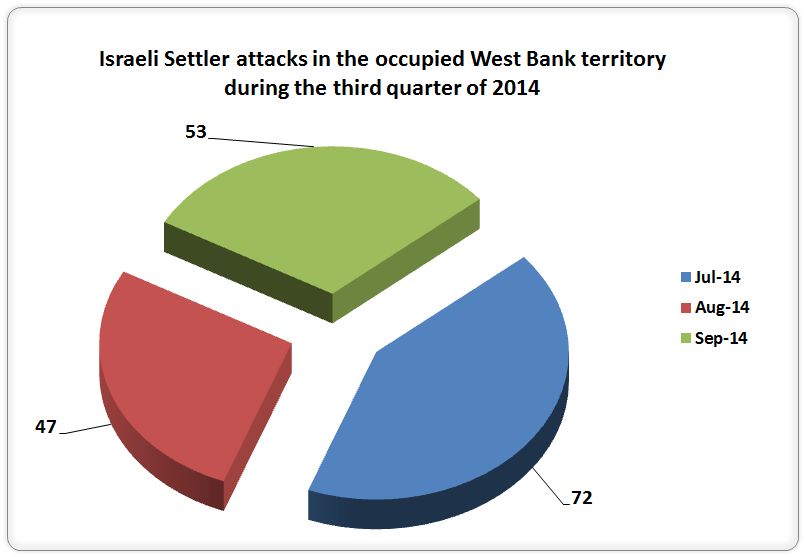 Israeli settler attacks against Palestinians and properties varied from targeting trees (mostly Olives), agricultural and open lands. Settlers also allowed themselves to attack archeological sites in the occupied West Bank and perform Talmudic rituals in these sites in clear violation of the sanctity of these places.
Israeli settler attacks also included storming religious Christian and Islamic sites, writing racist slogans against Palestinians (Christians and Muslims alike ) in an attempt to spread terror and fear in the hearts of Palestinian citizens. Attacks also included harassing and assaulting Palestinian civilians, insulting and beating them with sharp tools and causing extensive harm. These attacks were mostly committed in areas that are in close vicinity of Israeli settlements such as the settlements of Ariel, Beit El, Shilo, Yetzhar, Eli, Bracha, Itamar, Ma'ale Levona, Hermesh, Karmiel, Mitzpe Ya'ir, Susiya, Beit Ayn, Avigal, Negohot, Maon, Maale Amos, Efrat, Neve Daniel, Pesagot, Talmon, Karnei Shomron, Ofra, Ma'ale Efrayem, Shevut Rahel, Kiryat ASrba, Tekoa, Kedumim, Hallamish, Mevo Dotan, Pisgat Zeev, Beitar Illit, and Kochav Hashahar . Chart (2) gives details of the types of Israeli settler attacks in the occupied West Bank:-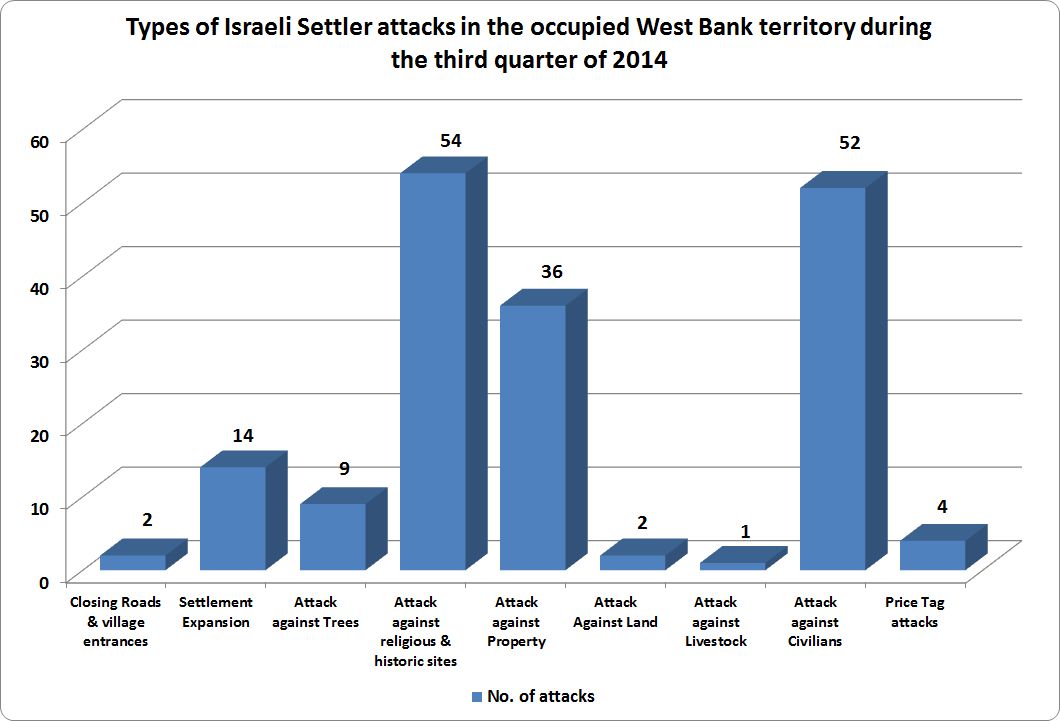 Chart (2) shows that Israeli settler attacks on religious sites and historic sites, were the most among other attacks in the occupied West Bank. In recent months, the extent of Israeli settler attacks on Al Aqsa Mosque have become more common and under the watchful eye, protection and support of the Israeli police and army. This in turn, has led to more violent confrontations between the Palestinians and the Israelis at the site. Israel has also imposed restrictions to prevent Muslim worshippers under certain age (usually under 45 or so) from entering the mosque in an attempt to avoid such confrontations with the Israeli settlers who keep attacking the Mosque.
Not only settlers attacked religious places and properties, but also attacks included physical assault on Palestinians while they were in their places of work and their lands, especially those in close proximity of Israeli settlements and outposts, which puts this type of attack in the third place. During the reporting period, ARIJ recorded 52 assaults on Palestinian civilians during which, Palestinians were expelled from their places of work and were abused with iron rods and sharp tools for the purpose of intimidation.
In the third place comes the attacks on Palestinian properties which included hurling stones and Molotov cocktails at Palestinian homes and cars and setting fire to property, surveying areas and properties, blocking roads and setting up checkpoints to obstruct the movement of Palestinians.
Note that settler violations have also targeted Palestinian trees which constitute a main source of income for a large sector of the Palestinian population in the occupied West Bank. In the period between July and September 2014, settlers managed to destroy nearly 100 Palestinian trees, mostly olive trees. This includes cutting and burning of fruitful trees and spraying them with toxic pesticides so that Palestinians cannot cultivate them again or use them in any way possible. These attacks aim at preventing Palestinians from returning to their land to cultivate it again, and eventually annex it to the nearby settlement/outpost.
Some Palestinian Governorates in the occupied West Bank suffer higher number of settler attacks than other Governorates. The attacks were more frequent in Jerusalem Governorate (which ranked first among other Palestinian Governorates), followed by Hebron, Bethlehem and Nablus Governorates which are considered as hotbeds of religious settlements inhabited by religious settlers. See Chart 3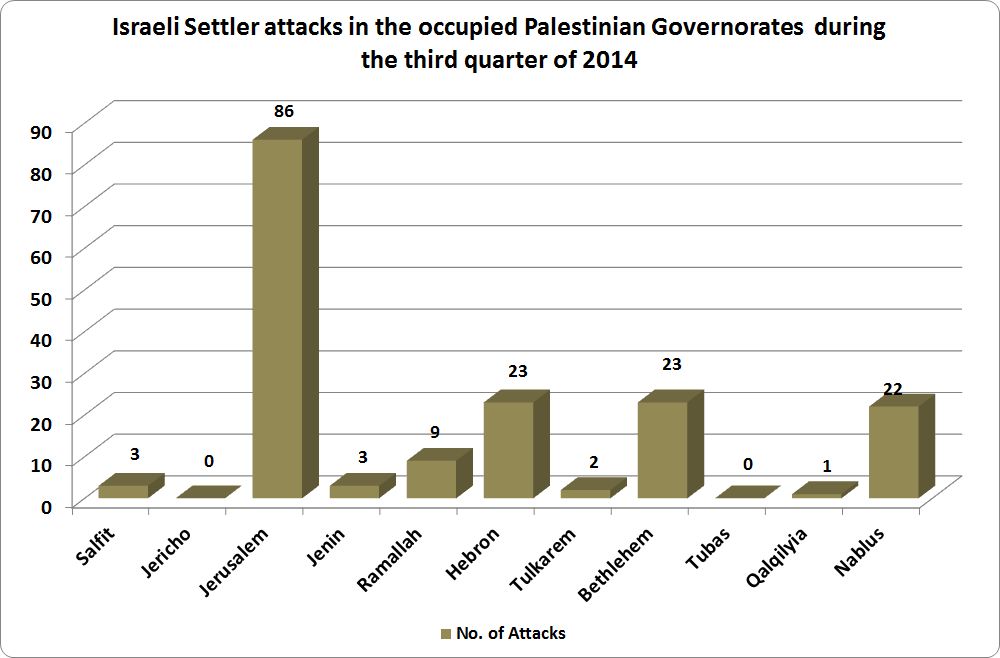 It should be noted that the number of settler attacks in the third quarter of 2014 has increased compared with the number of attacks in the same period of last year (2013), where last Year ARIJ recorded 166 settler attacks during the third quarter, and were higher in the Governorates of Jerusalem, Nablus , Hebron and Ramallah Governorates. See Chart (4)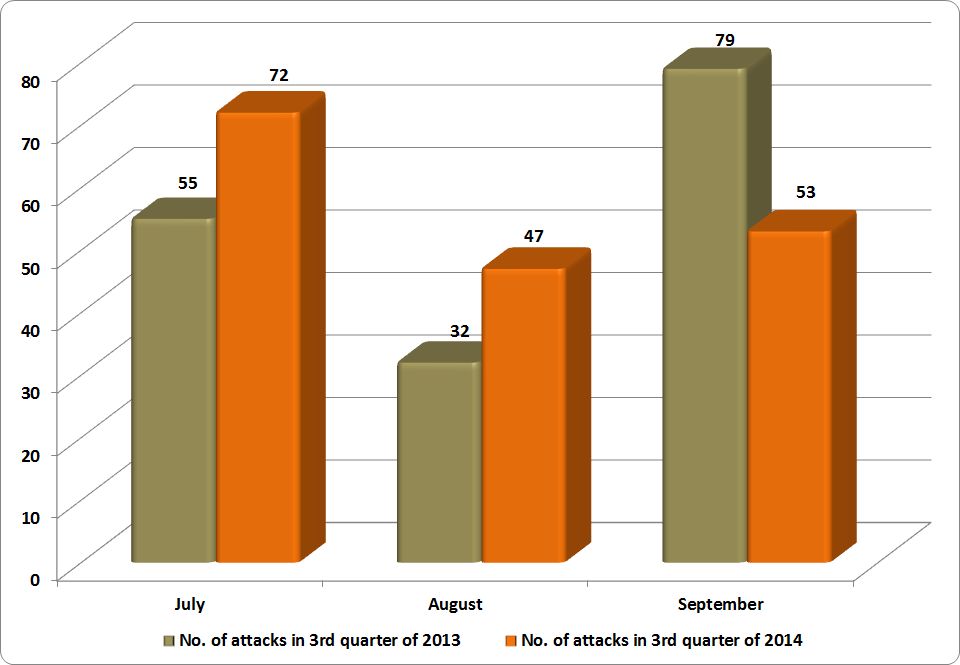 The deliberate failure of the Israeli army to deter settlers from committing attacks against Palestinians and their properties encourages settlers to continue to encroach on the rights of Palestinians.
Palestinians are no longer able to protect themselves from these attacks and no longer feel safe in light of the disregard of the Israeli occupation army to take immediate measures against such attacks, which often pass without settlers being held accountable for their violent attacks.
Prepared by:
The Applied Research Institute – Jerusalem