The occupation notifies two agricultural roads with stop work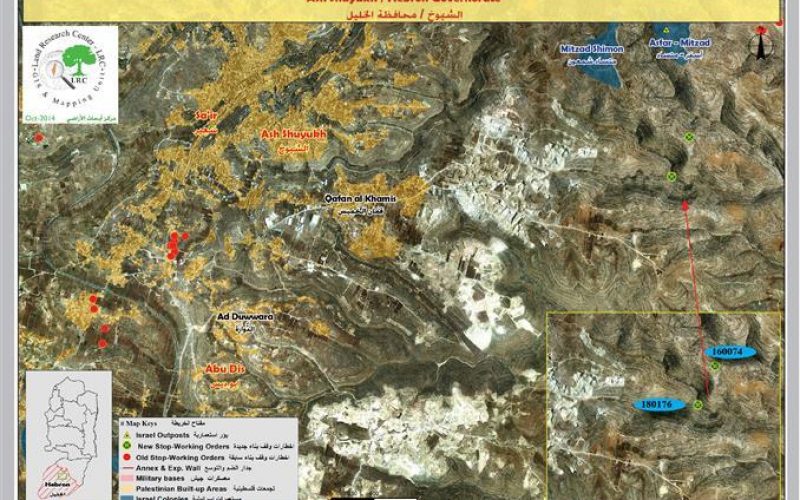 Violation: serving stop work orders on roads
Location: Shuyukh town
Date: 22/09/2014
Perpetrators: the Civil Administration of the occupation
Victims: farmers from Shuyukh
Details:
On September 22d 2014, the authorities of the Israeli occupation served stop work orders on two agricultural roads in the town of Shuyukh, east of Hebron governorate. The mayor of Shuyukh asserted that some residents found two orders shoved under a rock in the construction location, compelling immediate termination of work.
Photos 1+2: the stop work orders on the two agricultural roads
The two notifications mentioned that the construction was unlicensed and demanded the termination of the work. The court of Beit El set October 19th 2014 as a date for the session of the Inspection Sub-Committee to consider the status of the notified structures.
The mayor of Shuyukh pointed out that the work in these two roads started two months ago; the roads are located in the area of al-Majalis and Wadi al-Mgharat. 200m were accomplished in al-Majalis where only 50m were accomplished in al-Mgharat.
He also added that the two roads were expected to be of 2km in length; the opening of the two roads was expected to serve farmers and facilitate their movement in and outside their lands, which are to be used to prevent colonists attacks since Asfar colony is located in the nearby area. Farmers sought attorney Ashraf al-Nashashibi to object the order, the mayor said.
Prepared by
The Land Research Center
LRC