The occupation loots historical antiquities from Deir Sharaf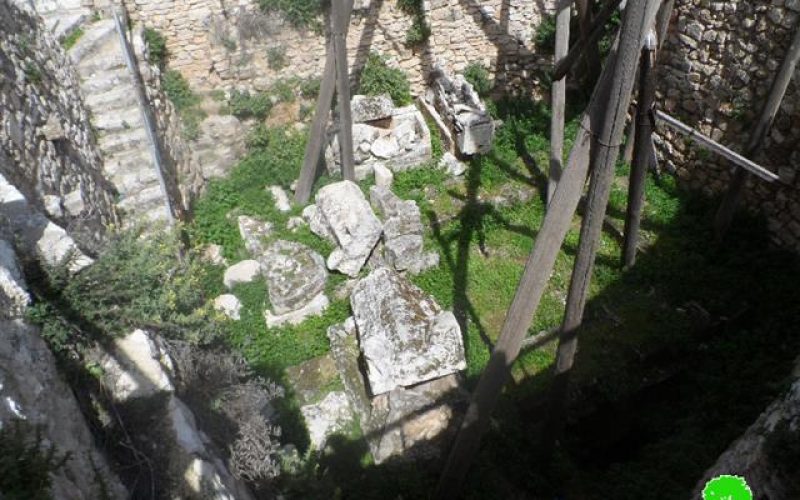 Violation: stealing historical antiquities
Date: April,17 , 2014
Location: Deir Sharaf- Nablus
Victims: residents of the village

Details:
The Israelis, since the occupation of the West Bank, conducted methods for looting lands and falsifying historical facts on a wide spectrum in the occupied territories ; that came after the full takeover of natural resources of Palestine.
The occupation succeeded at fooling the public opinion about their historic origins in Palestine and that they are god's chosen people. That facilitated their plans in confiscating sacred places be them Christian and Islamic. Therefore, the governments of the occupation devoted a large budget for the sake of fulfilling that plan. In that regard, the occupation conducted several methods to carry out the plan such like changing the characteristicsfeatures of the sacred city and the ancient inscriptions under the pretext of rehabilitation.
Looting antiquities form Deir Sharaf:
On April17, 2014, and during the works on Deir Sharaf road; that is nearby Shavei Shomron colony, the Civil Administration stole Roman tombs that were founded during the excavation. It should be marked that the occupation set a security belt on the area to facilitate moving the antiquities out from the site .
Photos 1-2: the targeted Roman tombs
It should also be mentioned that the Civil Administration refused to cooperate with the Palestinian Ministry of Tourism and Antiquities about the nature of the founded tombs. In addition, crews of the ministry were denied access to the site; that was claimed to be located within area classified "C" according to Oslo Accords.
Claiming lands to be classified as area "C" according to Oslo Accords has been the occupation favorite pretext to put hands on historical sites and sacred shrines. According to the data of the Palestinian Ministry of Tourism and Antiquities , more than 1200 archeological sites were confiscated by the Israelis under the aforementioned pretext. Moreover, not even one Palestinian specialist body has authority on the classified areaslands; that gave the occupation the chance to use these areas and to change their features to correspond with the Israeli sectarian rituals.
Faking false stories about the historic origins and time was also part of the methods Israeli conducted in their colonial plans in different locations and sites. For example, Prophet Josef tomb in Nablus , the shrines of Joshua and prophet Jonah (Dhul-Nun) in Salfit, and the antiquities of Sabastiya; the ancient Samaritan city, all considered Jewish sacred sites.
The area of Deir Abu Sam 'an; that is located to the northwest of Kafr ad-Dik and near Zahav colony, has been exploited through wide works of excavations; that in this regard served at the colony expansion and Roman antiquities theft. Noteworthy, the example of this village is one of many in the area of the West Bank.
Prepared by
The Land Research Center
LRC