Six tents and a barn demolished in Ramallah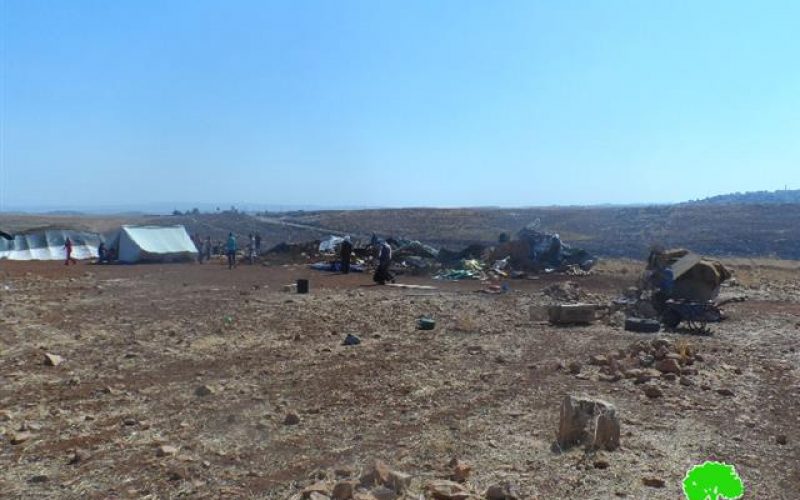 Violation: the occupation destroys a number of structures in Ramallah
Location: Qa'abna community and Mikhmas village/ Ramallah governorate
Date: 20/08/2014
Perpetrators: the army of the Israeli occupation
Victims: 6 Bedouin families
Details:
In synchronization with the occupation colonial plans of al-ghoor (Palestinian Jordan Valley) lands confiscation, the Israeli army accompanied by two military bulldozers raided Arab al-Qa'abna community, which is located to east of Tayba village/ Ramallah governorate. Demolitions reached out four residential tents and a barn belonging to both Yousef Qa'abna and his sons (Mousa and Mohammad) and Ayman Qa'abana. According to the LRC field follow-up the damages affected six families including 17 members of which six are minors.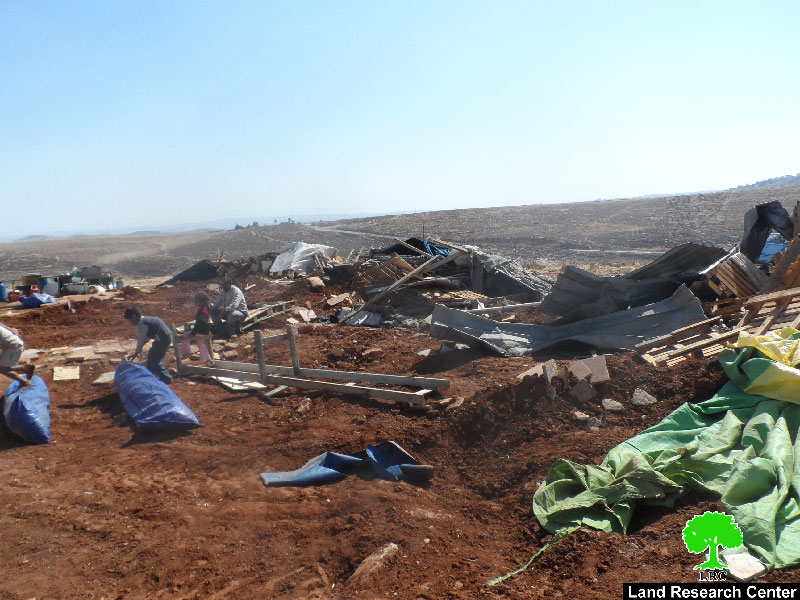 Photo1-3: demolition scenes
Tents leveled down in es-Salamin community:
It should be marked that this community, located in al-Baq'a area, east of Mikhmas, had two tents destroyed belonging to two Bedouin families which are: Ghyadh es-Salamin and Sa'aid es-Salamin. The two families are of 10 members including 6 minors.
No.

Citizen

No.of sheep

Family

Minors

No. of barracks

Area m2

No. of barns

Area m2

Bathroom

Taboun(oven)

1

Yousif Qa'abna

175

5

1

1

45

1

28

1

1

2

Mousa Qa'abna

0

6

2

1

45

0

0

0

0

3

Mohammad Qa'abna

0

5

3

1

40

0

0

1

1

4

Ayman Qa'abna

0

1

0

1

40

0

0

0

0

5

Ayyadh es-Salamin

0

4

2

1

60

0

0

1

1

6

Sa'aid es-Salamin

0

6

4

1

45

0

0

0

1

Total

175

27

12

6

275

1

28

3

4
*Source: Field Research- Monitoring Israeli Violations Team- Land Research Centre (LRC).
A displacement plan for the residents:
Citizen Yousif Qa'abna(69) to the LRC observer stated that: "after the war of 1948, we were forced out of our lands in Beir es-Sabe' towards the West Bank where we settled down in the southern part of Hebron. In 1954, a large number of us left towards the area of al-Ouja el-Fouqa where we stayed until we were forced out by the occupation declaring the area a closed military zone in 1969. Some of us finally fled to the area of al-Mou'rjat and the other part moved to the east of Tayba village where the colony of Rimonim is located.
Hajj Yosuif, about the nature of the military targeting, stated that: "three years ago, we were served a stop work order under the pretext of unlicensed construction within area classified C according to Oslo Accords. We, then, followed up the orders with al-Quds center for Legal Proceedings but we were surprised to see our tents demolished and their owners become homeless. The demolition is one of a kind in the area of Arab Qa'abna".
House demolitions contradict with all the International conventions and Humanitarian laws including:
Article 17 of the (1948) Universal Declaration of Human Rights stating: "Everyone has the right to own property alone as well as in association with others. No one shall be arbitrarily deprived of his property."
Section ‹G› of article 23 of the (1907) The Hague Conventions asserting: "In addition to the prohibitions provided by special Conventions, it is especially forbidden to destroy or seize the enemy's property, unless such destruction or seizure be imperatively demanded by the necessities of war."
Article 53 of the Geneva Fourth Convention (1948) declaring: "Any destruction by the Occupying Power of real or personal property belonging individually or collectively to private persons, or to the State, or to other public authorities, or to social or cooperative organizations, is prohibited, except where such destruction is rendered absolutely necessary by military operations."
Section 1, Article 11 of the International Covenant on Economic, Social and Cultural Rights (1966): "The States Parties to the present Covenant recognize the right of everyone to an adequate standard of living for himself and his family, including adequate food, clothing and housing, and to the continuous improvement of living conditions. The States Parties will take appropriate steps to ensure the realization of this right, recognizing to this effect the essential importance of international co-operation based on free consent."
Prepared by
The Land Research Center
LRC