A wave of stop-work orders in Al-Khadr area by Israeli occupation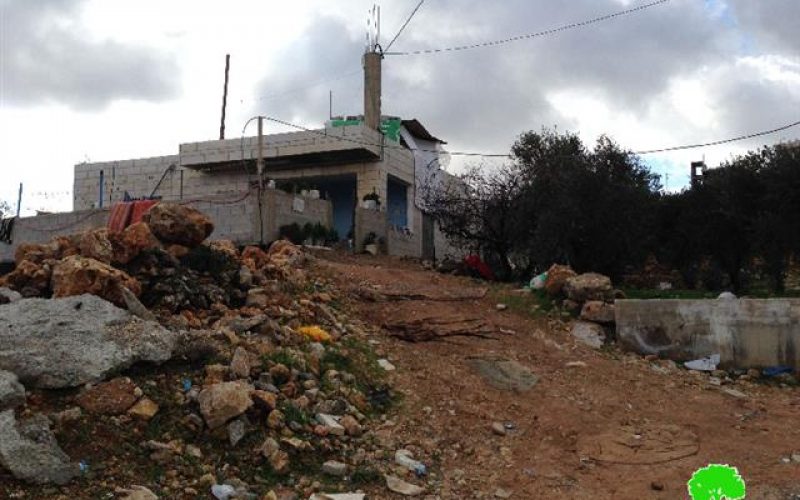 Violation: serving a big number of stop-work orders
Date: 07/08/2014
Location: al-Khdr village/ Bethlehem governorate
Perpetrators: Israel Civil Administration and army troops
Victims: residents of al-Khadr
Details:
The Israeli occupation authorities on November August 07, 2014 served " stop-work" notices on eleven buildings (28 apartments under construction) in addition to commercial shops and storehouses.
The military orders mentioned that the structures were unlicensed construction and compelled immediate termination of work. September 11,2014 was assigned for the so-called Planning Committee hearing session in the court of Beit El to consider whether to demolish the structure or restore its status quo.
The affected citizen Isam Ghnaim asserted that a force from Israel Civil Administration accompanied by army handed him out a stop-work order on his shop and then issued other orders on structures in the same area. Ghnaim pointed out his willingness to seek help from legal defense organizations .
The following tables shows information about the victims and their properties:
Affected citizen
Area m2
No. of buildings
No. of apartments
No. of structures
Notes
Photo
Isa Yosuf Isa
660
1
6
—
A three story house(two apartment in each floor) that is still under construction
1
Riziq Isa
450
1
3
—
A under construction three story house(one apartment in each floor) where the first floor is inhabited.
2
Ahmad Isa
450
1
2
1
A under construction building ( two apartment and a basement)
3
Khalid Atwan
400
1
2
3
A under construction two story house: 1st floor has three shops and an apartment
4
2nd floor has two apartments
Abu Tariq Salah
500
1
2
—
A under construction one story house (two apartments)
5
Ashraf Isa
500
1
2
—
A under construction two story building
6
Omar Isa
400
1
2
—
An inhabited two story building
7
Zakaria Isa
140
1
2
—
A under construction two story building
8
Amjad Salah
220
1
2
—
An inhabited two story building
9
Isam Ghnaim
100
0
0
3
Three commercial shops
10
Mohammad Isa
400
1
4
—
4 apartments building. One apt. is inhabited others still under construction
11
Abo Saleh Mosa
80
1
1
—
Inhabited apartment
12
Total
4300
11
28
7
Source: field observation- Department of Monitoring Israeli Violations- Land Research Center- 2014.
بعض الاوامر العسكرية التي تسلمها أهالي الخضر
Al Khadr:
Located 4 kilometer west of Bethlehem, Al Khadr village is surrounded by Beit Jala and Battir (north), Husan and Nahhalin (west), Ad Doha, Wadi Rahall, and Beit Jala (east), Wadi An Nais (south).
Al Khadr has a population of 9774 according to statistics conducted in 2007. It has a total area of 8279 dunums, 184 of which are built-up area.
The Israeli occupation confiscated 29 dunums of Al Khadr lands for Efrat and Daniel colonies. Efrat was built in 1979 and devoured 5.8 dunums of Al Khadr. It is inhabited by 7037 colonists. Daniel was built in 1982 and confiscated 23 dunums. 1073 colonists live in the colony.
Bypasses number 60 and 375 devoured more than 487 dunums. Not to mention the Apartheid Wall that destroyed 280 dunums and isolated 5638 dunums of the village. The Wall in Al Khadr is 2805 meters long.
According to Oslo Accords, 10% of Al Khadr is under Area A (PA has full civil and security control) while 6% is under Area B (PA is in charge of civil matters with Israel responsible for security). However, most of the village lands (84%) is under Area C (Israel maintains full security and administrative control). Here are the area in dunums:
· Area A (808) dunums
· Area B (475) dunums
· Area C (6996) dunums
Prepared by
The Land Research Center
LRC