During its vicious Attack on Halhul city, the Israeli occupation violates the Palestinian Rights to Land and Residence.
(The period between June 13, 2014 and July 3, 2014)
This Report has been prepared in cooperation with Halhul Municipality
Preface:
Since the Israeli occupation authorities announced missing three Israelis, it has escalated its wave of attacks on Palestinians and their properties as part of sanctioning collective punishment on the Palestinian population. Most of the aggressions take place in Hebron, particularly in Halhul as the Israeli forces shut off all entrances of the city with earth mounds and cement blocs with Israeli soldiers deployed all over them.
Here are some examples of the collective punishment the Israeli occupation has exacted on Palestinian people:
Total closure of Hebron:
Prohibition of traveling outside Palestine
Prohibition of passing through Wadi an-Nar (an-Nar Valley)
Prohibition of entering the 1948 occupied Palestinian territories (present-day Israel)
Prohibition of visiting Jerusalem
Closure (temporary or permanent) of entrances of the governorate from all sides
Intensified military presence in Hebron and Halhul
Re-occupation of Hasaka Valley , Khirbet Isha and al Quf Valley
24/7 Break ins into houses, structures and institutions and in addition to vandalism
Looting of money, jewelry, and devices
Ravaging land and plants
Emptying wells from water and pumping it at houses or into lands
The most infamous attacks unleashed at Halhul:
Closure of roads leading to the city of Halhul
The Israeli occupation has embraced the policy of imposing arbitrary punitive measures on people of Halhul; one of which is shutting off the roads and depriving citizens from their right of free movement especially at Halhul southern entrance- the bridge and its northern entrance, i.e. Huwawer and al-Nabi Younes. That has led to traffic jams at other entrances in addition to restrictions on movement and transportation.
Hahlul's northern entryway/ Al-Huwawer closed with cement blocks
Halhul's northeastern entrance closed with cement blocks by the Israeli forces that inspect vehicles. (Courtesy of Halhul Municipality)
Expansion of the outpost "Zur Shalom" on Halhul lands: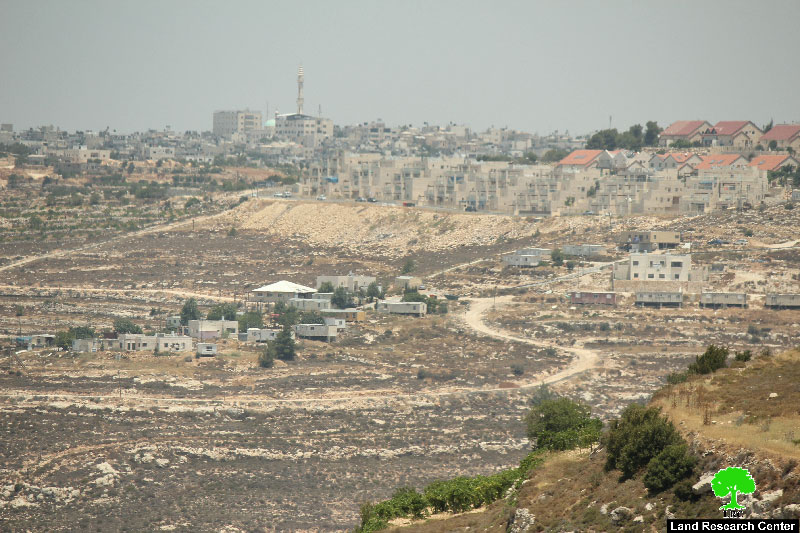 A group of Jewish extremists from the outpost of Zur Shalom embarked on ravaging 50 dunums of Palestinian-owned property. The land has been totally settled and a road opened in preparation of adding new colonial units to the outpost. It should be marked that Zur Shalom is part of Karmei Zur colony illegally founded on Palestinian lands, northwest of Halhul city. Commenting on this step, Mr. Saeed Madieh stated to LRC field researcher the following: "I was informed yesterday, 02/07/2014, that colonists riding three excavators embarked on a large-scale ravaging in my land and my family's. Since our land is barren, the Israeli occupation has not allowed us to reclaim it."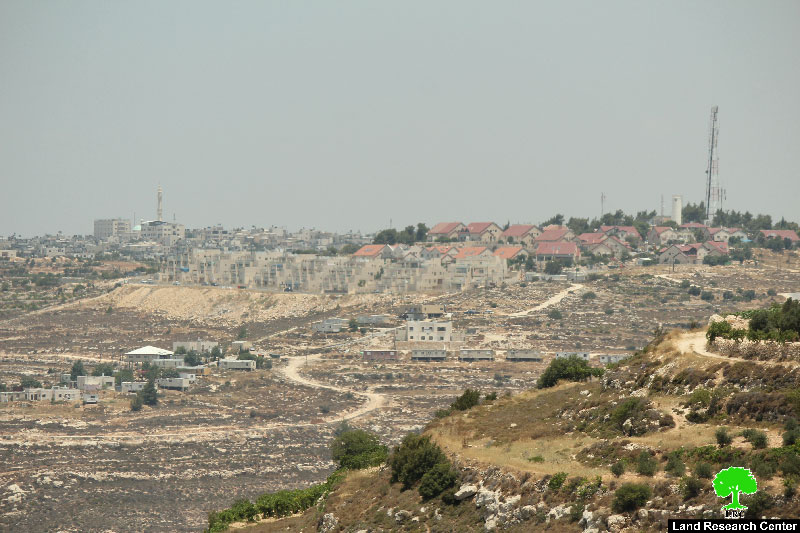 Setting up a tent on al-Huwawer, Halhul, where colonists are always present
On July 01, 2014, a group of radical colonists set up a tent on hill overlooking bypass road no. 60 and is located between the colony of Karmei Zur and Halhul northern entrance (al-Huwawer) where colonists are 24/7 present in the location under the protection of the Israeli occupation army. Colonists often attack Palestinian vehicles passing by.
Home break-ins and vandalism:
Israeli forces have targeted most Palestinians' houses in Halhul after they invaded neighborhoods and alleys. Forces broke into houses without a prior warning making women always prepared and veiled while the rest of family members anxious and afraid, waiting for their turn, and parents worried about their children and assets. Some families would leave doors open in fear the Israeli army would blow them up otherwise.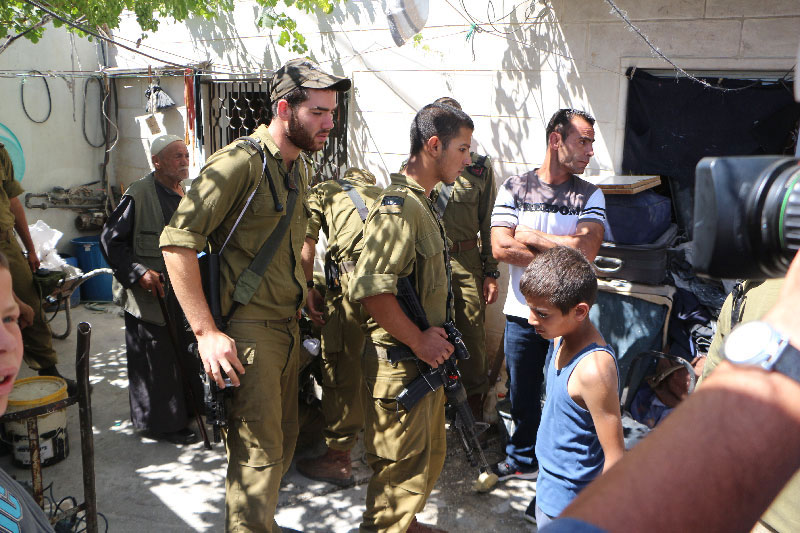 Members of Ash-Shatrit family were kicked out of their residence by the Israeli occupation army for inspection (Courtesy of Halhul Municipality)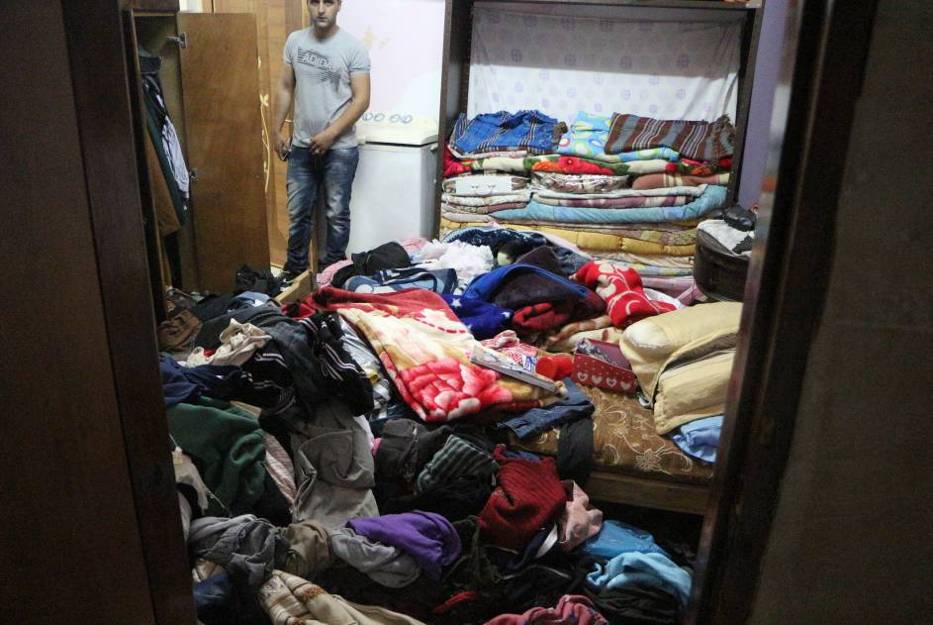 Damage inflicted upon Khirbets of Isha and Hasaka during the vicious attack:
The Israeli occupation spent 20 consecutive days in Khirbet Hasaka. During that time, contents of scores of houses were destroyed, vast areas of land ravaged, retaining walls swept away, and wells dries… All under the pretext of searching for the allegedly three missing Israeli teens.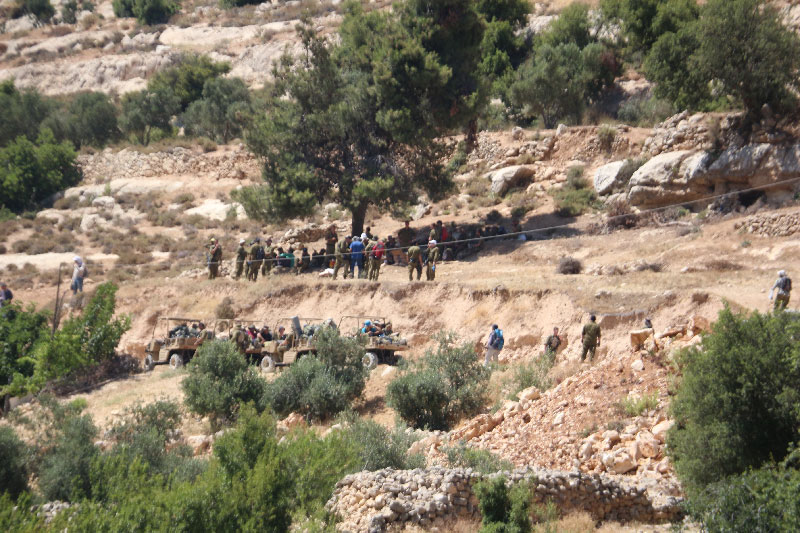 During these days, people of Hasaka and Isha have lived in a state of horror, instability and insecurity as the Israeli forces broke into houses, wreaking havoc to almost everything. They turned furniture upside down, poured out goods like rice and sugar on the floor, and destroyed contents without paying any respect for the privacy of people and their rights of residence and security. The Israeli occupation has been brutally treating citizens and here is a living proof:
A citizen related to an LRC observe that: "They dragged my little son out of his bedroom from his feet while he was asleep. They did not allow us to wake our children up but chose to do it themselves. Imagine a little child waking up to armed forces!!!? They were terrified and now they are in a pathetic psychological state."
The Israeli occupation broke into 100 houses, some of which were invaded more than once. In fact, the average of house raids is 15 times, 3 times a day. During these break-ins, damage of the agricultural land in Hasaka was recorded but still roughly estimated. Contents in 70 houses were destroyed while 22 dunums were sabotaged while 4 dunums ravaged, three sheep died, 6 tons of fodder wasted, vehicle wheels slashed and glass broken . Let alone, that the Israeli occupation, the culprits of all the mentioned, also set up a number of tents on citizens' lands for rest.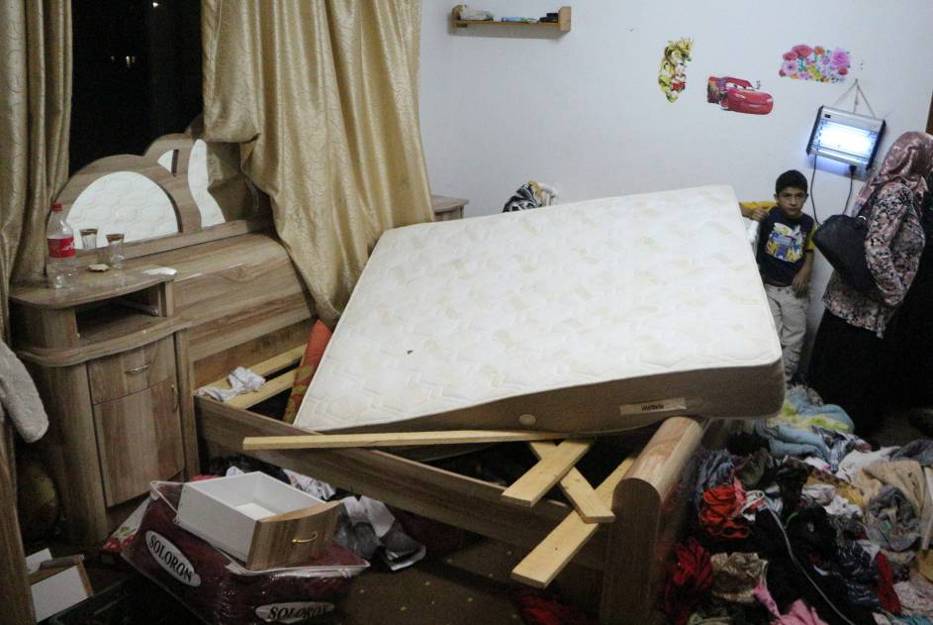 The inflicted damage on houses after being invaded by Israeli forces in Isha and Hasaka
Israeli forces take revenge on al-Qawasmi family by savagely destroying the contents of the house:
Home break-ins cause psychological problems to children and the elderly:
When the Israeli occupation break into houses, they lease a war of nerves on children, women, and the elderly. Many children now suffer from involuntary urination due to experiencing great fear . Old people are not spared either; many have heart attacks out of the shock and invasion of the Israeli occupation forces to their houses. Citizen Atef ash-Shatrit had a heart attack after witnessing his son's house being destroyed while Hajji Fatima ad-Dooda, mother of a martyr named Ismael, was paralyzed after being informed the Israeli occupation forces broke into her house.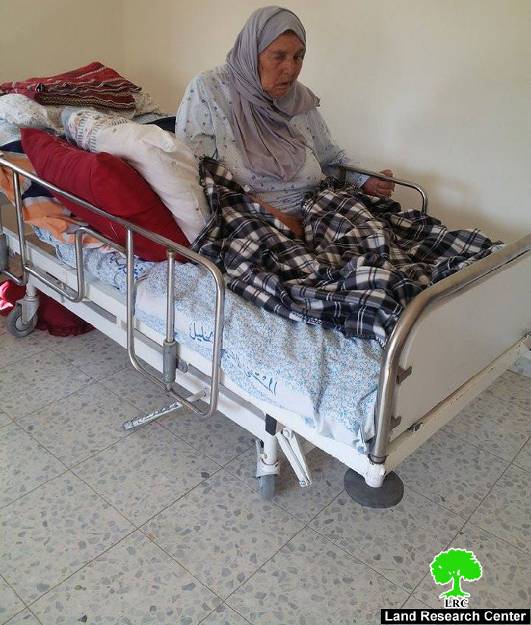 Her son's wife informed LRC of the following:
[On June 21, 2014, my son, my mother-in –law and I were in the sitting room when I heard noise. I opened the window only to see large forces of the Israeli occupation willing to break into our house. She began calling her martyred son Ismael from the top of her lungs, then she hardly could move her tongue nor her parts. The Israeli occupation broke into our house and forced us out. My son and I agreed but asked to allow my mother-in-law to stay but the Israeli army refused. After negotiations, they allowed her to stay at the staircase. When I was allowed to return, I found her in a state of nerve breakdown that lasted for two hours. I immediately brought a doctor who informed us that she had a mild stroke and she should be looked after. On June 23 and while listening to news, she again began calling her son Ismael. That caused her another stroke leading to full paralysis of her parts.]
This case is not the first of its time as Fatima Isa from al-Arroub camp, north of Hebron, died from a heart attack. Medical sources asserted that the old woman arrived at al-Ahli Hospital in a bad state after Israeli occupation forces broke into her house in a brutal way, blew up the entrances and denied the ambulance access. That instantly led to her death.
Even places of worship were not spared:
Omar ibn Al-Khattab Mosque in Haska was used by the Israeli occupation army as a place to eat at and rest in. Soldiers tore down the carpets of the mosque and desecrated it.
The Israeli occupation forces flagrantly desecrate Omar ibn Al-Khattab Mosque
Scenes of inflicted damage on the mosque after the withdrawal of Israeli soldiers
Table 1: Residences the Israeli occupation broke into and inflicted damage upon in search for the missing Israelis in Khirbets of Isha and Hasaka during (13/06/2014-03/07/2014):
Location

No. of houses

Family

Houses according to assault

Inspecting and tampering items

Destroying content and furniture

Destroying infrastructure

Hasaka

39

177

10

23

6

Hasaka/ Az-Zarqa

2

14

1

1

0

Hasaka/ Al-Jabal

10

60

1

8

1

Khirbet Isha

52

250

14

36

2

Total

103

501

26

68

9
Table 2: Damage to plants during the break-ins in search for the missing Israeli teens during (13/06/2014-03/07/2014):
Location

Inflicted damage

Death of cattle

Destruction of chicken farms

Destruction of plants/dunum

Land ravaging

Destruction of fodder/ton

Attacks on vehicles

Hasaka

3

1

19

0

4

1

Hasaka/ Az-Zarqa

0

0

3

4

0

Hasaka/ Al-Jabal

0

0

0

0

0

1

Khirbet Isha

0

0

0

0

2

0

Total

3

1

22

4

6

2
*a dunum is the equivalent of 1,000 square meters
Table 3: Water resources badly affected by the break-ins in search for the missing Israeli teens in Hasaka and Isha during (13/06/2014-03/07/2014):
Location

No.

Attacked water resource

Nature of damage

Volume m3

Cisterns

Springs

Pools

Networks

Reservoirs

Motors

Emptying water

Polluting water and adding chemicals

Destroying and vandalizing

Destroying irrigation networks

Hasaka

21

10

2

0

1

7

2

6

7

7

1

1080

Hasaka/ Az-Zarqa

1

0

0

1

0

0

0

1

0

0

0

40

Hasaka/ Al-Jabal

6

6

0

0

0

0

0

2

3

1

0

575

Khirbet Isha

36

35

0

1

0

0

0

2

0

34

0

75

Total

64

51

2

2

1

7

2

11

10

42

1

615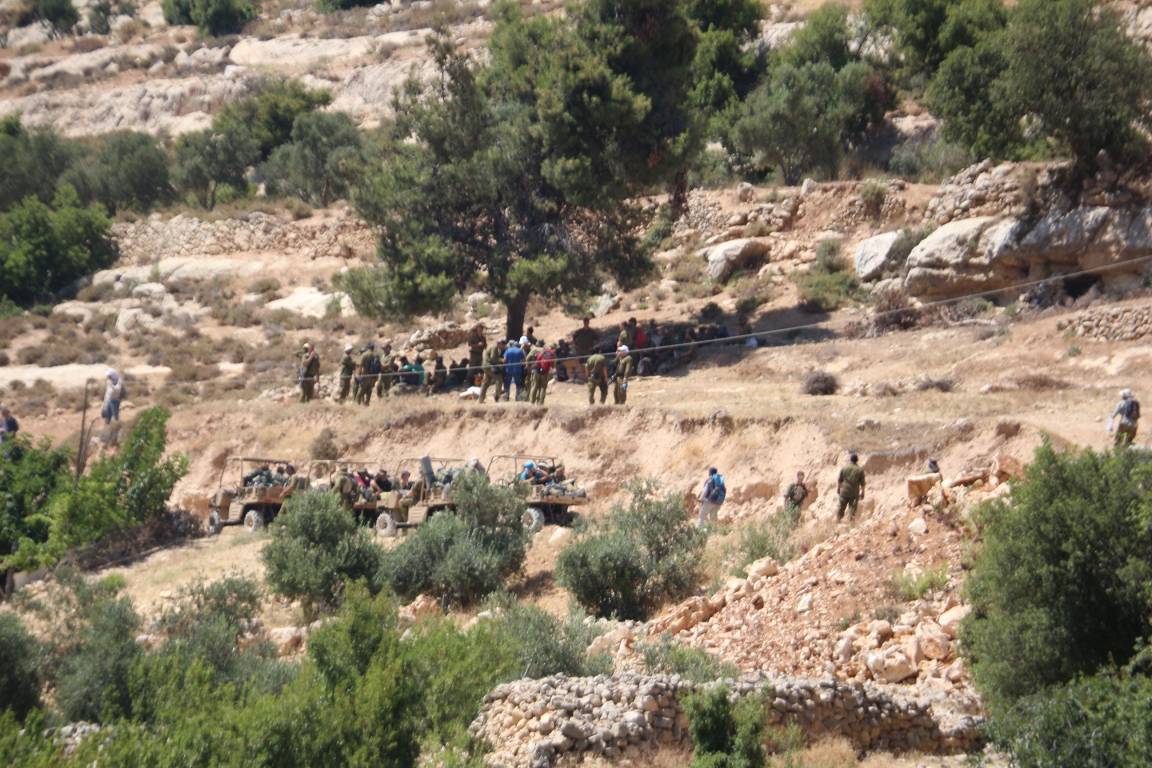 Pictures of the destroyed plants and retaining walls:
About the targeted area:
The area of Khirbets Isha and Hasaka and Khallet al-Qanqour is located to the southwest of Halhul city, specifically within natural blocks no. 7 and 8, and with a total area of 5000 dunums. The road of Hasaka is considered an alternative when Israeli forces close the main southern entrance to the city of Hebron (otherwise known as Jerusalem-Hebron road). Hasaka connects the villages westward (namely Beit Kahil, Tarqumiya, Beit Ula, Idhna and Beit Awwa) with Hebron. Hasaka is inhabited by 1600 people residing in 300 residences. Hasaka is considered an agricultural area; it has a water spring (Ein Hasaka) and Omar ibn Al-Khattab Mosque. The length of irrigation networks is 16 kilometers.
Khirbet Isha is near Hasaka and contains a water reservoir that supplies the area with water (with a volume of 2000 cups) as well as Salah ad-Din Mosque. Isha also has a public health clinic, Halhul Primary School for girls (funded by UNRWA), Salah ad-Din Primary School for boys, a nursery and a kindergarten.
Recently the whole area (including Isha and Hasaka) has been under a ferocious military attack by the Israeli occupation forces.
Khirbet Hasaka in numbers:
Located 2 kilometers west of Halhul city center, Hasaka contains 392 residences and structures. Its total area is 4700 dunums distributed as follow:
107 dunums of field crops.
79 dunums of artificial services.
697 dunums of forests.
3277 dunums of productive trees.
8 dunums of greenhouses.
526 dunums of unutilized areas.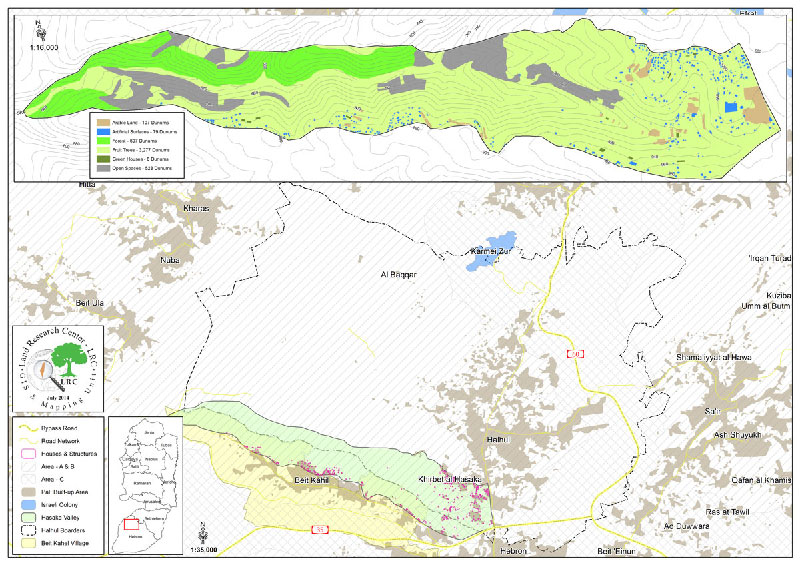 Khirbet Hasaka/ Halhul
Prepared by
The Land Research Center
LRC

&