Colonists cut down 40 fruitful trees in Deir Nitham, Ramallah governorate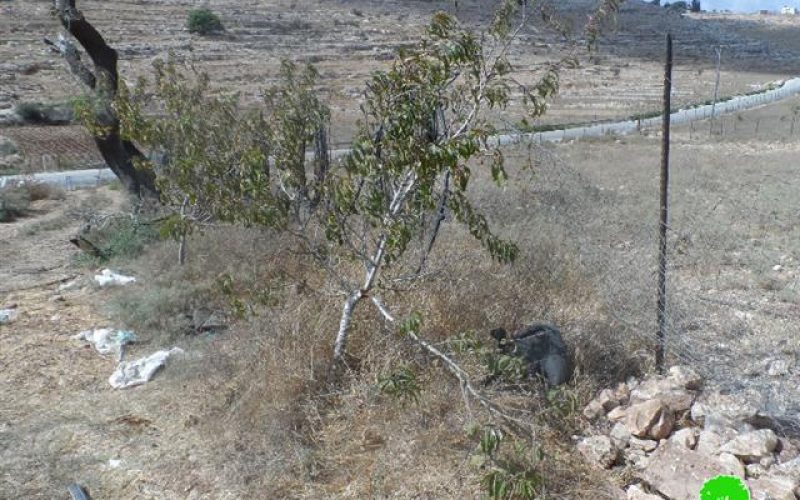 Violation: Chopping and sabotaging a number of olive and almond trees
Location: Deir Nitham, Ramallah governorate
Date: 26/07/2014
Perpetrators: Colonists of Hallamish
Victims: Farmers named Monjid al-Tamimi and Abdul-Nasser Madhhar
Details:
At the early hours of the evening on a day just before Eid al-fitr, a number of colonists from Hallamish, a colony northeast Ramallah, cut down and chopped 40 almond and olive trees in Wad Abu-Rayya area, east of Deir Nitham, using sharp tools.
The damaged almond saplings are estimated to be 4 years old in age while the olive trees are about 5 and both were presented by the Palestinian Ministry of Agriculture to the farmers to plant.
Pictures 1-2: Colonists of Hallamish wandering fields
Pictures 3-8: Scenes of the attack on trees
The targeted location is only 1 kilometer away from the border belt of Hallamish colony. Generally speaking, the area of Wad Abu-Rayya is considered among the most targeted by colonists who, during the past few years, cut down and uprooted a large number of almond and olive trees in the region and set fire to some of them. Many complaints were filed by residents to the Israeli police that did nothing to deter the attacks. On the contrary, there has been an escalation of the assaults that included more incidents of uprooting trees and confiscating lands to expand the colony.
The table gives details about the last attack on Deir Nitham:
Affected farmer

Family

Trees

Damage

Remarks

Olive

Almond

Fig

Monjid al-Tamimi

5

0

8

2

Total

Farmer attacked before

Abdul- Nasser Madhhar

7

30

0

0

Total

Farmer attacked before

Total

12

30

8

2
*Source: Field Research- Monitoring Israeli Violations Team- Land Research Centre (LRC).
Deliberate vandalism:
Farmer Monjid al-Tamimi, one of the two victims, stated to an LRC field researcher that : "I own 14 dunums of land in Wad Abu-Rayya, it is not far from the colony of Hallamish and the Israeli plans. Not a single season passes without us being harassed and restricted, all to drive us out. But we are steadfast and we will not give in to their expansion plans. I personally was a target for Israeli assaults four times during the past few years. My trees were uprooted several times and I filed a complaint to the Israeli police but to no avail. These are not irrelevant incidents, but rather, they are part of a policy that includes closing most of the agricultural roads and taking over water resources to tighten their grip on us, farmers, and stripe us of our property."
Recently there has been a deposit of a master plan for Hallamish. To read the report prepared by LRC on the matter, check these out: (Ar, Eng)
Hallamish in lines:
Built in 1977, the colony of Hallamish was founded on the lands of an-Nabi Saleh and Deir Nitham villages, north of the West Bank city of Ramallah.
The colony devoured 340 dunums of Palestinian property. It has a primary school, public library, dental clinic, medical clinic, swimming pool, Talmudic school, and events hall. The colony offers preparation courses to Jewish youth before recruitment.
The colony has a population of 1300 colonists, until 2008. (Source: Palestinian Martyrs Organization).
Prepared by
The Land Research Center
LRC