The Israeli occupation levels a house in Tulkarm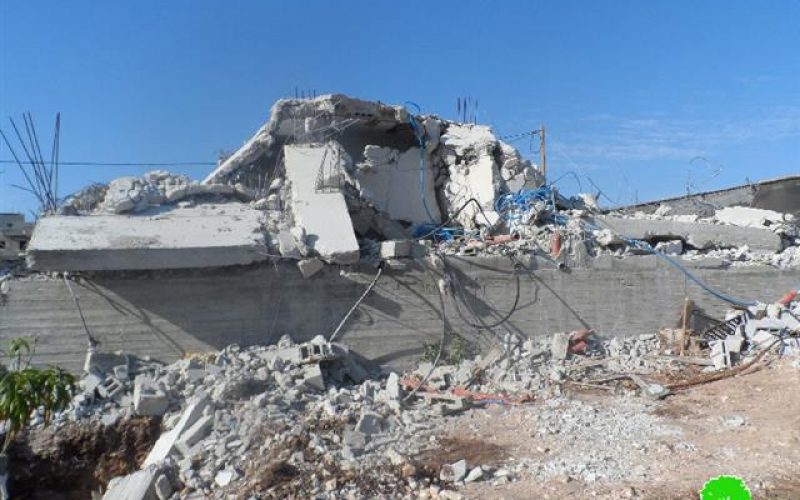 Violation: Destroying a house
Location: Al Marj, Far'un/ Tulkarm governorate
Date: 09/06/2014
Perpetrators: The Israeli occupation army
Victims: The family of Falah Abid
Details:
Falah Abid's happiness was not meant to last. The 53-old man from the village of Far'un has been dreaming of building a house of his own for 28 years. After great patience and loans, Abid managed to build a simple house, much to the joy of his 7-member family. Only one day before they moved into the new house, the Israeli occupation reduce into rubble.
About the details of the crime committed in cold blood against the poor family, Mr. Falah Abid stated the following to LRC field researcher: "I have been suffering from diabetes, high blood pressure and renal failure in addition to an injury in my eye that prevented me from work. That made my life miserable and made me independent on financial aid extended by the people of my village, Far'un. I waited until my children grew up and began to work, that helped me save some money. I immediately sought to make my dream of building a house of my own come true. Construction work to build a 110 m2 house began in April 2013. It should be marked that my house is only 120 meters away from the Separation Wall in the area known as al Marj, a Palestinian property with Palestinian deeds.
Abid added,
"In November 2013, I received a stop-work order from the Israeli Planning and Construction Committee under the pretext of unlicensed construction in area classified "C" according to Oslo Accords. On December 13, 2013, I received a demolition order. I headed to the Center of Jerusalem for legal aid and they managed to get me an injunction to stop demolition. In May 2014, the center informed me that I must request a building permit at the Civil Administration office in Salem. That requires I pay fees which I could not offer back then. I waited till I saved some money and went to the Israeli authorities on June 10 but it was too late."
It is worth noting that the family had to get a $ 35,000 loan from a bank in order to speed construction up and finish building the house but the Israeli occupation rendered the family homeless and broke and killed their dream and forced them to return to their small house that suffers from bad health conditions."
Pictures 1-2: The family of Abid reduced to rubble
Mr. Mohyie Ateir, head of Far'un village council, told an LRC observer that: "Far'un is one of the most targeted villages in Tulkarm. Since 2005, five houses were demolished while 35 agricultural and residential structures have been threatened with stop-work orders. Let alone that there are 13 structures threatened of demolition so far."
Ateir held Israeli accountable for limiting the expansion of the master plan of Far'un village. The master plan does not exceed 32 dunums, according to Ateir.
Prepared by
The Land Research Center
LRC