The Israeli occupation destroys stalls in the Jordan Valley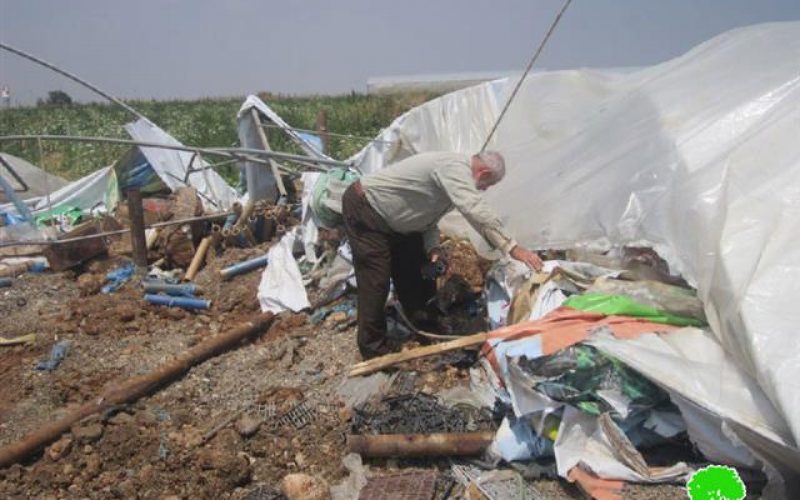 Violation: Leveling and confiscating a number of stalls (grocery booths)
Location: Bypass road no. 90- Tubas governorate
Date: 09/06/2014
Perpetrators: The Israeli occupation army
Victims: Four Palestinian families
Details:
At the early hours of Monday, June 09, a large force of the Israeli occupation army preyed on a number of grocery stalls spread sporadically over bypass road no. 90, specifically near the village of Bardala, east of the West Bank city of Tubas, and destroyed them.
It should be marked that the Israeli occupation forces threw vegetables and fruits at the ground to not only destroy the stalls but also the contents.
The stalls are considered a source of income to four families of Bardala village. The families consist of 14 people, including 8 children and they are in details: Sueliman Sawafta (5 people), Jawad Sawafta (2 people), Itad Swafta (4 people) and Lafi Swafta (3 people).
Mr. Aref Daraghmeh, head of Wad al Malih Bedouin community, stated to an LRC observer that:
"There is a systematic and renewed Israeli policy to displace the inhabitants of the Jordan Valley by using different means against humanity, some examples of which are depriving them from their sources of living, demolishing their houses, and confiscating their pastures and natural resources, thus rendering the indigenous people strangers in their own homeland."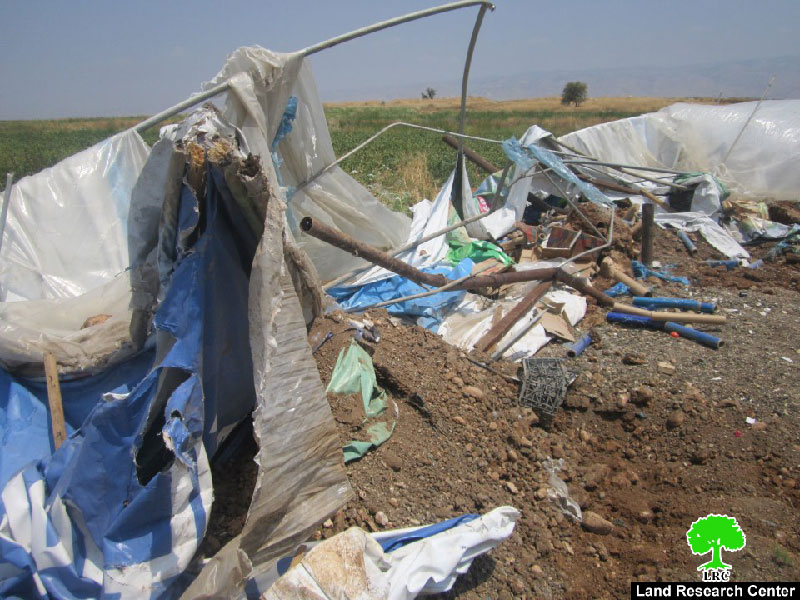 Pictures 1: Part of the destroyed stalls in the northern side of the Jordan Valley
Daraghmeh added,
"What happened today is a step in a series of moves meant at harassing people. The bypass road no. 90 links the south of historical Palestine with its north through the Jordan Valley. The Israeli occupation uses the road as a pretext to chase shepherds and demolish shops. It is worth noting that the destroyed stalls were made of nylon and set up at the sides of the road, not causing any damage nor threatening the security of Israel. Yet, the Israeli occupation wants to deprive Palestinians from their sources of livelihood."
On the other hand, Majdi Awada, head of the department of agriculture in Tubas, asserted the following:
"There is an Israeli plan to refuse entry of Palestinian agricultural products to the Green Line as a response to the decision made by the Palestinian Ministry of Agricultural to ban importing watermelons from Israel in a bid to protect national products. The Israeli occupation demolished the grocery stalls to that end."
ا
Prepared by
The Land Research Center
LRC